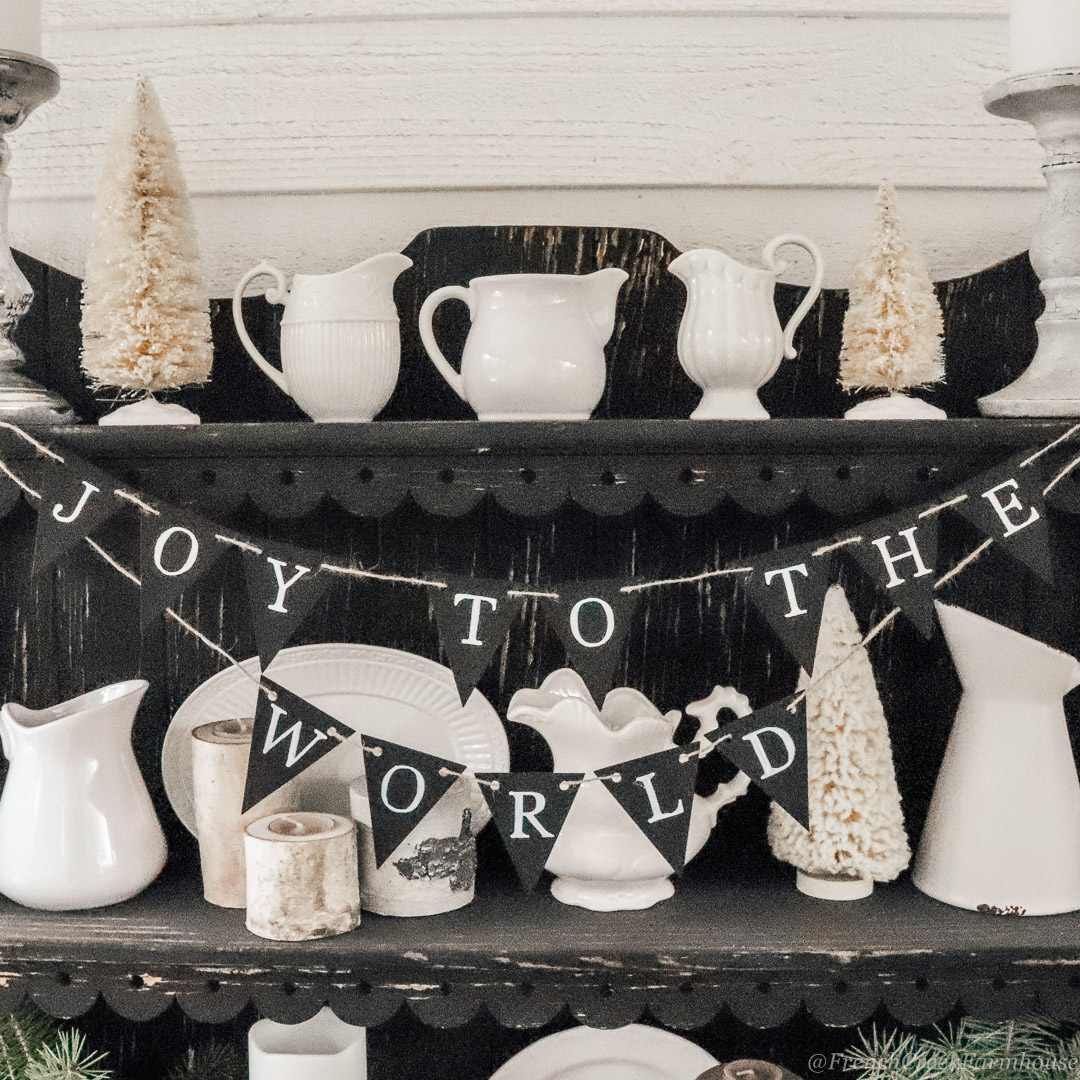 As a child, my sister and I would spend hours upon hours crafting holiday decor for every season. I guess it never left my system because even though store-bought decorations are lovely, I still have an urge to craft something unique for our home each year.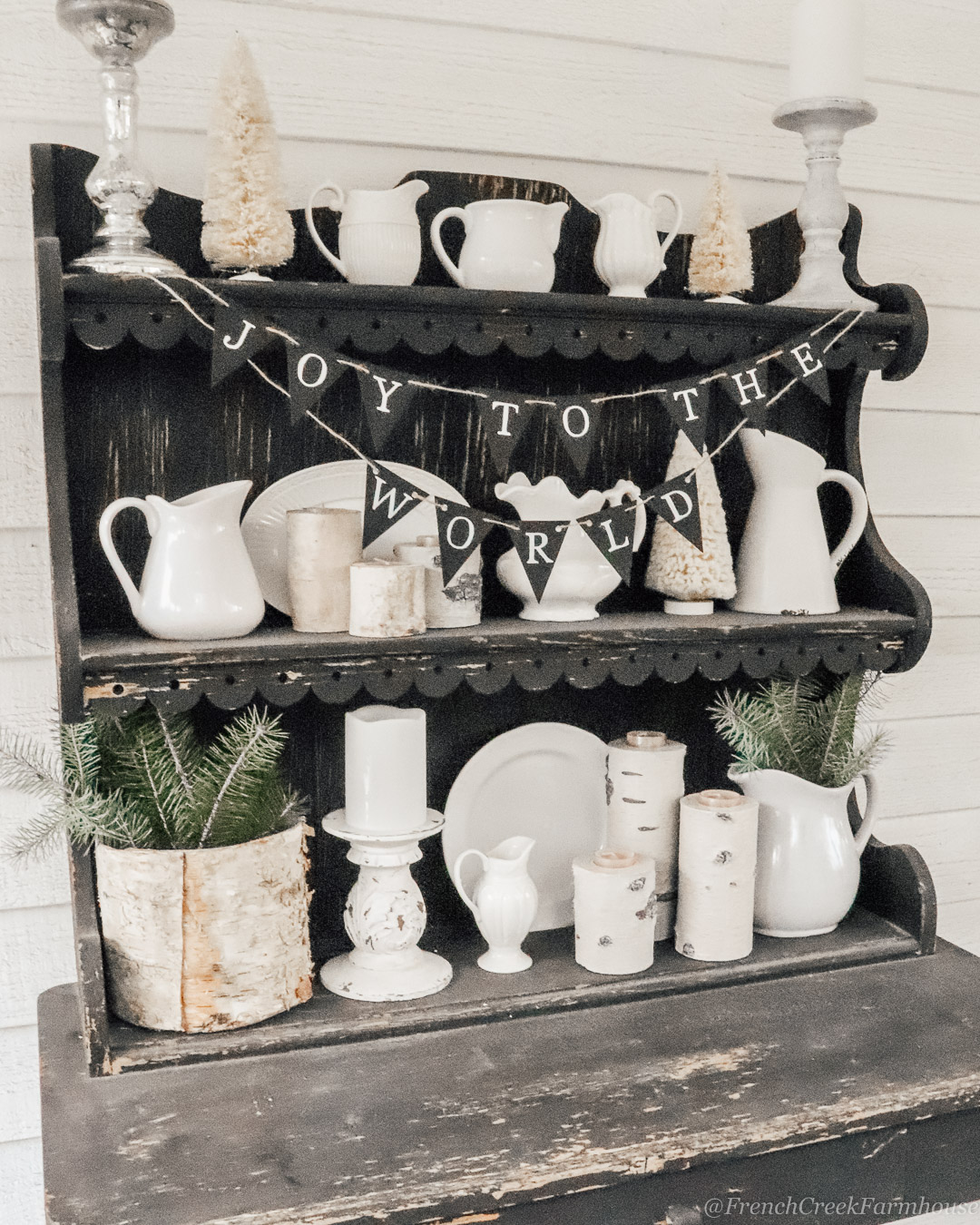 This Christmas, I heeded that call with my Joy to the World bunting using these adorable chalkboard pennants and jute twine. We sell these kits in our shop, and they're so versatile for crafting any message you might desire throughout the year.
This particular message has really been on my heart lately. As a community, it seems to me that we are becoming more and more collectively deficient in joy. We're bombarded with bad news on practically a daily basis, and it really starts to take a toll on how we feel.
Little reminders about the joy, positivity, and light that exist in the world help us to see more of those things around us. When we focus on the negative, we'll see the negative. But when we focus on the joy, we'll see more of it, too.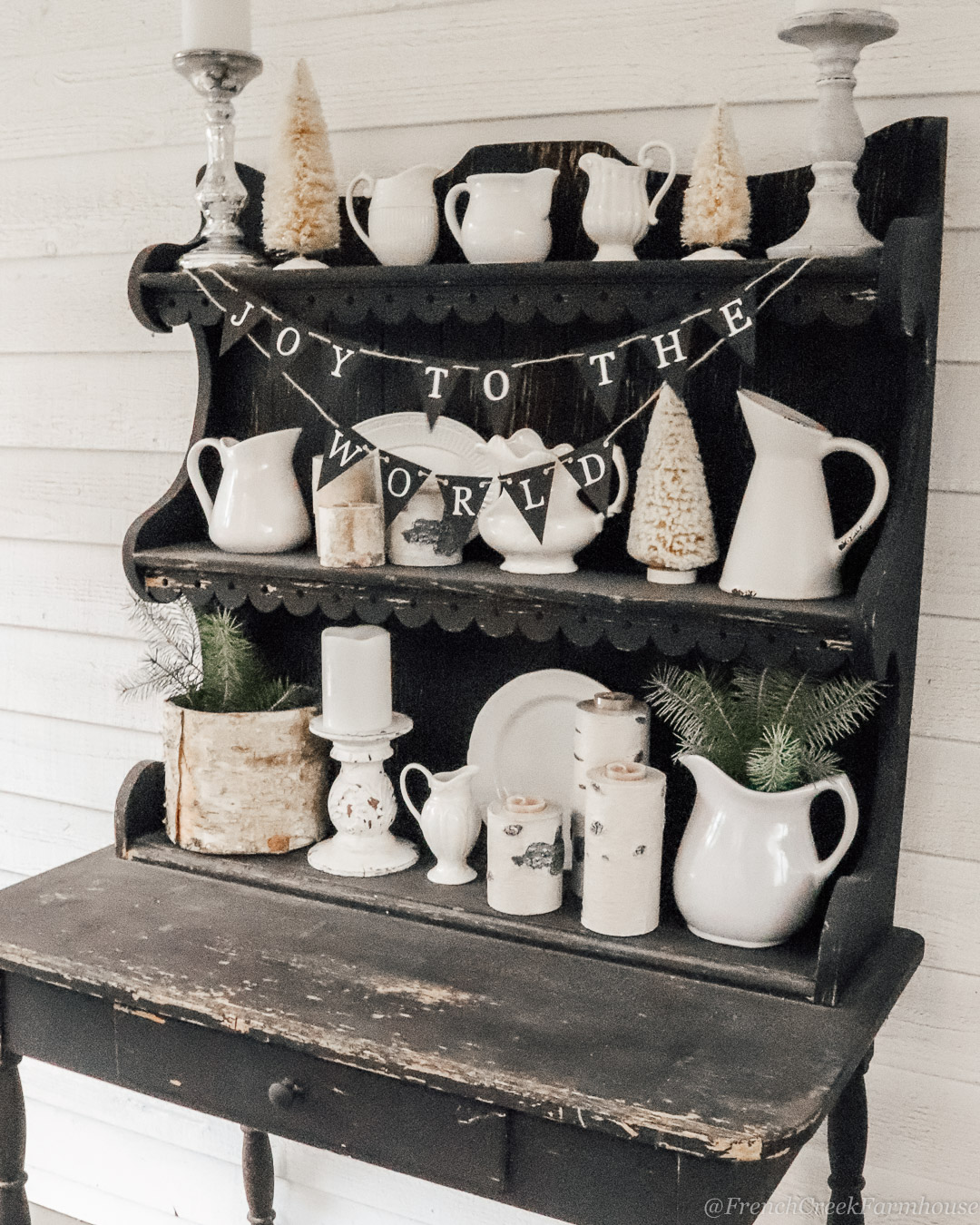 I picked up this charming black hutch the summer before last, and it has moved around our home from our front porch, to family room, to dining room. It's such a darling piece of vintage furniture, and I thought this bunting would be a perfect complement to its whimsical details and curves.
It's almost as though this hutch's figure embodies the joy in the message!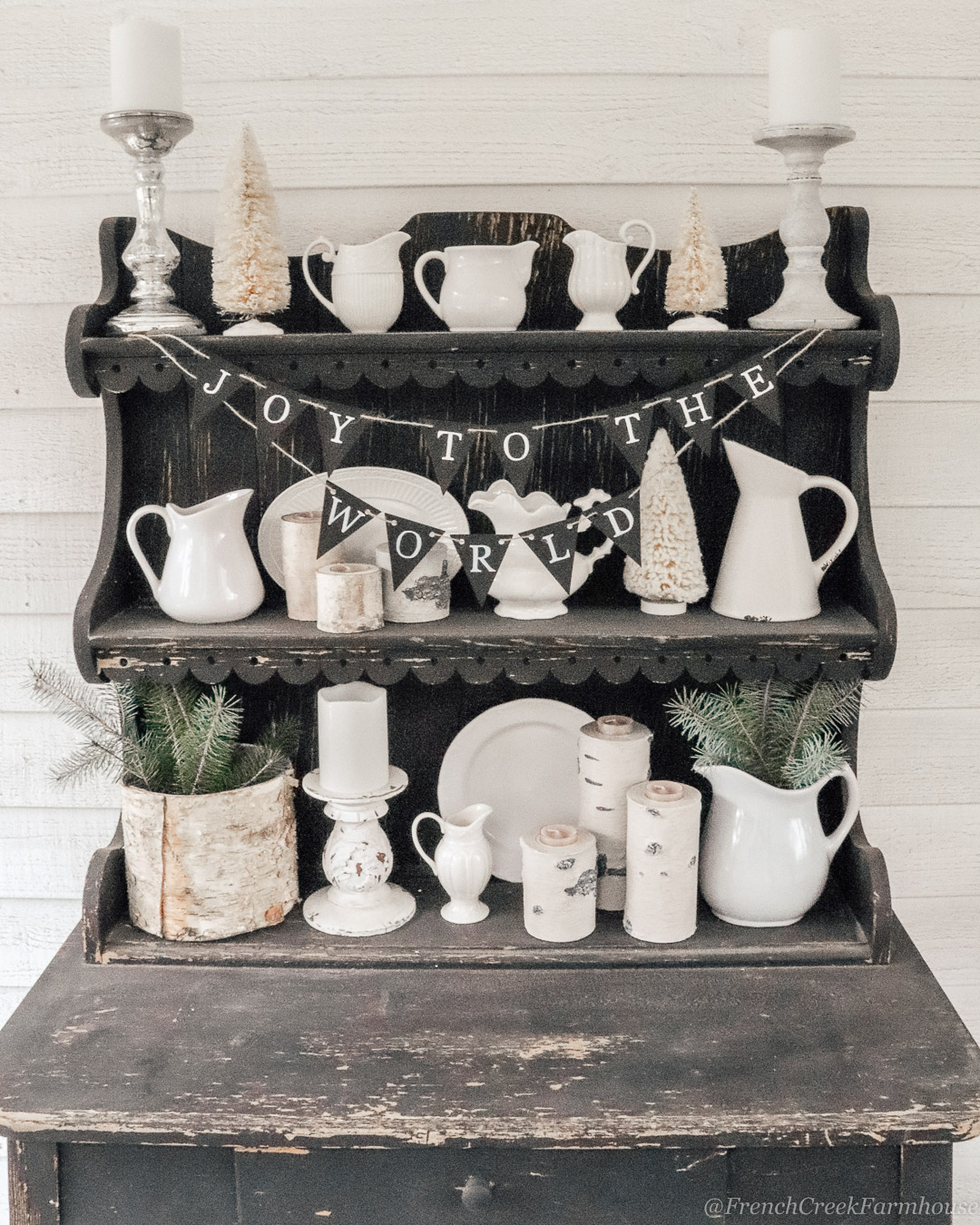 Ironstone platters and white pitchers are a couple of my favorite pieces of pottery to collect, and they look especially striking against the chippy black paint of this hutch. Adding in some of my bottle brush trees that I adore this time of year, cuttings of fresh pine that I foraged from our property, and birch logs, it all created a lovely neutral winter scene on the porch.
Plus, this entire project cost less than $10, and provided me with an afternoon of creative expression. I really believe that creativity is good for the soul, so while I was reflecting on joy, I got to experience it at the same time!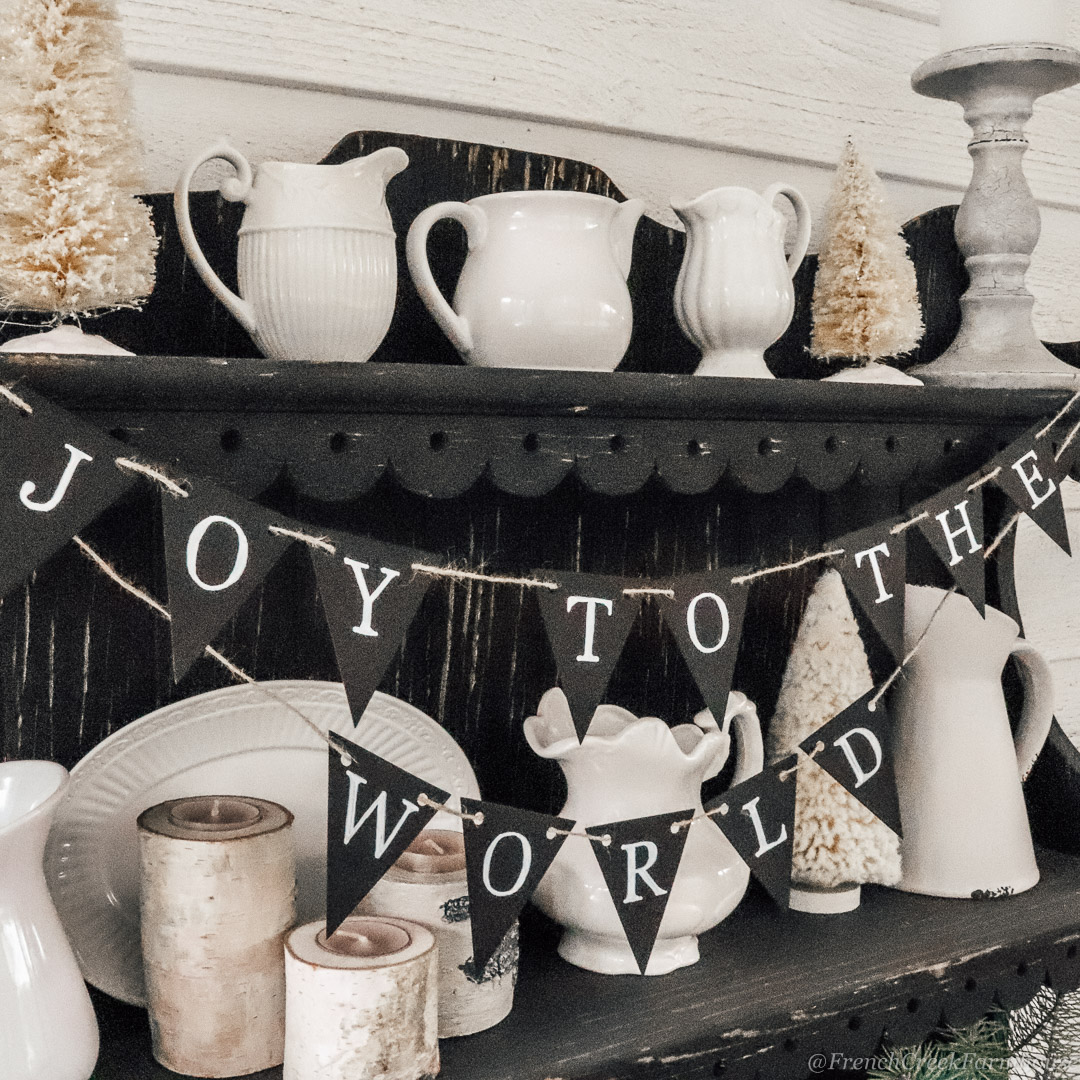 If you're not local to the Seattle area to grab one of these budget-friendly kits in our shop, you could make something very similar with thick black cardstock. I even created a template that you can download and print! Here's my complete tutorial for this easy project.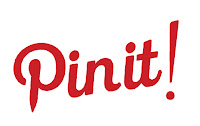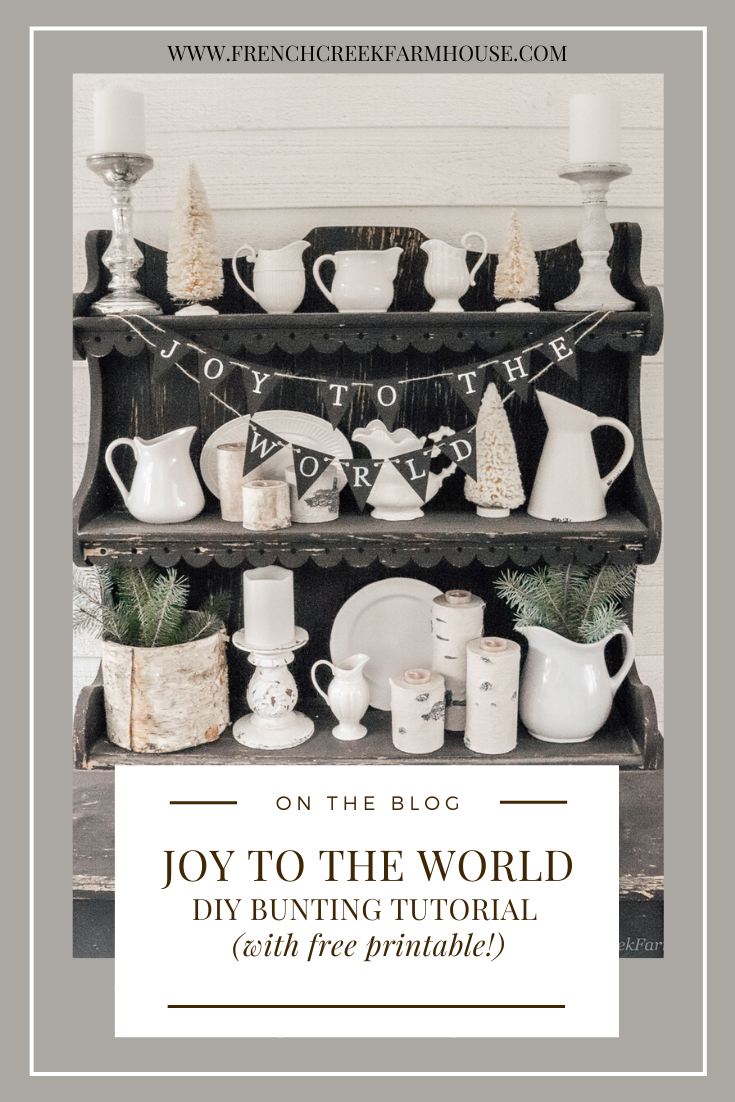 Disclosure: This is not a sponsored post, and I have received no compensation for sharing any of these supplies. Some links to products that follow may be affiliate links, and I might earn a commission if you make a purchase through that link. This usually amounts to cents, not dollars, and helps to support the projects featured on this blog. I only recommend products from companies that I have found to be trustworthy. Read my full disclosure here.

Supplies
Tools you'll need:

Instructions
Gather all of your supplies, and print out the bunting template. If you're using cardstock, cut out triangle pennants.

Also cut out each of the template triangles, and at least one piece of carbon paper that's roughly the same size as the triangles. You could certainly skip this entire step, but I find that it's very tough to make sure that your letters stay evenly spaced and level unless the template pieces are cut out.
Place the carbon paper onto the pennant, carbon side facing down. Then place the template over the top. If you find that this carbon-paper-sandwich is too squirrely for you, using removable tape to hold them in place can be helpful.

Using the embossing stylus, trace the letter or design using firm, but gentle pressure. This will create a faint line on the pennant.

Use chalk (or your paint pen) to copy over the faint carbon line. I wanted my bunting to be permanent and reusable from year to year, so paint pens were a better option. This brand is my favorite, and I use them on a LOT of my "chalkboard" projects to prevent smear. Keep in mind, though: it's paint…it's permanent…it will give you the look of chalk, but it's never going to erase.

Once dry, string your bunting pieces onto the twine, and hang to enjoy!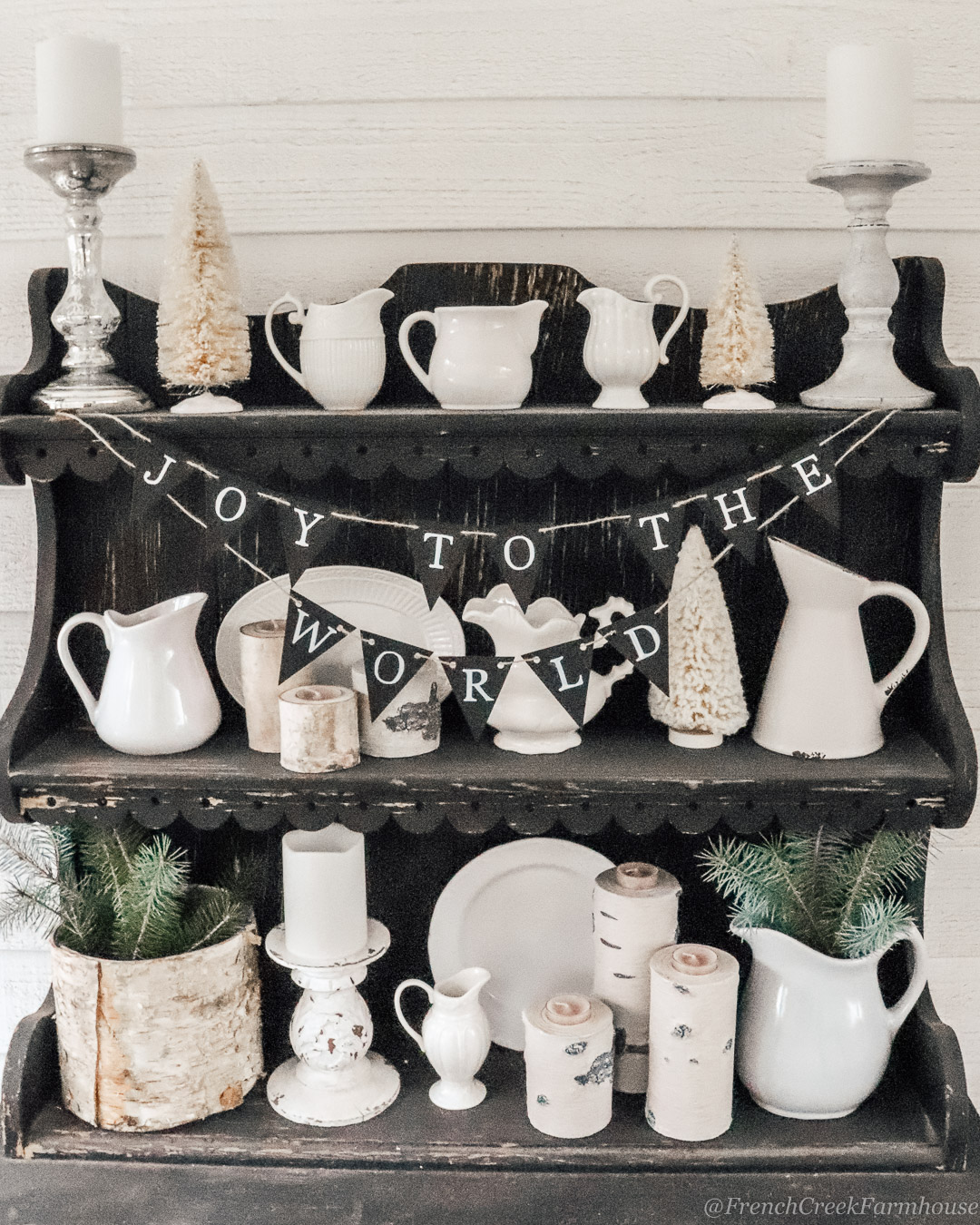 If you try this project, I would love to see what you create. Tag me on Instagram or Facebook so I can see!
What are you crafting this season? Drop me a comment down below and share some creative inspiration!

Do you love hunting for vintage treasures as much as I do?
Get my free vintage & junk hunting journal
Let's be email pen pals! Sign up to join our community, and get your free printable PDF Vintage Hunting Journal. This is so good!