Vintage Spring Tablescape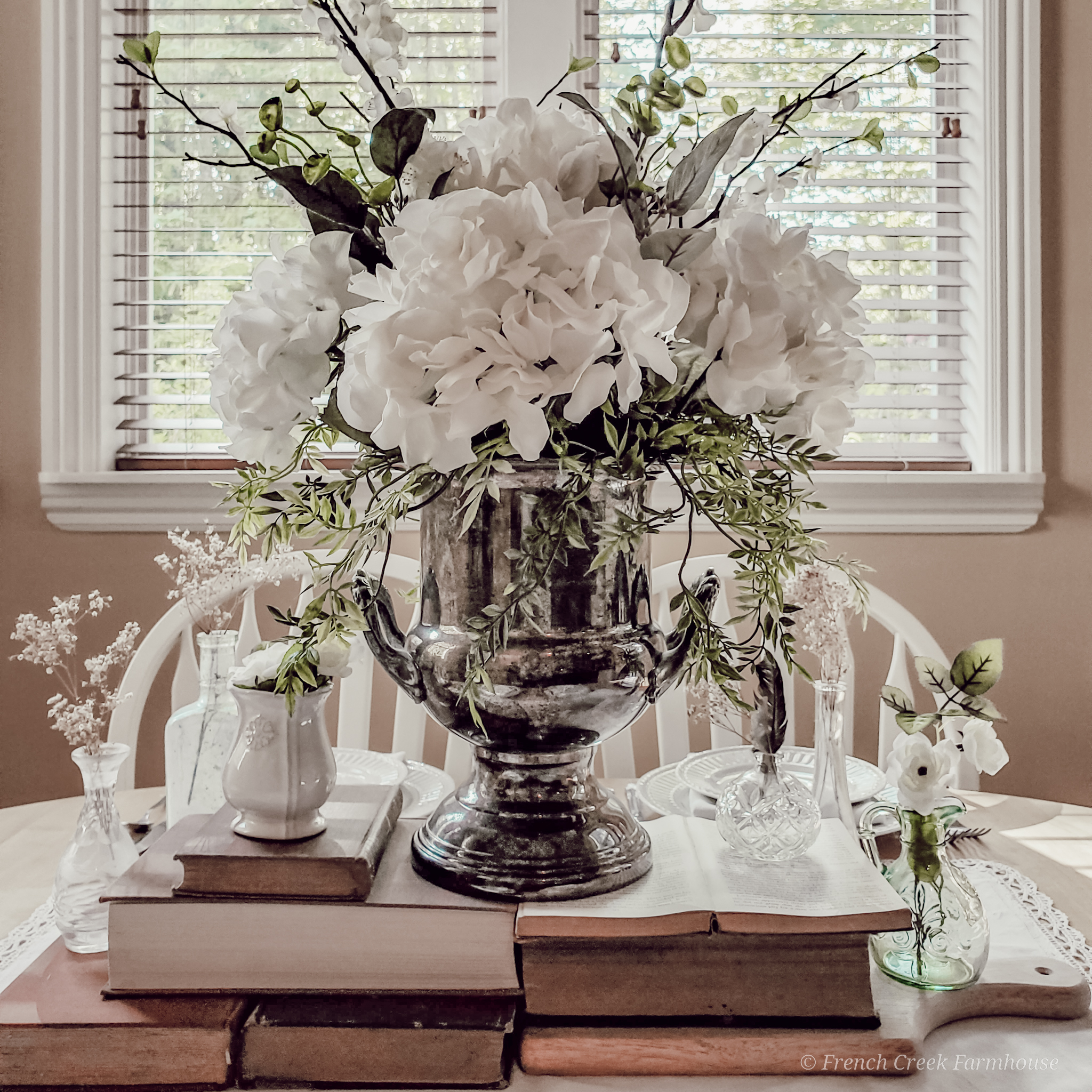 I continue to be so very inspired by all of the gorgeous spring blooms here at the farm this year. As I'm decorating different areas of our home, bringing those floral cues indoors has been a big priority!
I always try to decorate in such a way that only requires me to make a few changes from season to season rather than a total redesign. During the winter, for example, I focused on woods, whites, and greenery, and that allowed me to simply add in blooms to transition to spring.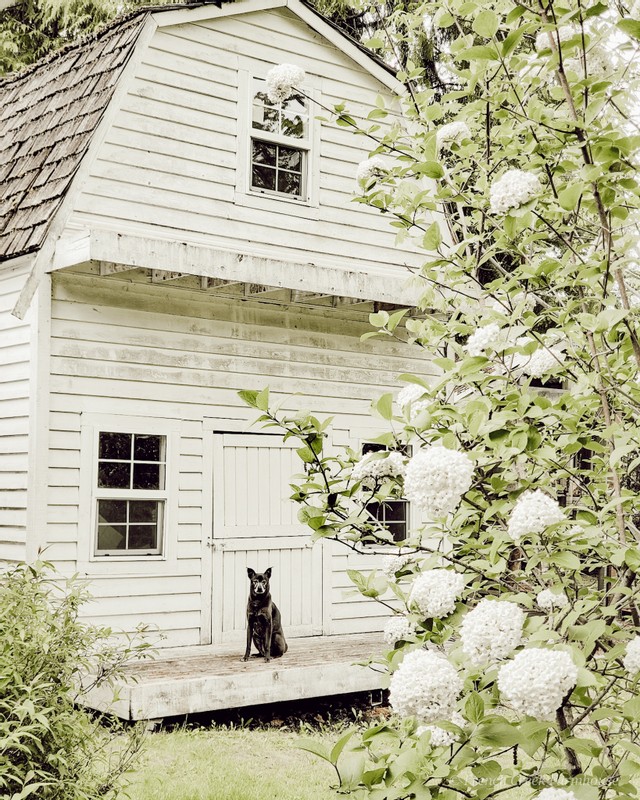 Now that the weather is warming and a new solstice is on the way, I'm starting to think about how I'll transition from spring to summer, and I'm mainly following Mother Nature's lead, once again. Nature makes this transition effortlessly as buds become blooms, and colors transform day by day, so why not follow in those footsteps?
Continuing our spring home tour, today I'm sharing my vintage spring tablescape, and I'm so thrilled with how it turned out! If you caught the first part of our tour in the family room, you know that flowers have seriously been my inspiration this season, so it was natural to continue it right on into the breakfast nook.
Here's a short video tour to get things started…
Let's dive into the details, and don't forget to pin it for inspiration later!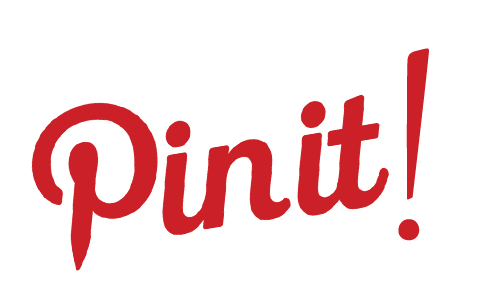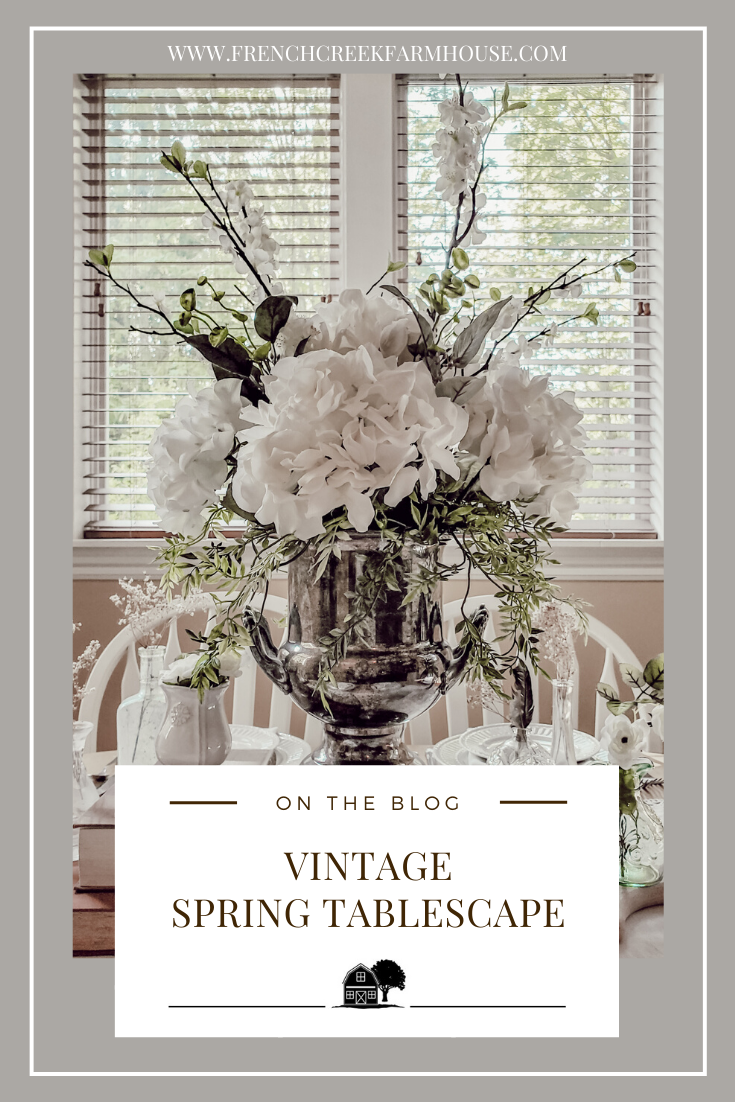 Disclosure: This is not a sponsored post, and I have received no compensation for sharing anything that follows. Some links within this blog may be affiliate links, and I might earn a commission if you make a purchase through that link. This usually amounts to cents, not dollars, and helps to support the projects featured on this blog. I only recommend products from companies that I have found to be trustworthy. Read my full disclosure here.

In our breakfast nook, the ferns and tulips from early-spring are giving way to summer favorites like peonies, hydrangeas, and gently trailing vines. Where we live in the Pacific Northwest, peonies bloom around mid-May, and hydrangeas are a summertime blessing, so these make the perfect pair to hint at the season to come while still enjoying the beauty of spring.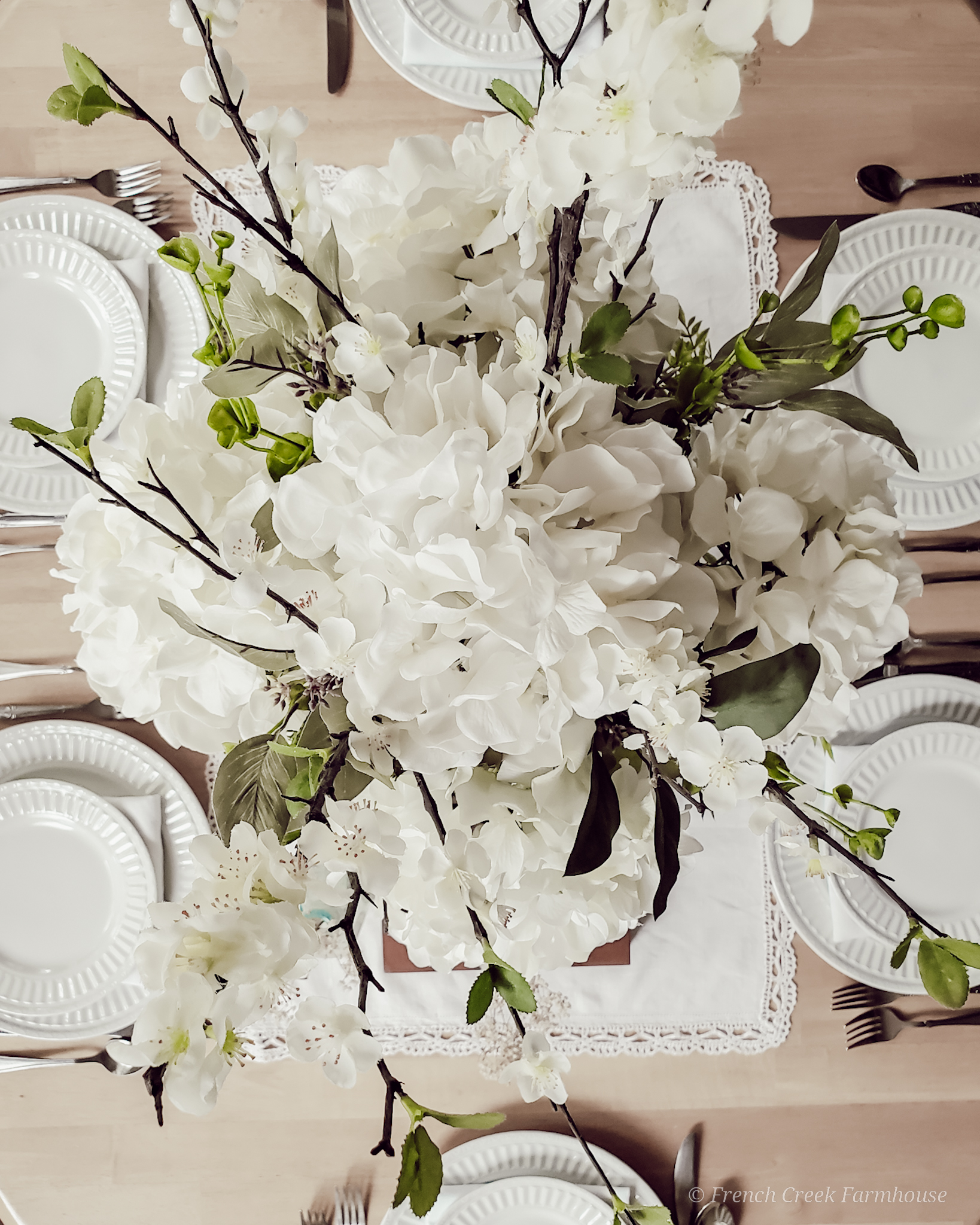 One of the reasons I plan our decor to evolve through the seasons is that it reduces the overall time I spend making changes throughout the year. That strategy also allows me to use my creative energy to try out new things.
If I were doing a full overhaul of every part of our home each season, I'd have little time to do anything else. Gradual changes are an efficient way for me to decorate and still get to work on the long, long list of other projects around our home and farm.
This season, I was especially interested in floral arranging, and I wanted to create a very large arrangement for our breakfast table.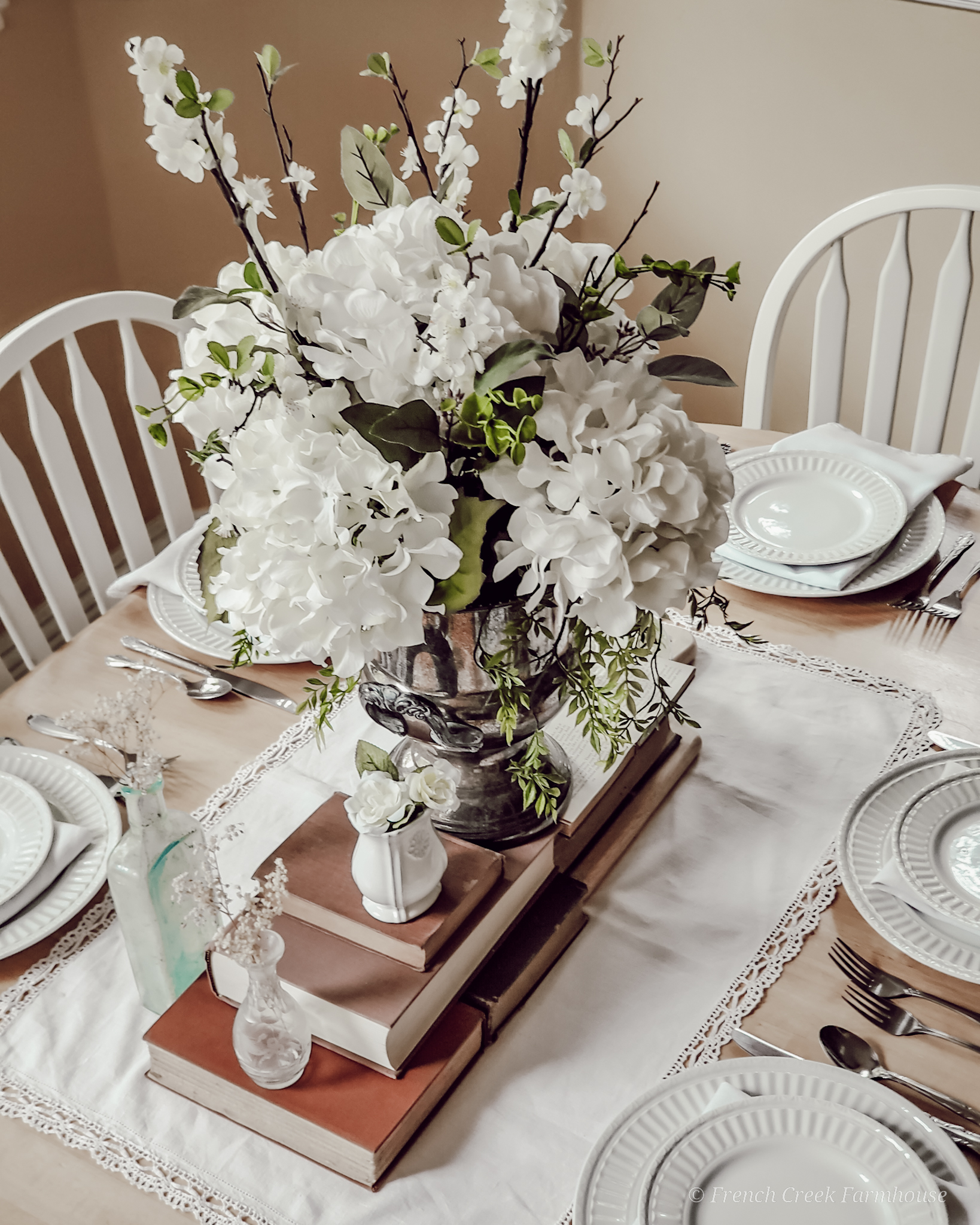 Honestly, this magnitude of floral work was outside of my comfort zone, but that's exactly why I wanted to try it–it gives me a chance to exercise my creativity and learn something new.
I knew that I wanted this part of our home to have a softer and more feminine feeling for this season. Since I typically focus on farmhouse simplicity with the way I decorate, large displays of elegant blooms are not the norm around here. I tend to prefer understated and modest beauty.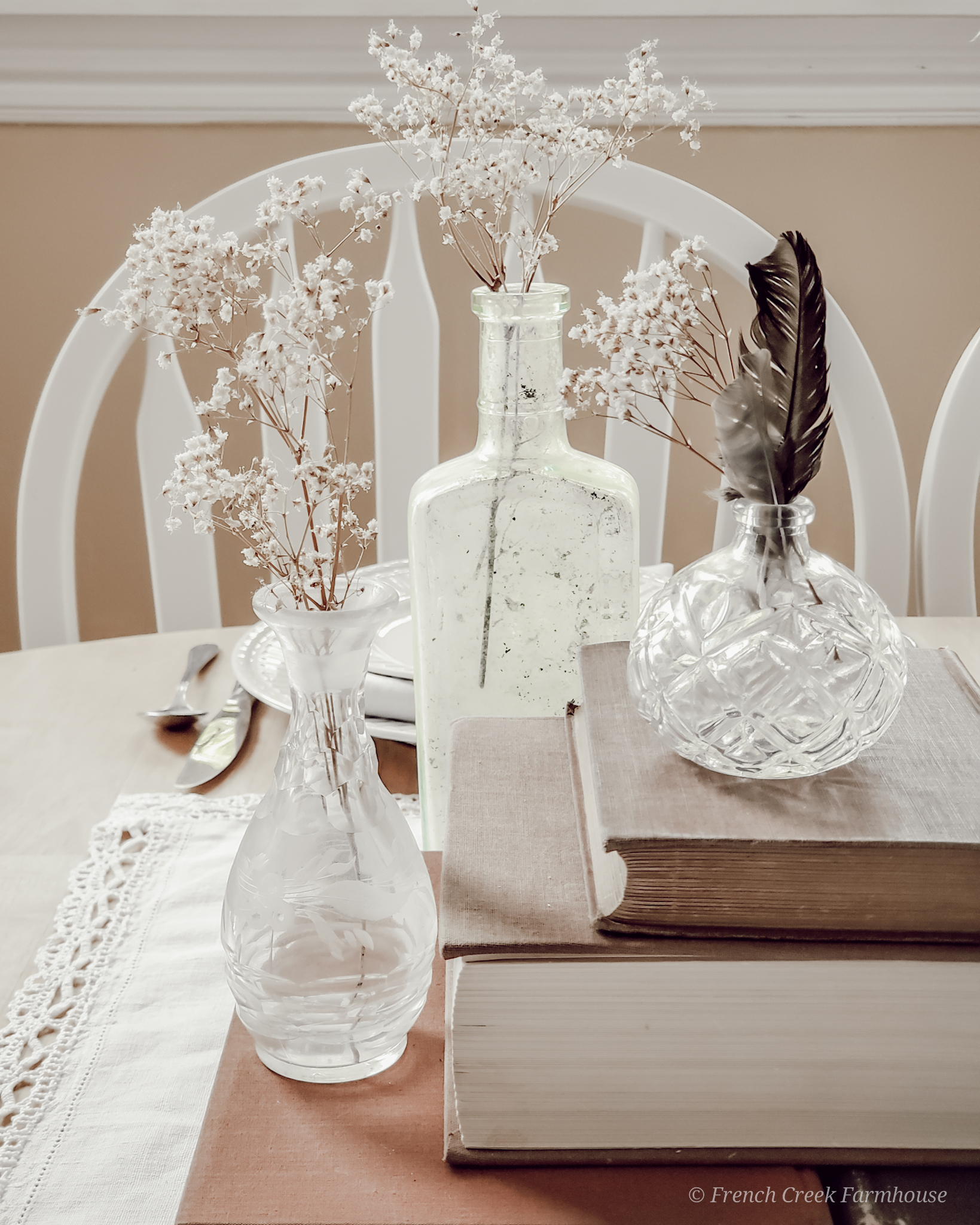 Large floral arrangements do certainly exude a very grand and graceful femininity, though, and that's really what I was going for in this design. I wanted an abundant celebration of spring blooms that felt particularly joyful!
At the same time, I also wanted to make sure I worked in the feeling of a vintage French farmhouse, so the pieces I chose for this design were very intentional.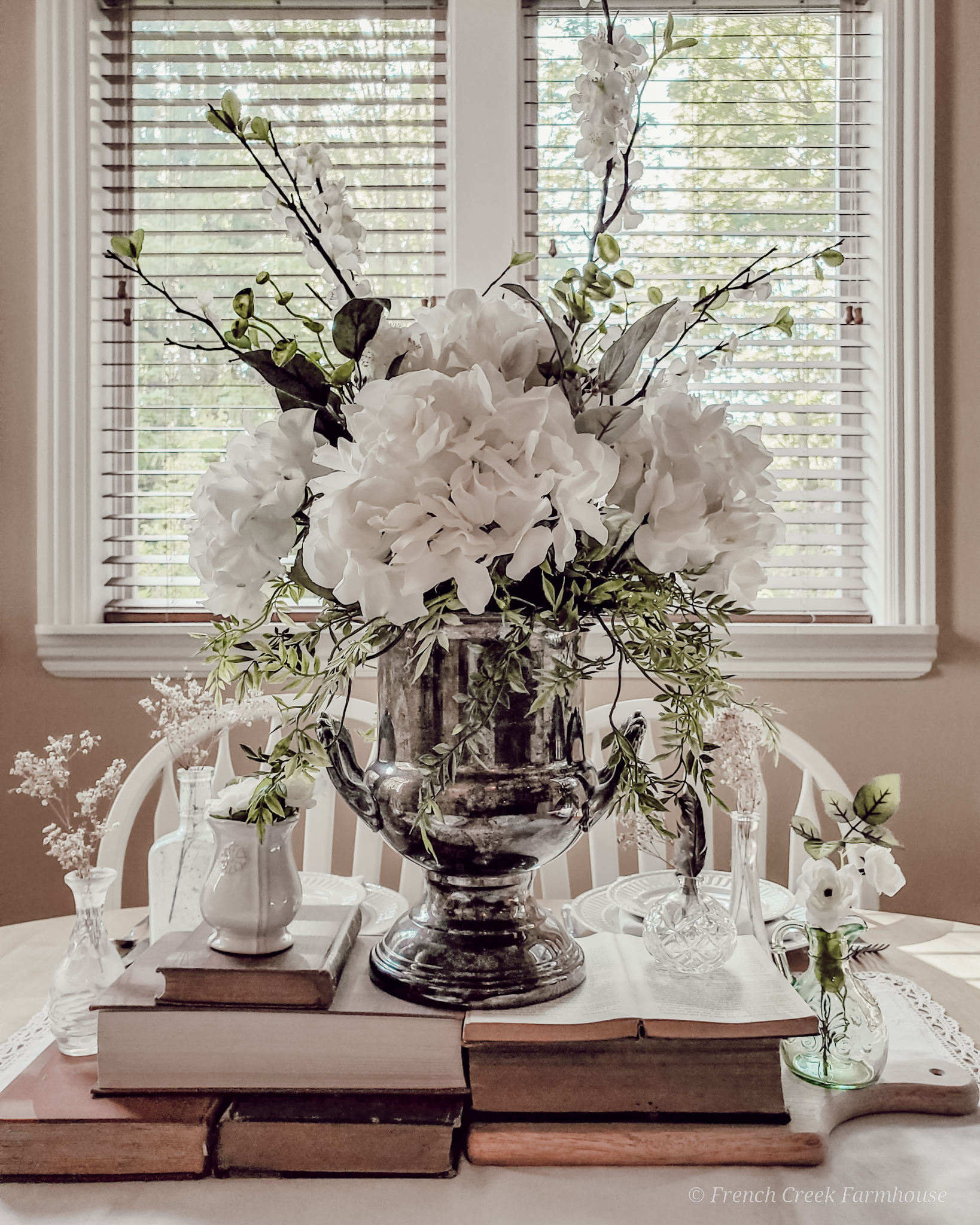 I started with a vintage champagne bucket that I got from my friend Melaine a couple of years ago. I'm lucky that Melaine lives nearby and likes to change her decor often, because there are now a few special pieces that I adore in our home that originally came from her home–it's good to have friends with good taste!
These fluted, silver-plate pieces used to chill champagne are known as Victory Cups, and I just knew that it would be the perfect "vase" for my bountiful floral arrangement. Not only does it provide a nod to the French aesthetic, but the sheer size of the container also makes a great statement.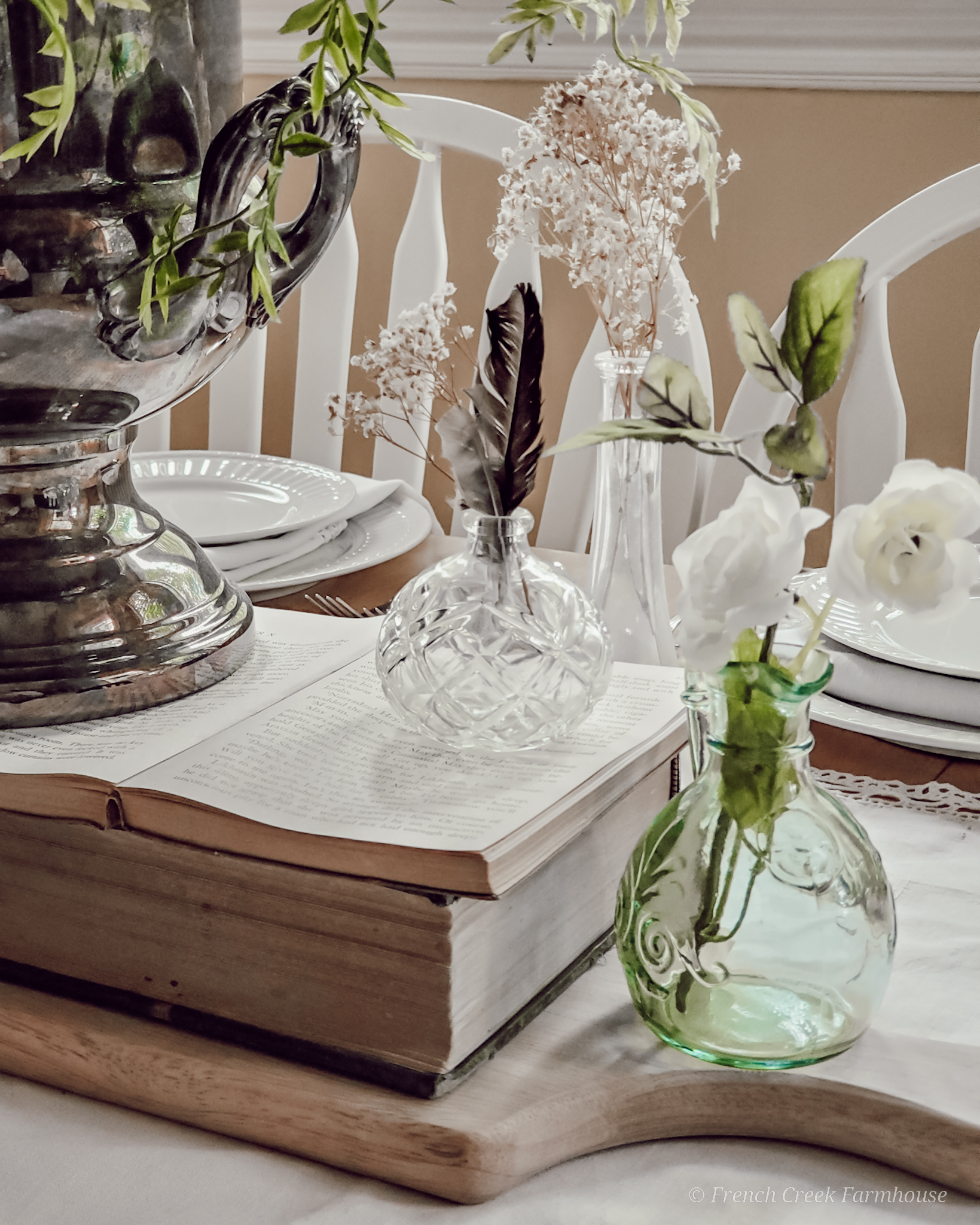 As the foundation for this centerpiece, I used a collection of old books to provide some height, as well as a wooden breadboard as a reminder of the French farmhouse feeling I was going for.
I filled the champagne bucket with cream-colored hydrangeas, two varieties of eucalyptus, and some blossoming branches. The branches not only add height to the arrangement, but they're also a spring touch to the summer vibe of the hydrangea, so they create a perfect "spring to summer" harmony.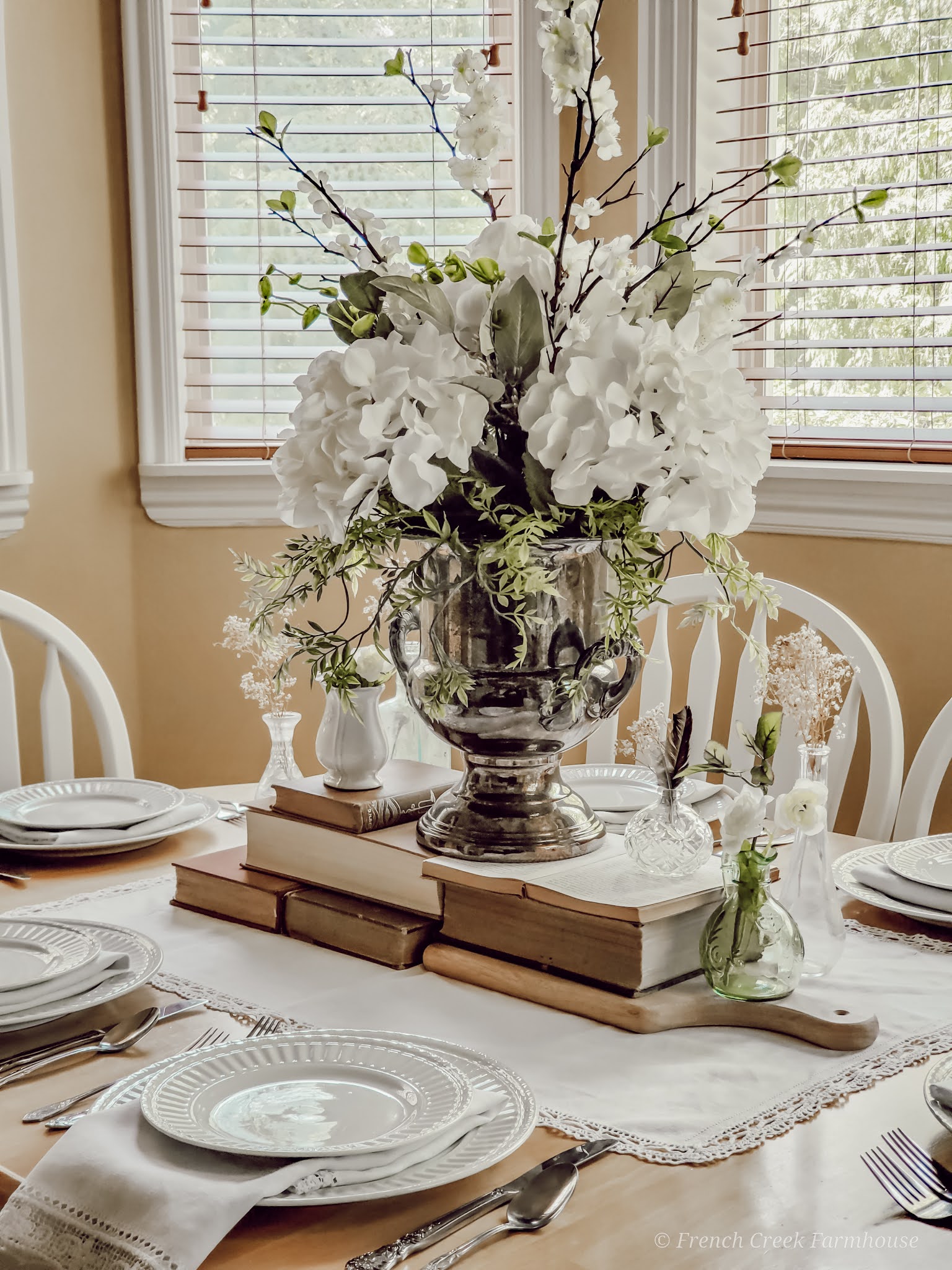 On a personal note, this color of hydrangea was the same that we used in our wedding, so there's definitely a certain romance to this flower for me. I think it's so important that your decor tells a story about your life. It really is a form of art to express your personal history this way.
For that reason, I used a collection of small vintage vases and old glass bottles filled with dried baby's breath around the base of the arrangement for two purposes. First, the size and style of these petite containers bring some softness to such a large floral statement, and that helps to really anchor something that could have become too "loud". Second, the dried baby's breath was preserved from our wedding arrangements, so again, it's bringing some of our personal history into the overall design.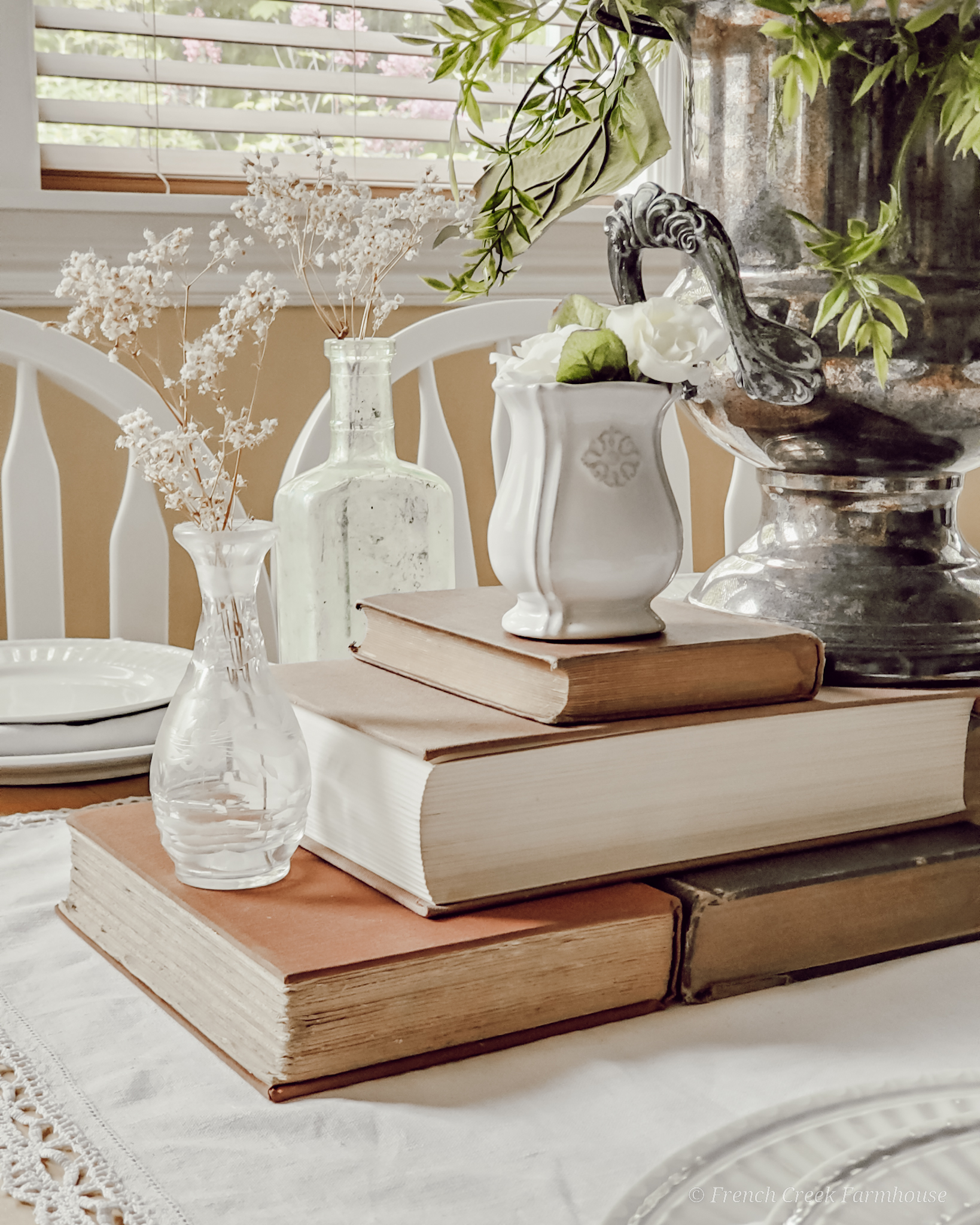 Since my goal for this space was softness and femininity, these little vases were really important to the aesthetic. Had I paired large candlesticks, or other bold elements, the design would have been too overwhelming for the subtlety of a farmhouse breakfast nook.
I also continued my large blooms over on the wall where I hung my favorite rustic basket filled with cream-colored peonies, ranunculus, more blooming branches, and some gently trailing vines (similar ones here).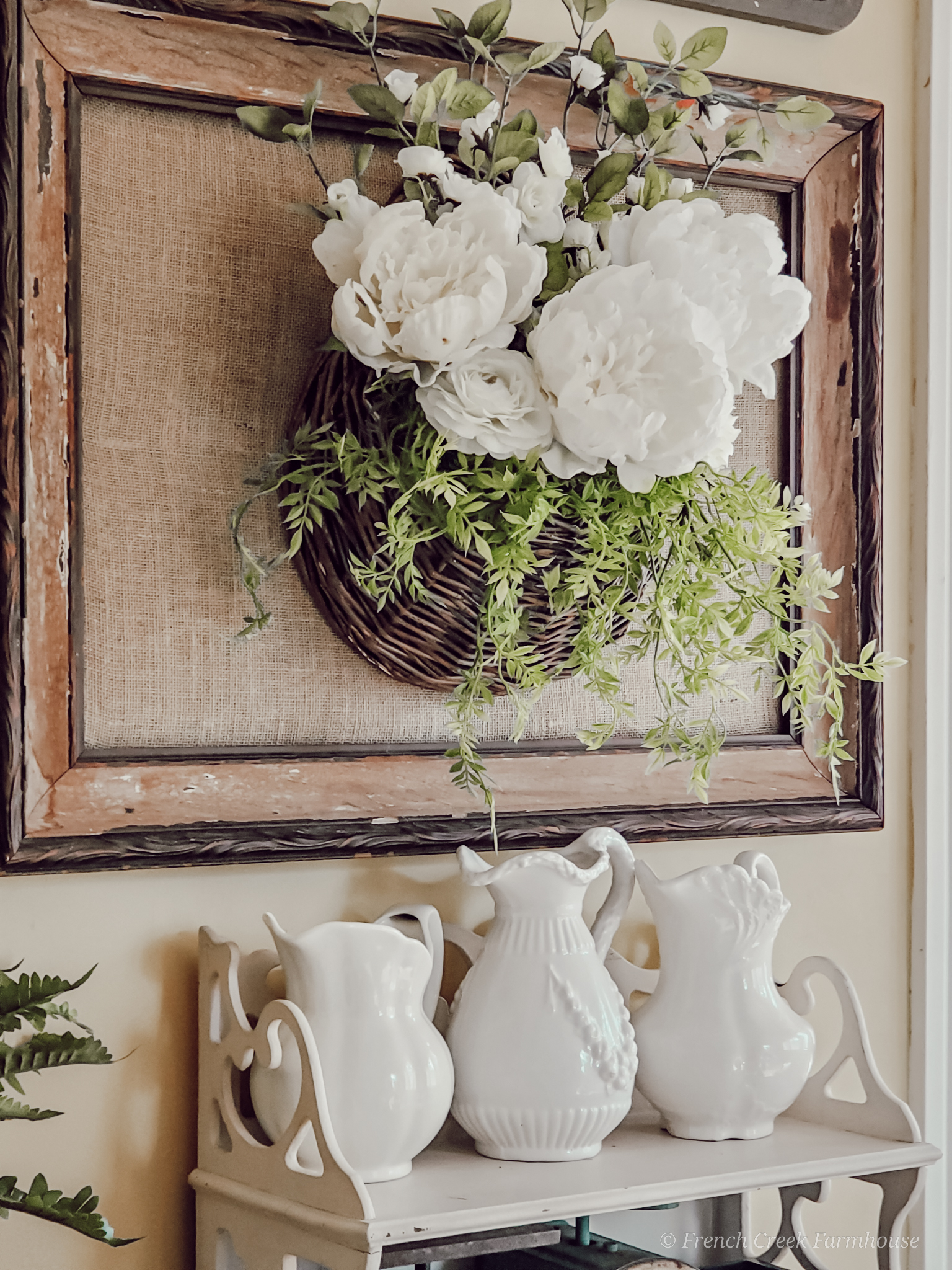 The basket is situated inside of an old, chippy frame I picked up at some garage sale along the way. Another one of those purchases that I really had no idea what I was going to use it for at the time, but eventually, those finds always tell me where they need to go.
This frame had already been hanging on the wall during the previous season, so the only change I made was filling the inside of the frame with burlap to add in a rustic, French farmhouse feeling to the space.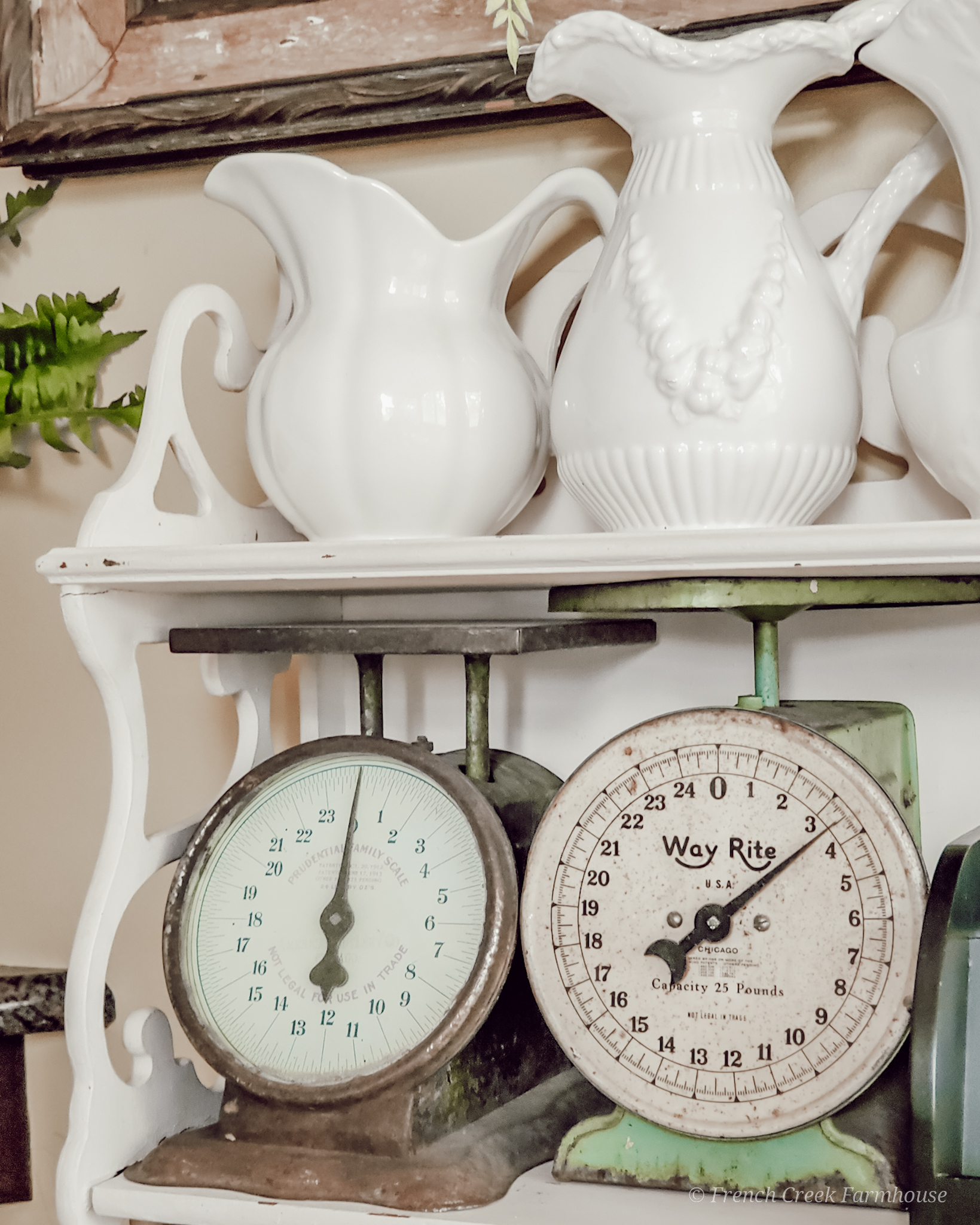 The bookcase was a new addition to this space for spring. I'd had a more modern farmhouse baker's shelf in this space in the past, but I wanted something more vintage, more decorative, and more feminine for the space now.
I love the scrolling cutouts along the sides, as well as the chipping paint that speaks to it's history. This was a piece I'd originally intended to sell in our shop, but just couldn't find a way to part with because I loved it so much!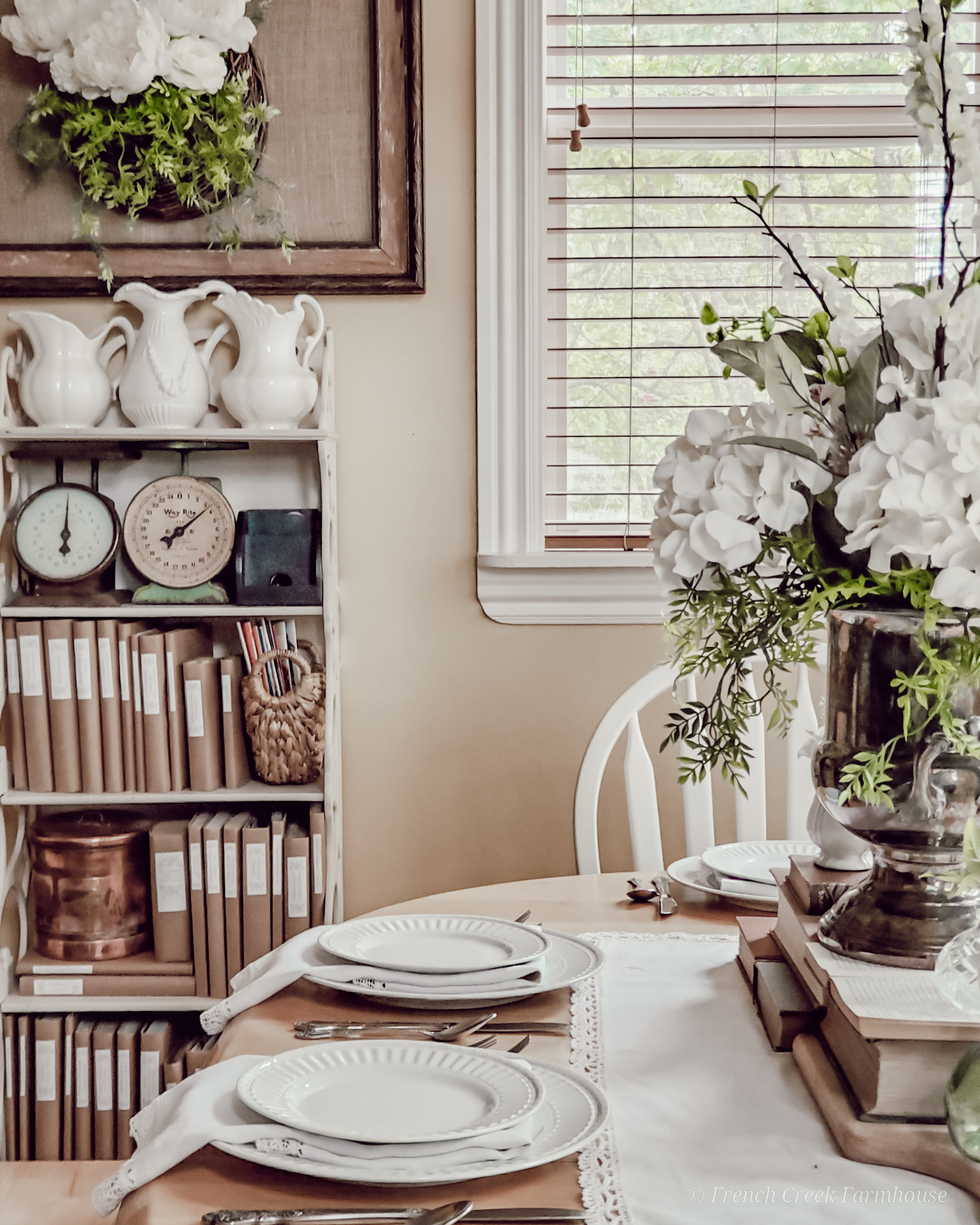 On the shelves, I stashed all of my cookbooks, which I recovered with brown kraft paper and custom labels. Then, to bring in more of the vintage, I added a couple of my old kitchen scales.
You  might notice that our charging station is tucked in there as well, and that's because we have a "no devices at the table" rule in our family. All of the phones and tablets can be dropped into the charging station while we dine, and we can spend our mealtimes being more present with each other.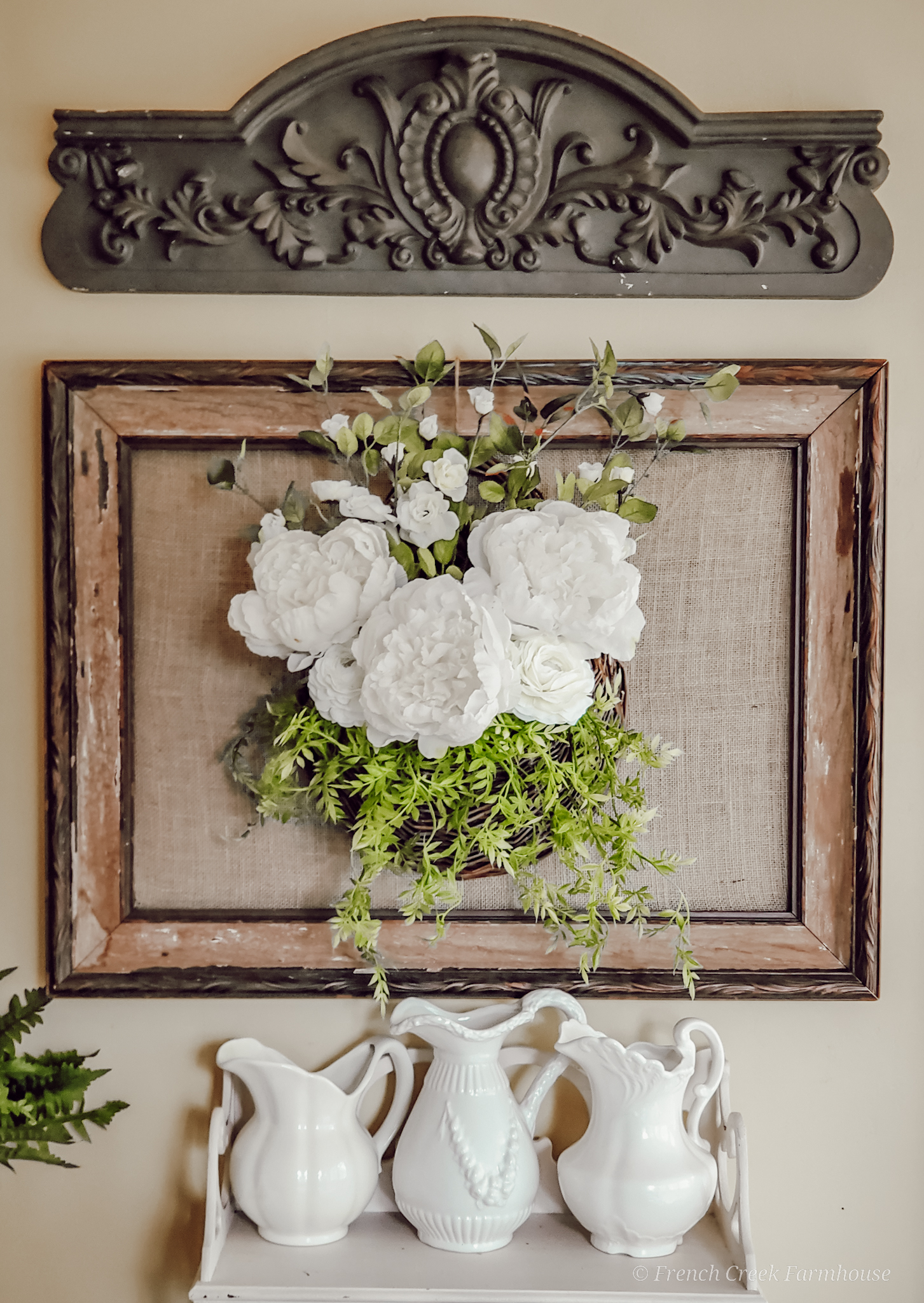 On the highest shelf, I lined up three of my favorite vintage pitchers to, again, add some softness and a French farmhouse feeling. Although you can't see it in this view, I have also lined the top of our kitchen cabinets with my collection of white pitchers, so it ties our breakfast nook in with the adjacent kitchen, too.
Finally, the tablesetting!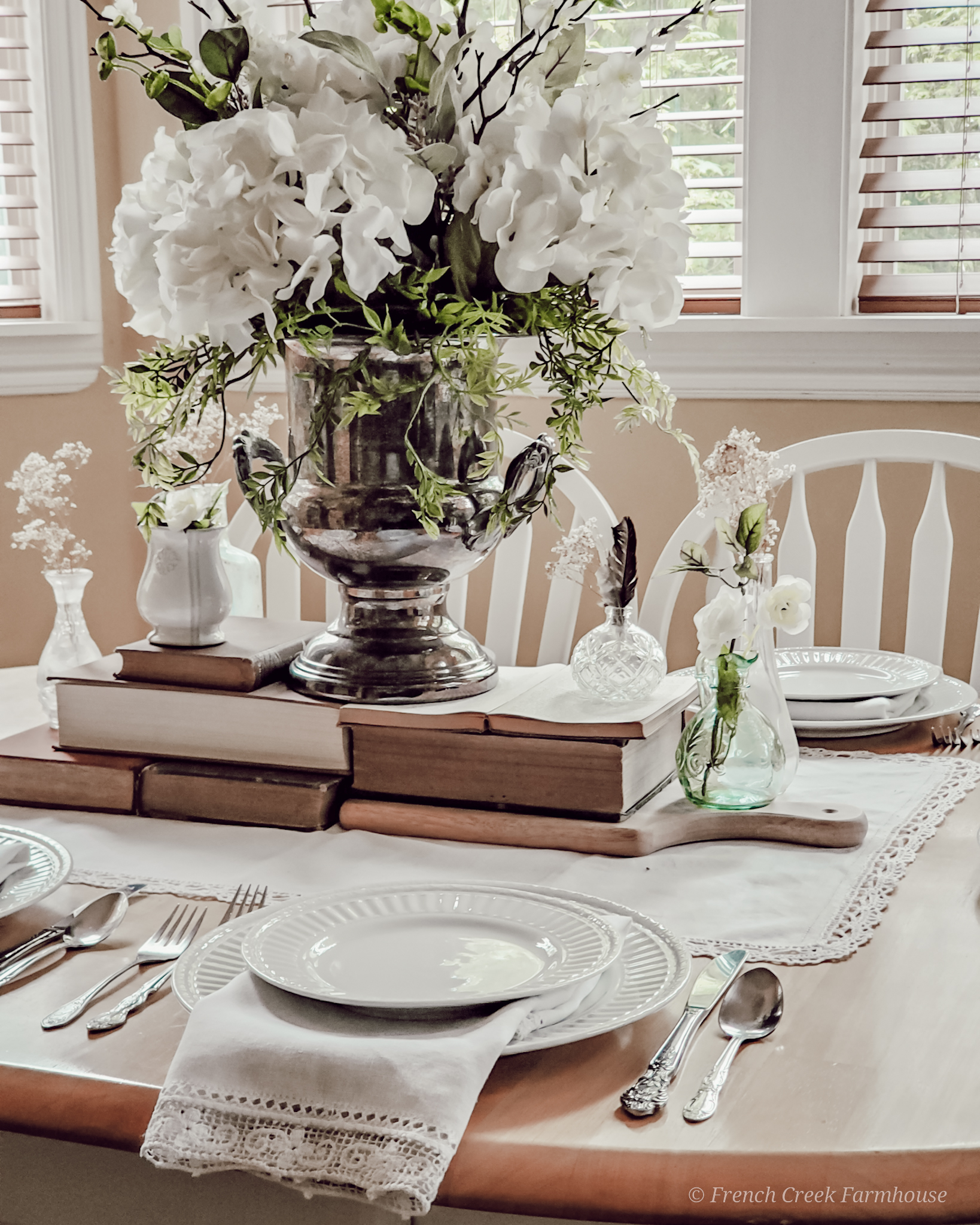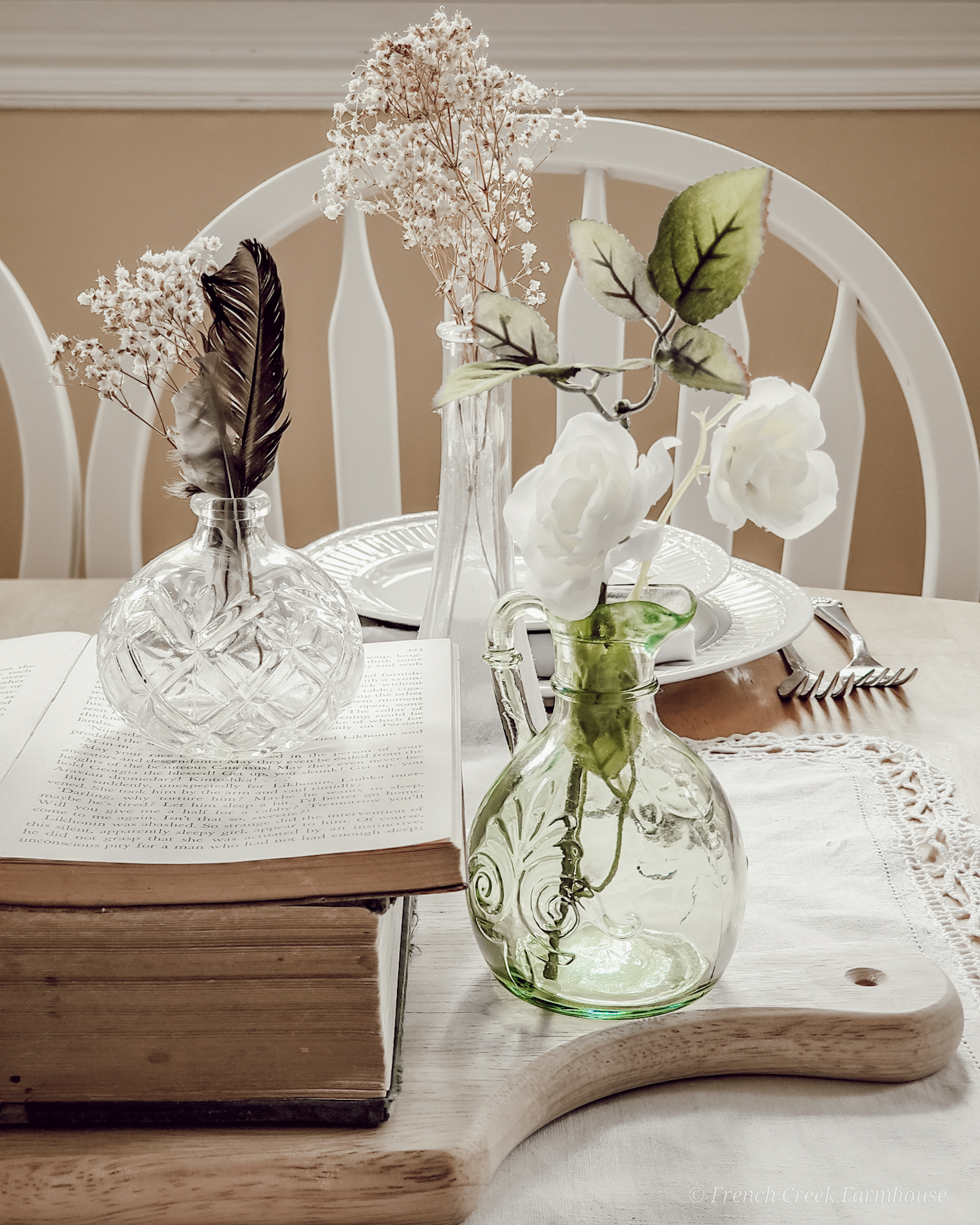 While I normally use chargers or placemats under our plates, I really didn't want anything to distract from the centerpiece in this design. That meant that I put the plates directly on the table.
I chose to use my simple white dishes to keep things more understated, as well as vintage cloth napkins. Their crocheted edges added the perfect touch and matched the vintage runner I used under the centerpiece.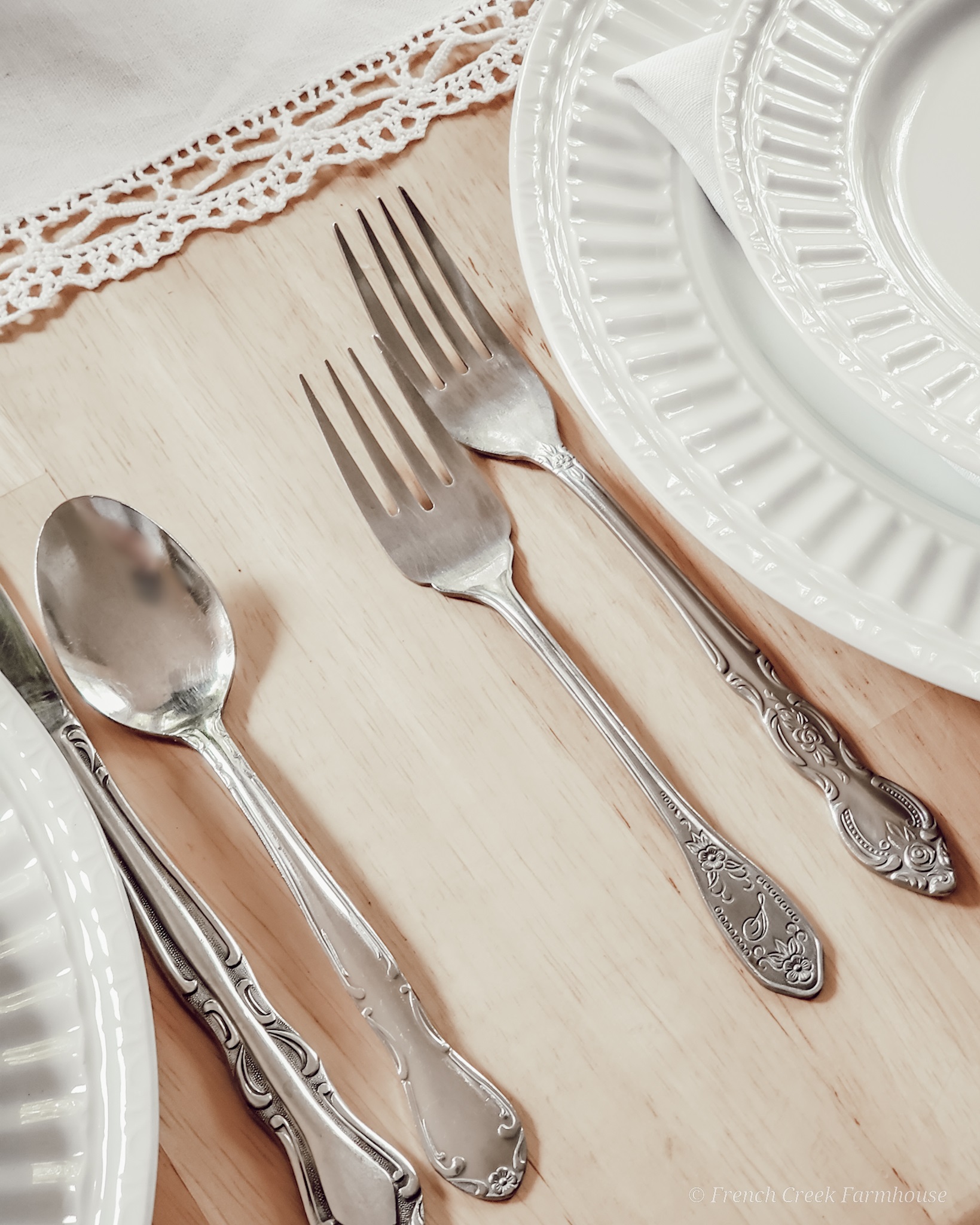 Mismatched vintage flatware finished off each place setting, and these were the same cutlery pieces we used at our wedding, so it was another piece of romantic history for the space.
Quite honestly, I would prefer the look of vintage mismatched cutlery over a new set any day! I really think it has such a charming brocante beauty, and you can collect pieces from estate sales, thrift stores, and garage sales for a fraction of the cost of new silverware–with far more character. Just make sure you choose stainless pieces if you don't want to be stuck polishing silver!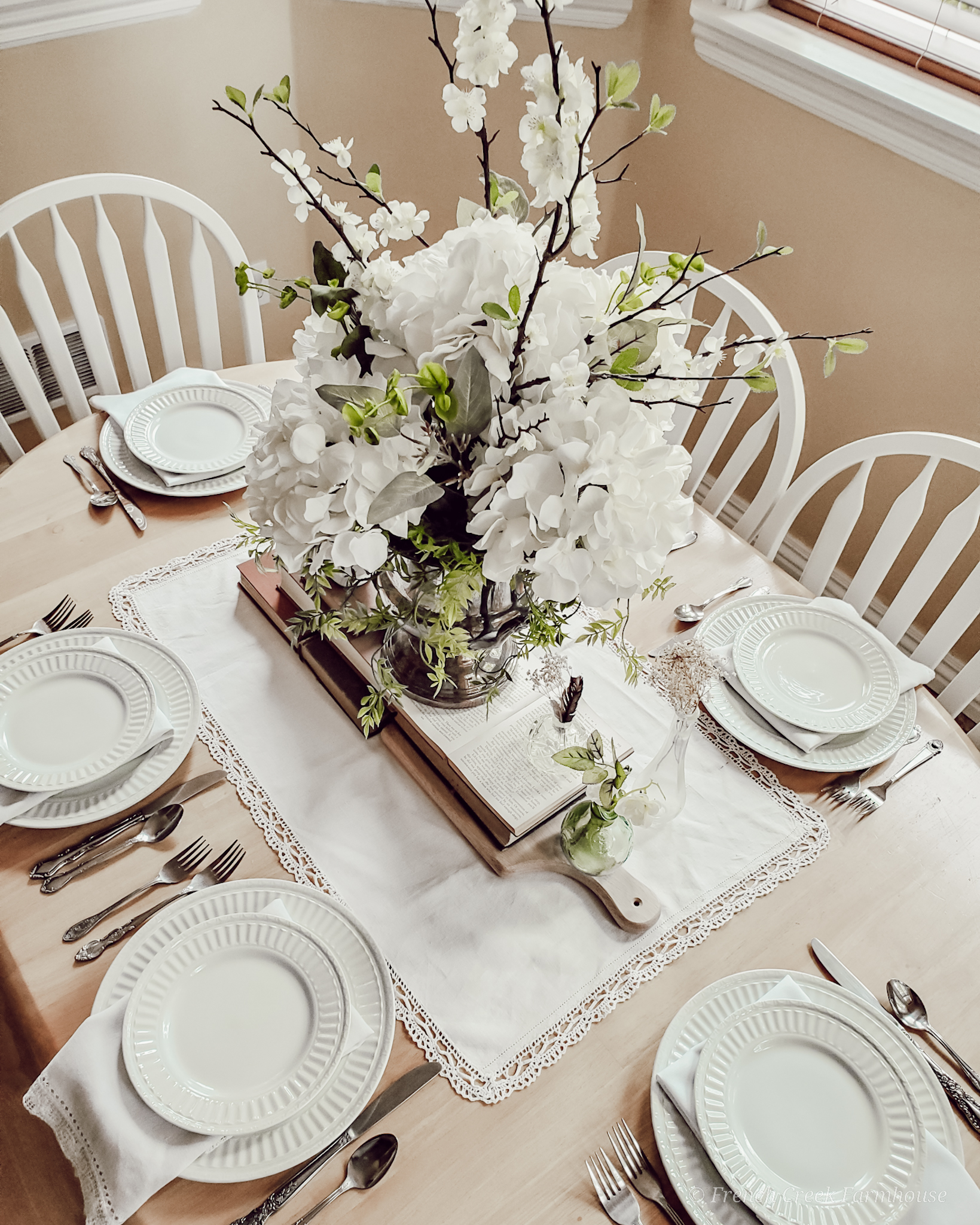 This might be my favorite design of our breakfast nook that I've ever undertaken, and I think it's due in large part to stepping outside of my comfort zone and trying something new. I've always embraced the doing of things that are challenging or scary because I believe that's how we're meant to grow, learn, and find out more about ourselves.
Can refreshing your dining table really do all of those things? Why not! Virginia Woolf wrote in A Room of One's Own:
One cannot think well, love well, sleep well, if one has not dined well.
So surround yourself with beauty and explore your creativity. Dine and live well, friends!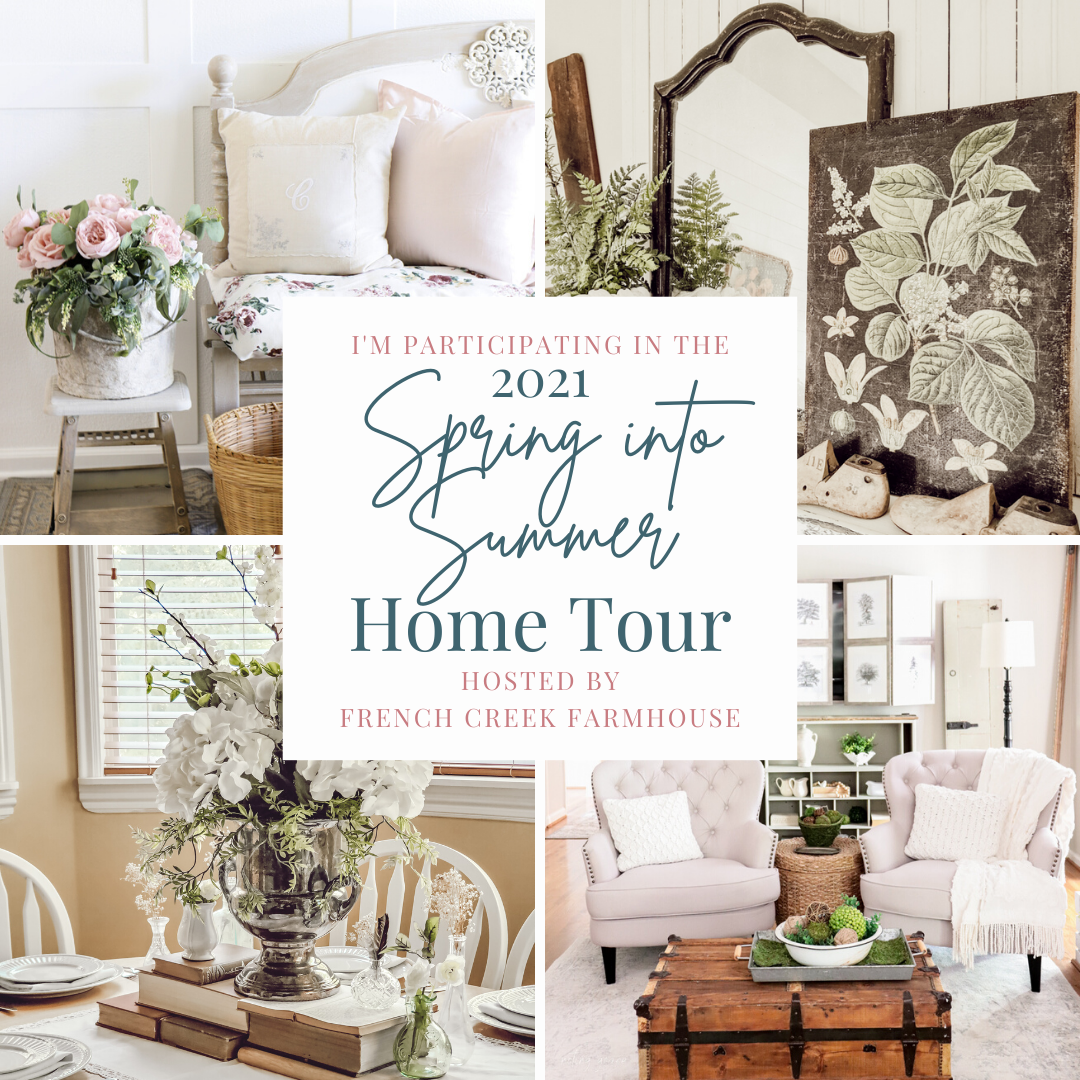 I'm absolutely thrilled to be hosting a fantastic group of 28 of my talented blogging friends as we bring you the best of all things home! This tablescape was my contribution, but goodness–there is so much more to see!
Please continue along this inspiring Spring Into Summer tour, and visit the other participants in each of the following categories. Each of these ladies have been working very hard to put together such a gorgeous collection, and I feel so very blessed to call them friends. I hope you make some new friends along the way as you get to know each of these sweet designers.







Do you love hunting for vintage treasures as much as I do?
Get my free vintage & junk hunting journal
Let's be email pen pals! Sign up to join our community, and get your free printable PDF Vintage Hunting Journal. This is so good!