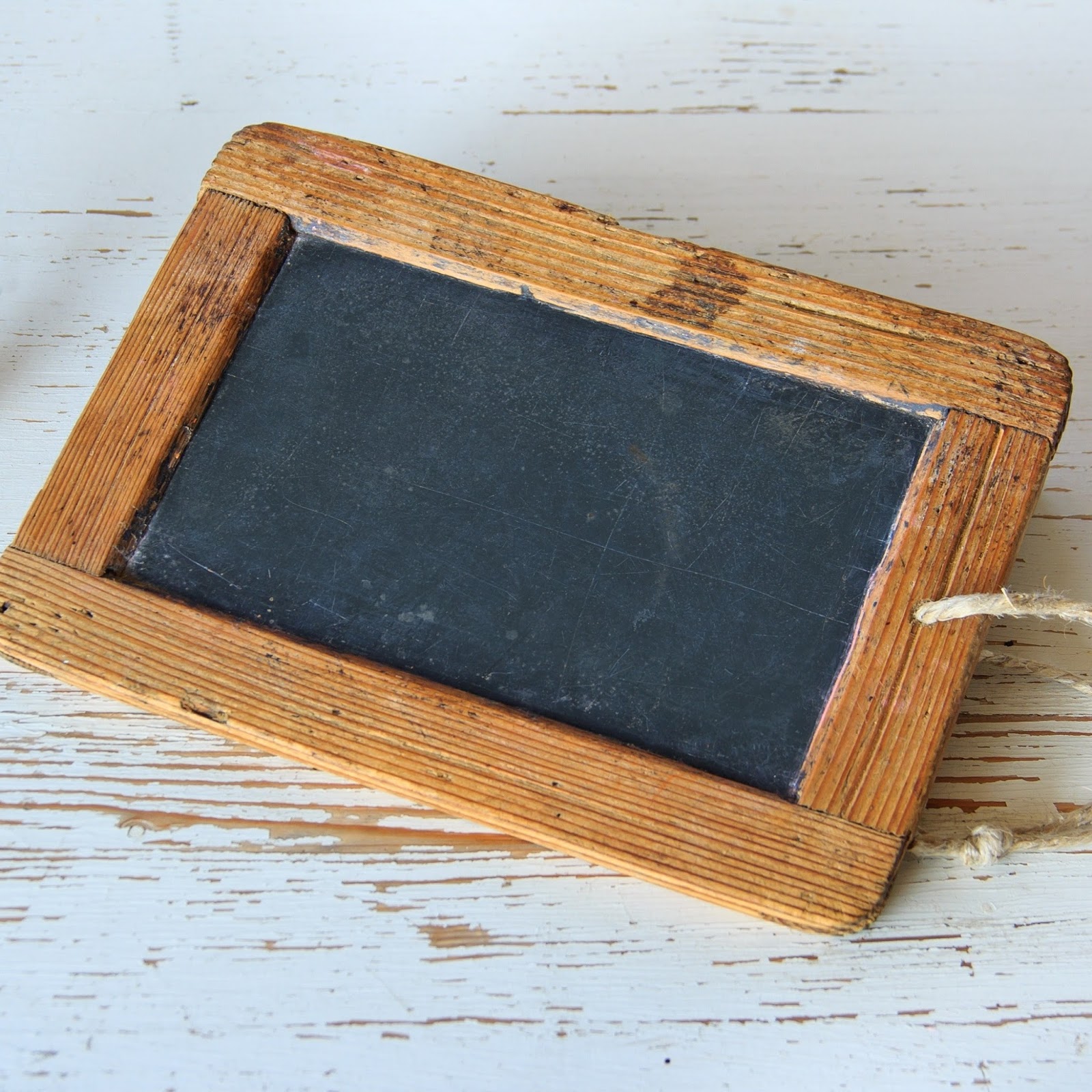 If you're at least my age, you probably still remember the smell of chalk dust from the blackboards at school. Or getting picked by the teacher to go outside and bang the erasers on the sidewalk while the class practiced multiplication tables or some other exercise. These were the days before dry erase or those fancy SMART boards, and there is something that still delights me about writing with a piece of chalk.

I love that you can design and create and then, just as easily, erase and start over when you use chalk. Does that say something about me and my commitment to my home decor choices? 😂 But, seriously, what's great is that you get the added benefit of being able to change your home's look with ease when you use chalkboards around the house, so you can always update to whatever you currently love. Let's take a look at four ways you might work one into your decor.

Disclosure: This is NOT a sponsored post, and I have received NO compensation for sharing any of these supplies or products. Some links to items that follow may be affiliate links, and I might earn a commission if you make a purchase through that link. This usually amounts to cents, not dollars, and helps to support the projects featured on this blog. I only recommend products from companies that I have found to be trustworthy. Read my full disclosure here.

1. The Classic Chalkboard
There is nothing quite like the look of a classic, wood-framed, slate chalkboard. And, if you are lucky enough to find a vintage schoolhouse chalkboard, you have a real treasure! But even reproductions or DIY versions (like mine in my office, below) can bring that vintage feel into your space.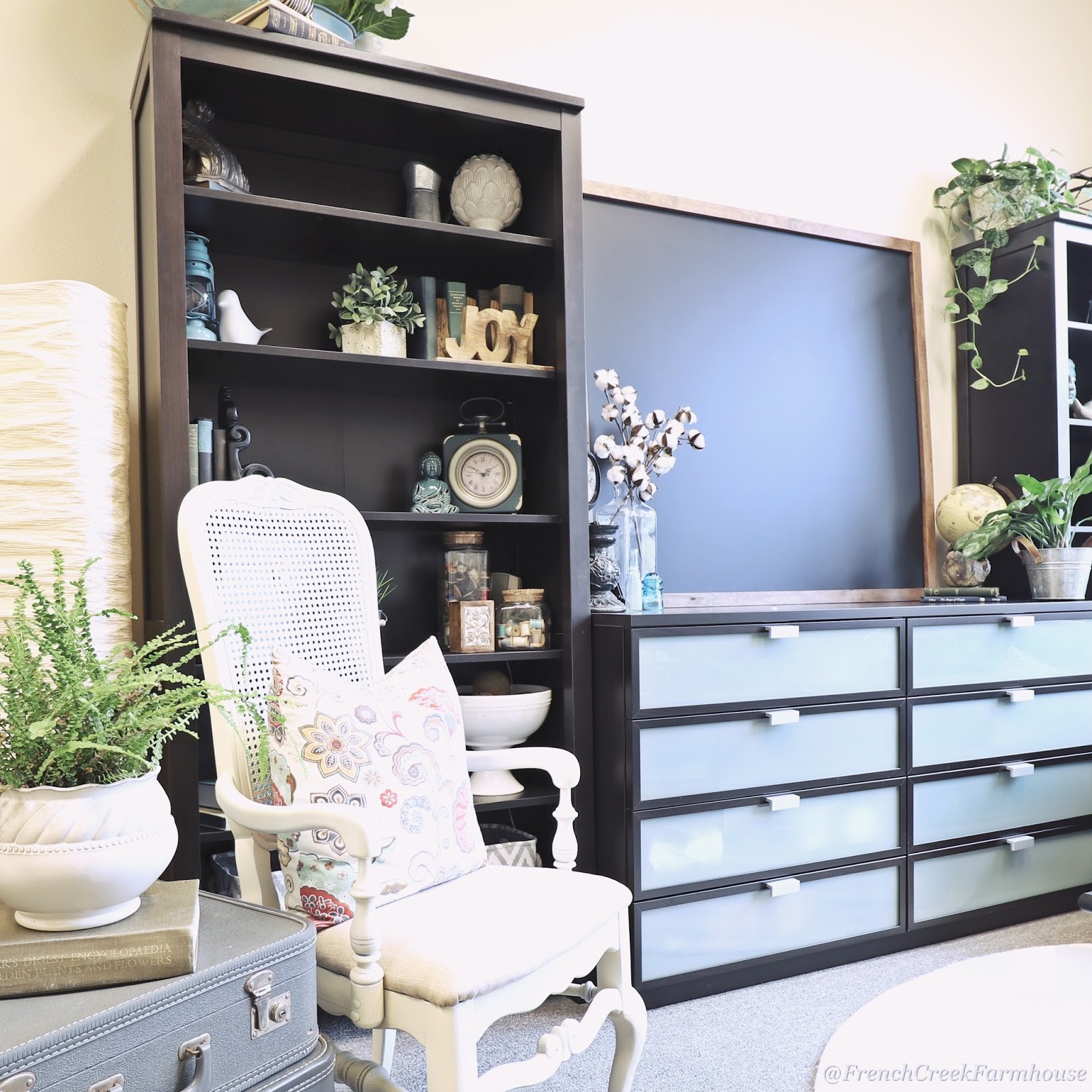 You don't even need to feel pressured to write anything on yours, either. A chalkboard can make a great backdrop for featuring a special item or a pretty wreath.
Finding a place for a chalkboard in a kid-friendly space can make a great place for creativity to flourish too!
2. DIY and Repurposed Chalkboards
Lately, I have especially loved chalkboards that have been created through some form of upcycling. This one was created by my sweet friend Laura out of an old piano, and it's one of my favorites!
I also love the idea of repurposing an old door. There are so many ways you might use one like this, and move it around your home at different times. A menu for a dinner party is a great idea, and how about a to-do list in your home office? Or a seasonal greeting near the front door?
If you don't have a ton of room, but still like the idea of adding a chalkboard somewhere in your home, finding an architectural piece, or part of a piece of furniture is an easy way to make your own. All you need is a can of this paint and a foam roller like this one to make it happen!
If you use this paint, it goes a long way, so why not create a few other chalkboard inspired projects too? Wouldn't this idea make for some cute personalized charger plates in a nature-inspired tablescape?
3. Chalkboard Walls
If you really want to make a statement, a chalkboard wall is a great way to go! In my last office, the wall behind my desk was a place where I could keep track of ideas, make lists, or just decorate with hand-lettered quotes that served as sweet reminders: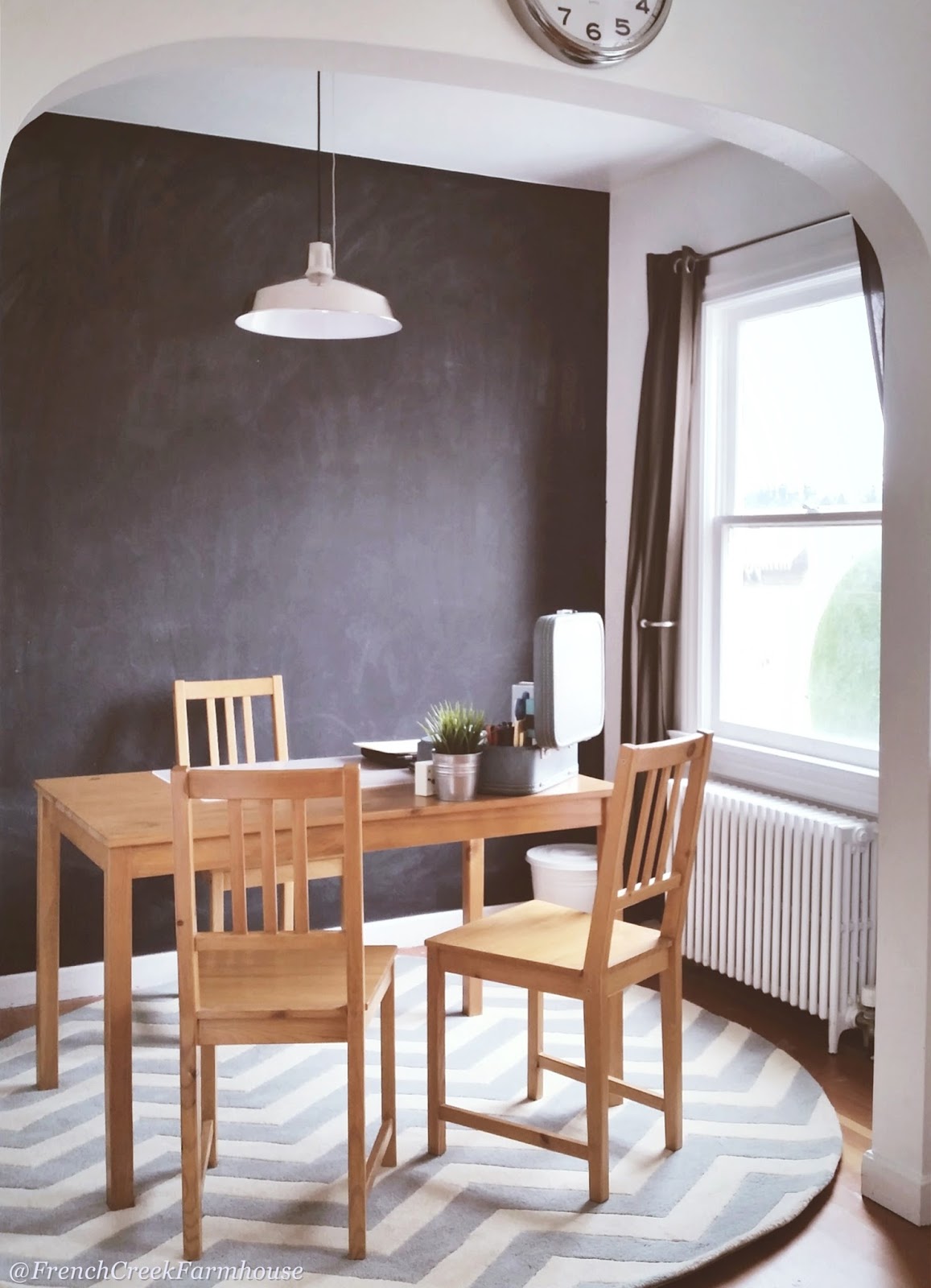 Many people will shy away from a bold wall color like the black of a chalkboard if they have a small space. But, because of the unique contrast an accent wall provides, it can actually make the space feel bigger when it's done right! This is a great example of minimalist decor and a small space that looks stunning.
If black chalkboards feel overwhelming or don't quite fit your style, this paint is tintable in many colors. Maybe a classic schoolhouse look with a vintage green would look just right with your farmhouse decor.
4. Chalkboard Accents
A wall or a statement piece isn't the only way to work this chalkboard style into your decor. Small accents within your decor will give you the vintage charm without taking up much space.
I love the idea of repurposing an old clock. These are so common in thrift stores, and you can usually snag them for somewhere around cheap-ninety-nine. A little spray paint for the edges and a chalkboard backing gives you a great canvas to get creative!
Cutting boards are another easy thrift store score. With the germs that can remain in wood, you might not want to use them for food handling, but they make an adorable addition to farmhouse or rustic decor!
And for a tiny chalkboard accent, how about making small tags to label baskets or other containers? You could also use these for DIY napkin rings, or atop a package wrapped in plain kraft paper and tied with twine. The possibilities are endless!
Do you have a chalkboard somewhere in your decor? I'd love to see it! Be sure to add the hashtag #FrenchCreekDecorCrush to your instagram pics, and tag me to make sure I see it!
Crushing On is a weekly blog series I've created to provide some gorgeous inspiration for how to style your home decor. You can also follow the current crush on Instagram with #FrenchCreekDecorCrush and play along with each week's crush to have your photos featured! Find all the details in my Instagram highlights on my profile. Be sure to check out last week's crush, here, too.
Next week's crush: Clocks!
Do you love hunting for vintage treasures as much as I do?
Get my free vintage & junk hunting journal
Let's be email pen pals! Sign up to join our community, and get your free printable PDF Vintage Hunting Journal. This is so good!