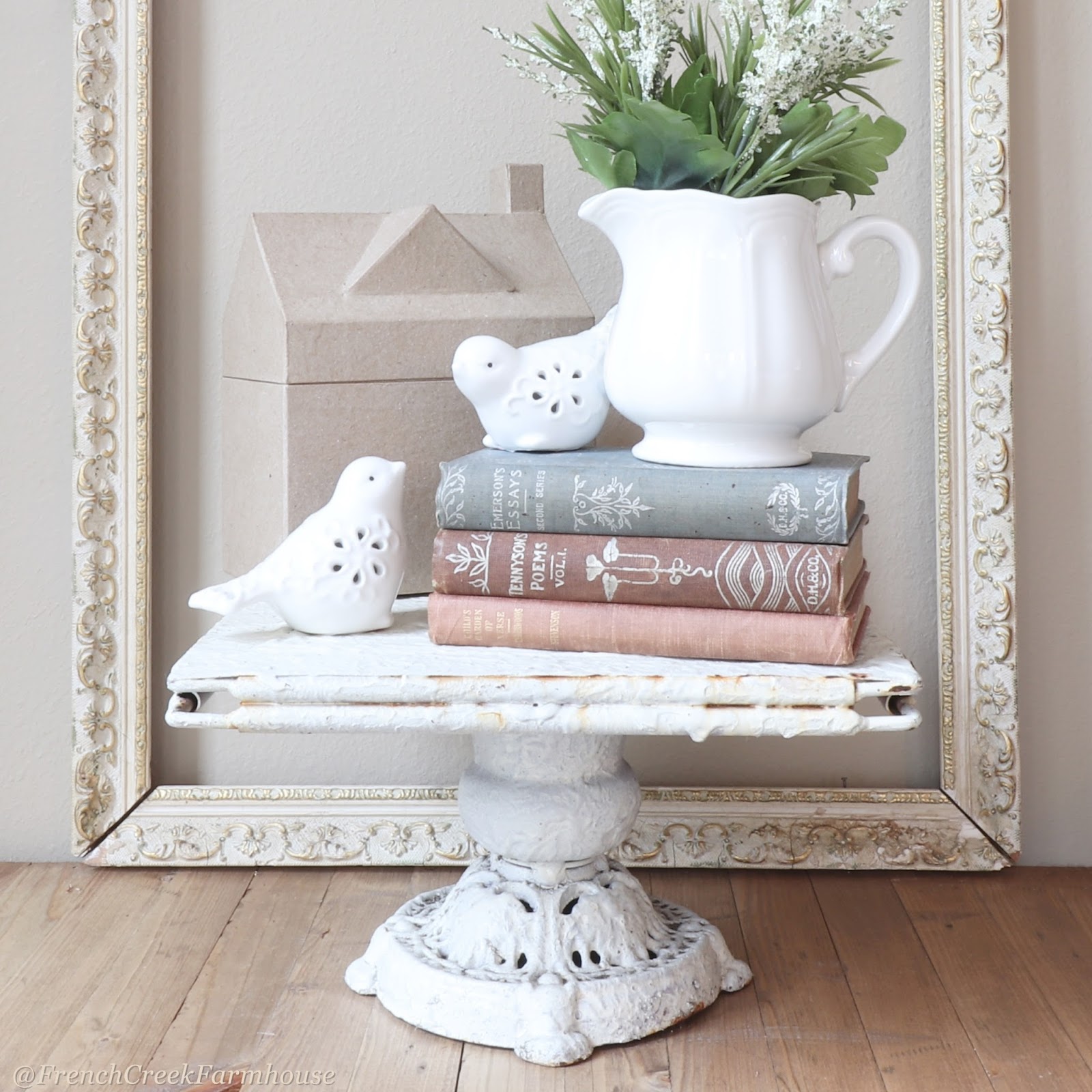 One of my earliest memories is of sitting on my grandfather's lap in his big old rocking chair and reading books together. As soon as we'd finish the book, I'd immediately want to start it over again. I couldn't get enough!
I still consume books voraciously as an adult, and even when I'm not in the middle of a good read, I just love books. Especially old ones! I love the smell, the way their covers feel, the weight of the paper, and if I can find ones with heartfelt inscriptions in the covers, that's a special bonus. I like the idea of being close to that special piece of history that meant so much to someone decades before.

Books are wonderful for reading, but they also make fantastic home decor pieces. And you don't even need bookshelves to store them!
If you're looking for a little inspiration to bring some gorgeous old books into your home decor, these amazing ideas should do the trick! Here are 5 great suggestions, as well as some helpful tips…
1. Use books to add height
When decorating, height and layers add visual interest. Stacks of books provide an easy way to create varying levels while accentuating special, featured decor items.
Decorating Tip: Find books with interesting titles that coordinate with the vignette you are creating. This can be a fun way to add a little humor into your decor as well. For example, I have an old hardback book titled "Goldfish in Your Home". When I'm feeling silly, I set a ceramic fish statue on top of it for fun!
2. Show off special books
If you have a book that is a treasured family heirloom, don't hide it–display it! Showing off these special pieces allows you to experience their joy every day.
Preservation Tip: If you are worried that displaying a family treasure will put it at risk (sticky-fingered children? tail-twitching pets?), consider displaying it in an out-of-the-way location or a safe height where it is less likely to be in the path of danger.
3. Use books to add color
Whether you want to work in a pop of bright color, or accentuate a neutral palette, you can find books to do what you need. Thrift stores are a great place to build your collection at an affordable price.
Vintage-Hunting Tip: Pay attention when thrift stores offer specials based on colored price tags. For example, our Goodwill chooses one color of tag (red, blue, green, or pink) each week to mark 50% off. And the St. Vincent de Paul store marks a certain color of tag down to just 99 cents each week.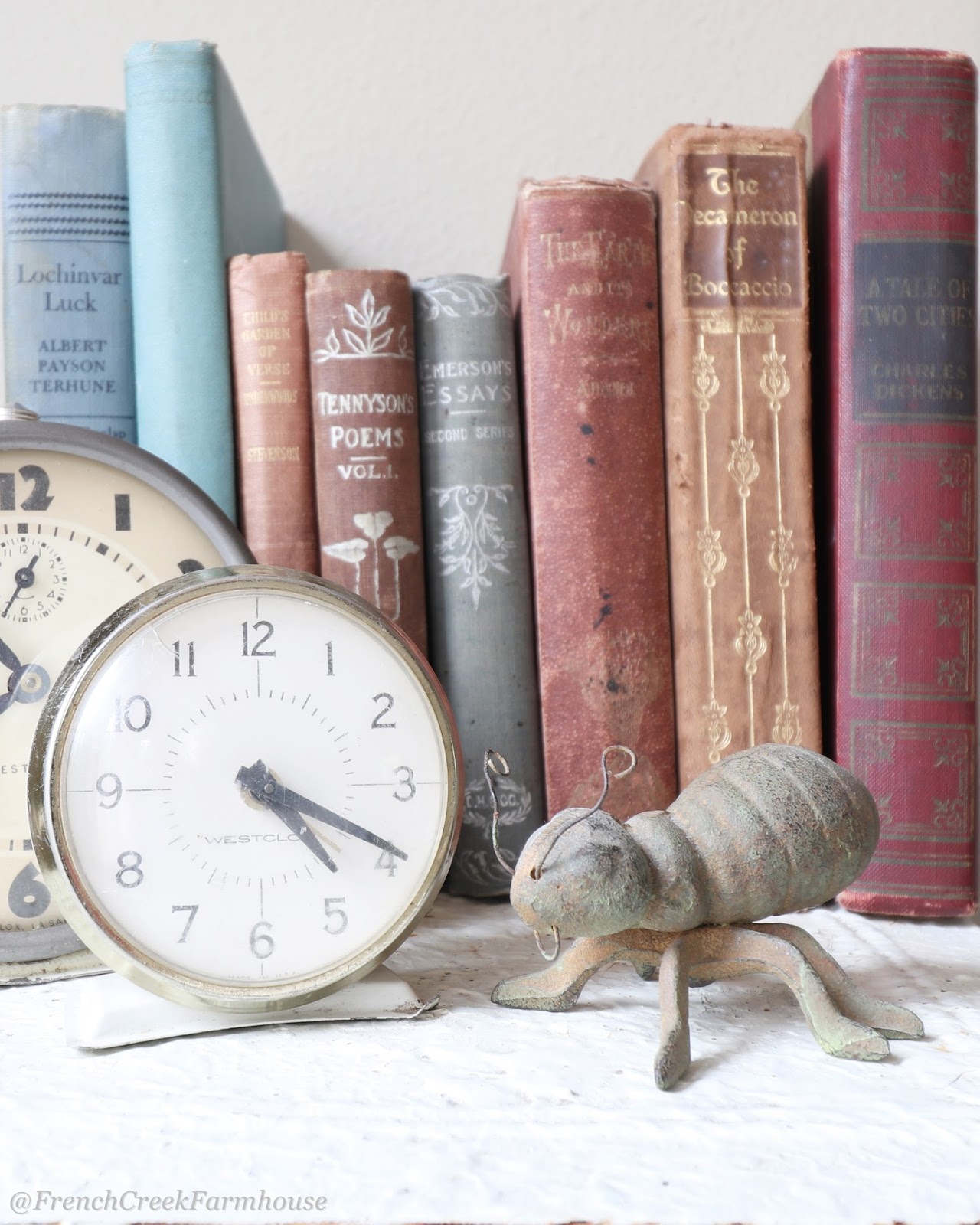 4. Use books to fill empty spaces
If you're decorating a large space, you might end up with gaps that look awkward. Books can serve as great filler in those times.
Decorating Tip: Turning books around to show their pages instead of their spines is a simple way to maintain a neutral color palette without destroying any old books. Plus, you can reuse those colorful books in other decor styling at different times of the year. In our home, we keep a very neutral palette, but I have been collecting a lot of red and green books that we use during holiday decorating. Turning them around gives them a dual purpose for the rest of the year!
5. Use books as art
There are tons of ways that you can use books to create stunning art in your home. Use your creativity!
Vintage Collecting Tip: If you have a vintage book, you might not want to destroy it in the process of making art. Old books are pieces of history worth preserving. Save those vintage copies for the ideas up above, and find newer copies of thrifted hardbacks to use for your art. You can distress a newer hardback to look old, and even give the pages a weathered, antique look by "painting" them with coffee or black tea.
These are all great examples of how to style old books into your home decor. Which one of the above was your favorite? Do you collect old books? What's the oldest or most unique one in your collection? I'd love to hear in the comments below!
I'd also love to see how you've styled your books, too. Add the hashtag #FrenchCreekDecorCrush to your instagram pics, and tag me to make sure I see it! Be sure to check out last week's crush, here, too.
Do you love hunting for vintage treasures as much as I do?
Get my free vintage & junk hunting journal
Let's be email pen pals! Sign up to join our community, and get your free printable PDF Vintage Hunting Journal. This is so good!