Mushroom Gravy (Gluten-free & Vegan)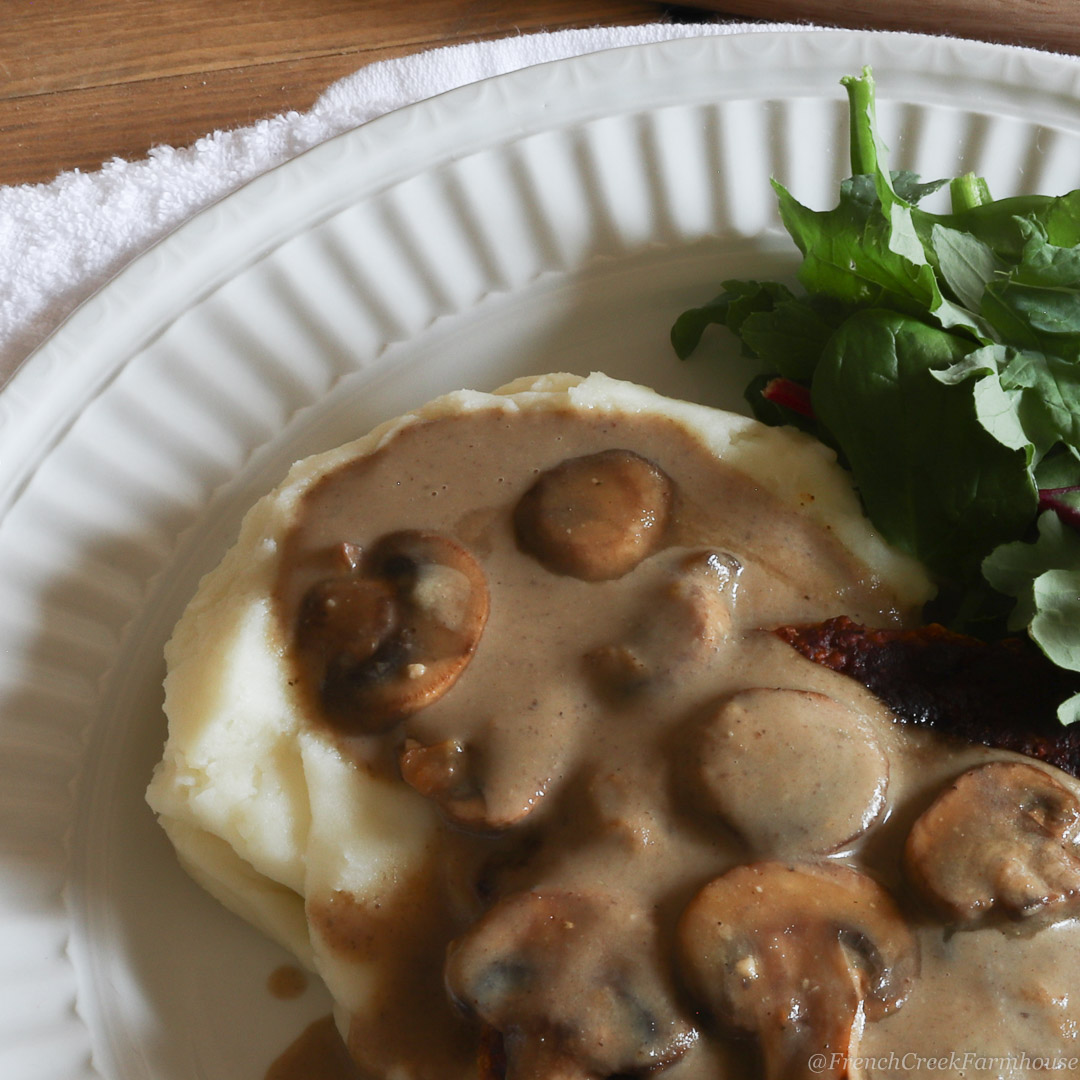 When it's cold outside, and you've spent the whole day doing farm chores, a hearty and home-style meal just feels so good as it warms you from the inside. This past fall, I decided to revamp a classic gravy recipe that would capture all of the traditional and humble home-cooked simplicity, while also being suitable for a variety of dietary needs.

After several iterations to get it just right, it's ready to share today!
One of the toughest things about living with Celiac Disease is dealing with the availability–or lack thereof–of all the foods you grew up with. Back when I was diagnosed in 2011, "gluten-free" wasn't trendy. Restaurants didn't notate the Celiac-friendly items on their menu, and almost every commercially available product tasted like crumbly, bland cardboard.
I had no choice but to put my culinary skills to work and learn how to cook in a totally different way.
Spring ahead almost 9 years, and for this recipe, I wanted to capture the essence of farm cooking from the dinner tables of my childhood. And because I love stretching what I'm capable of doing in the kitchen, I also wanted channel my inner Julia Child and have this recipe incorporate a hint of a French, roux-like flavor and consistency…but I had to make it both gluten-free and vegan. Challenge accepted!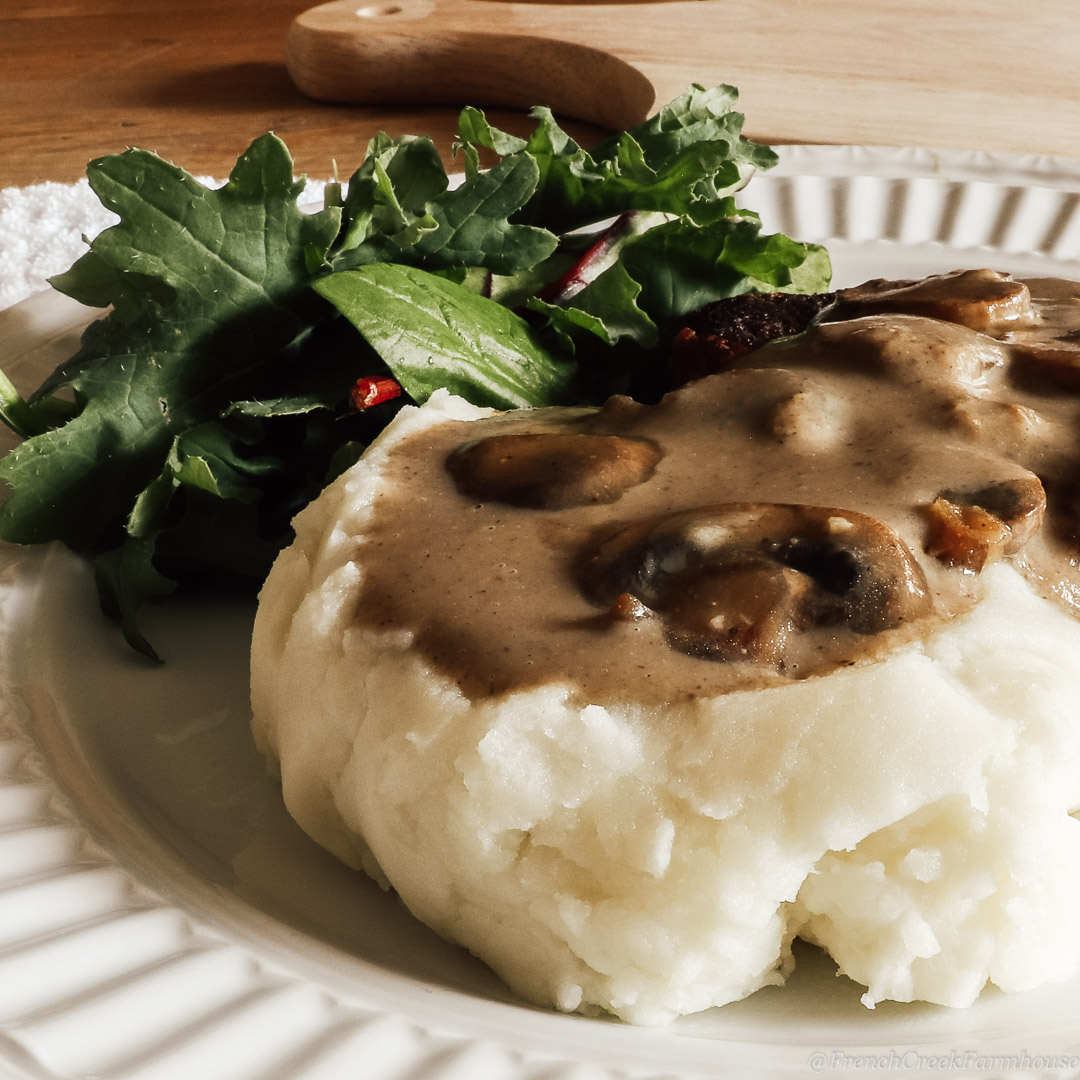 What is roux?
Pronounced "roo" (like kangaroo), roux is a French technique for making sauces that combines flour and fat together to thicken and add flavor. Classically, roux uses fats like butter, lard, or bacon drippings, so it's clearly not a vegan staple in the kitchen!
To be made properly, the fat is melted in a pan, first, and then the flour is added after and whisked while cooking until the taste of the raw flour is gone and the desired color is obtained.
My challenge was to replicate this process without animal fats, and with only gluten-free ingredients.
Uses for Mushroom Gravy
Mushroom gravy is suitable for all of the same dishes where you might use brown gravy, but you'll find that the flavor has much more complexity and depth. These qualities add a richness to your meal that might just make it your new favorite recipe!
Brown gravy is generally made from the juices that run off of meat during cooking. Obviously, this will not be palatable for your vegetarian and vegan friends.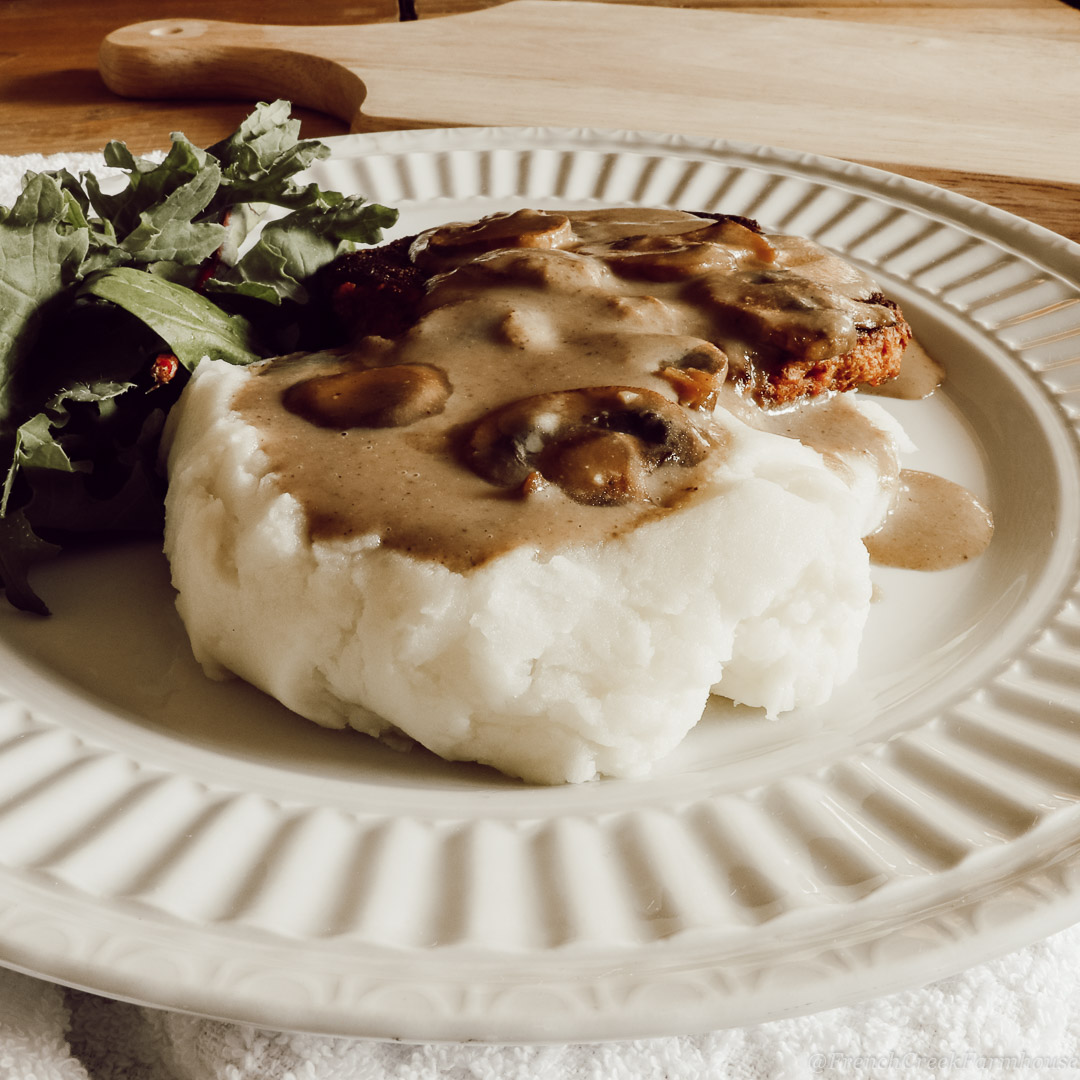 This recipe for mushroom gravy will make everyone happy, and because I've incorporated a roux-like technique to the preparation, you'll be reaping loads of compliments about the delicious flavors in this sauce!
I hope you enjoy it!
xo,
Kristi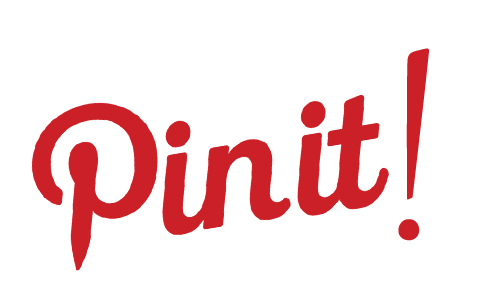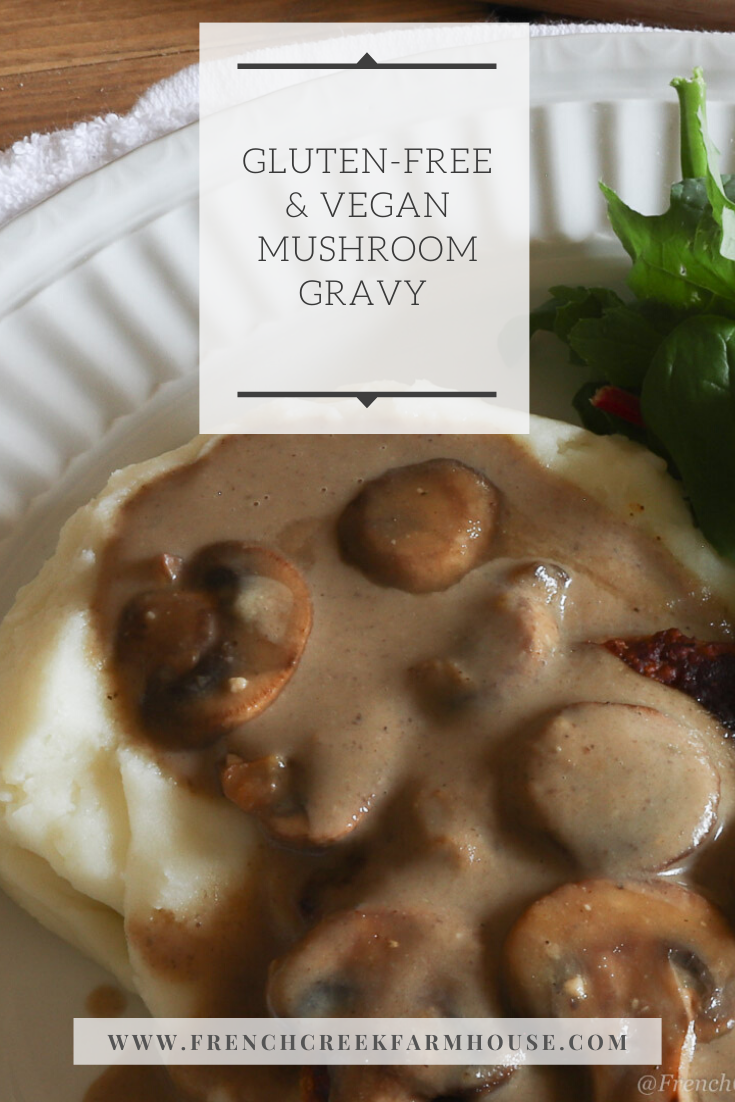 Mushroom Gravy
Prep Time: 5 minutes
Cook Time: 20 minutes
Makes: about 3 cups

Disclosure: This is not a sponsored post. All opinions are my own, and this recipe is my original work. Some links to products that follow may be affiliate links, and I might earn a commission at no additional cost to you if you make a purchase through that link. This usually amounts to cents, not dollars, and helps to support the projects and recipes featured on this blog. I only recommend products from companies that I have found to be trustworthy. Read my full disclosure here.

Ingredients
Tools you'll need:
Instructions
In a large skillet, cook onion in oil until brown. I like using Vidalia onions to incorporate a little sweetness.

Add garlic, and cook one minute more. Add mushrooms, and cook until all liquid has evaporated.

Onions should be caramelized by this point. Caramelization is what adds depth to the flavor, so don't skip this step!
Set aside about 1/4 of the cooked mushrooms. You'll add these back in later. However, if you prefer a completely smooth gravy, skip this step.
Make a well in the mushroom mixture, and add butter. Allow to melt into the center of the pan–do not mix with mushrooms. Once melted, add flour to the butter, slowly, and whisk to combine. This is the roux-like step to add flavor and thickness.

Combine the warm water with the veggie broth concentrate. Add to pan. Add all remaining ingredients to pan. Whisk. Simmer on low flame, stirring occasionally, for 5-10 mins–don't rush! Allowing your ingredients to mingle in the cooking process makes for richer flavor.

Pour mixture into blender, or use an immersion blender (this is the exact model I use). Blend until smooth. Adjust salt and pepper to desired taste. Return to pan. Add reserved mushrooms from Step 3 back to pan. Cook 1 minute longer.
Serve and enjoy!