Salisbury Steak (Vegan + Gluten-Free)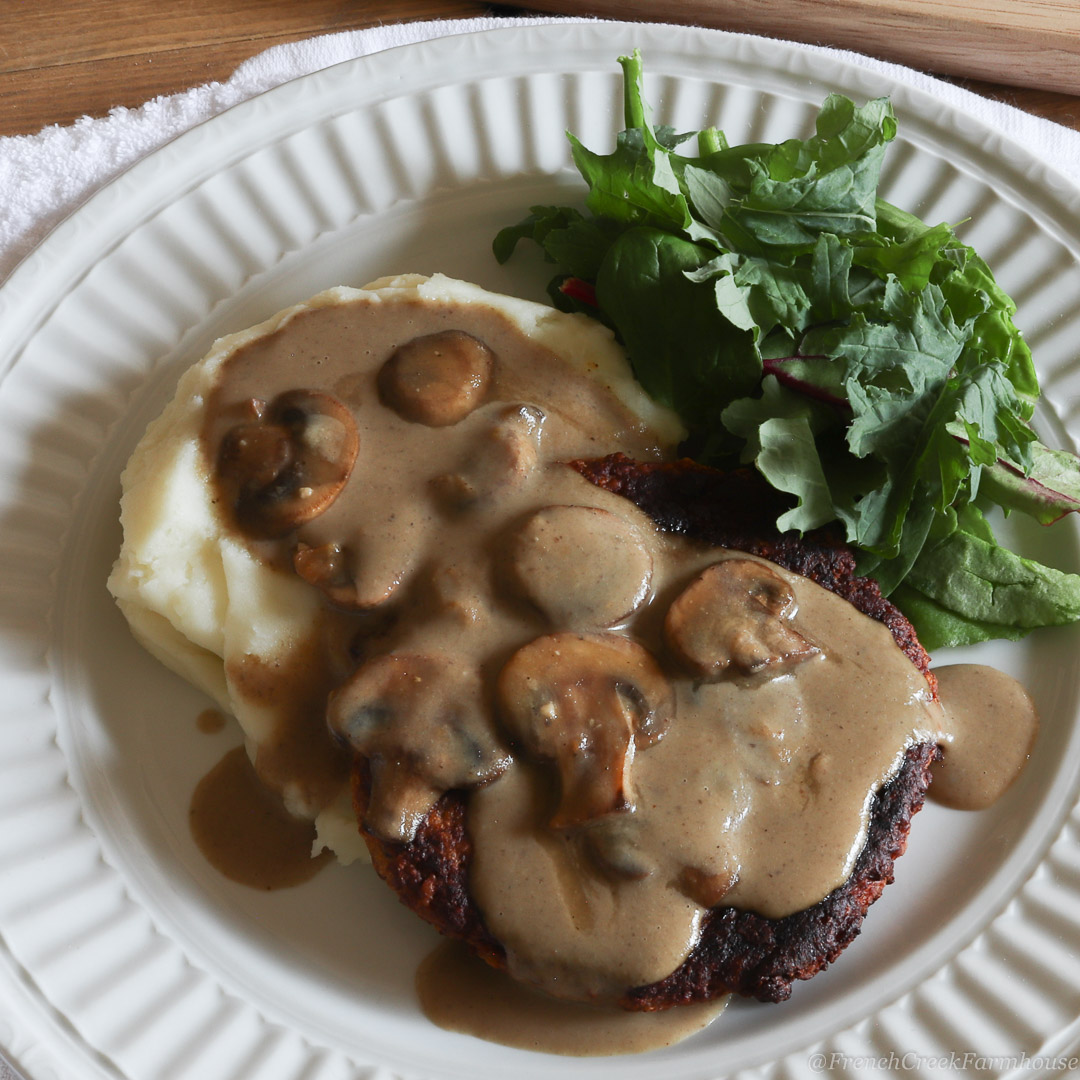 As the weather gets colder, our family always starts to crave the warm and hearty comfort foods of our youth. This season, that craving came in the form of delicious Salisbury Steak…which is the furthest thing from our vegan menus! Never deterred by a challenge, I set about to re-create this scrumptious dish.

This is definitely not my first foray into the world of plant-based meat alternatives. Several years ago, I experimented with iteration upon iteration of vegan meatloaf…some we could tolerate, and a few that ended with last-minute microwaving of leftovers from the freezer because what I created was simply inedible.
Mind you, this was all before we had the variety of plant-based options that are on the market today. When vegan ground beef first hit the stores, I was thrilled to start over with some of the recipes I'd never been able to get quite right.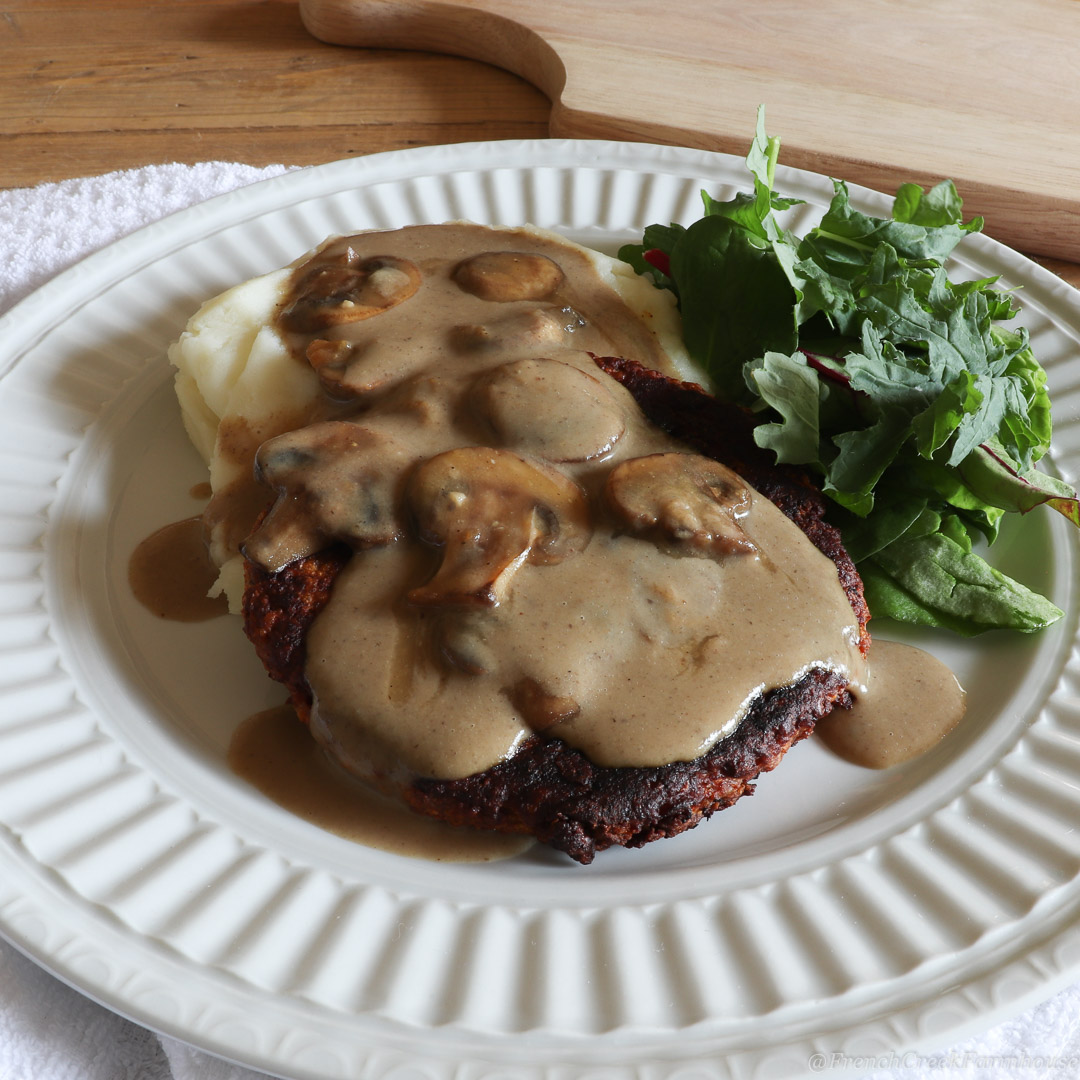 Once fall rolled around, I started to daydream about my favorite Thanksgiving dish–green bean casserole. What makes that dish so tasty is the thick and creamy mushroom soup, and I pondered what other dishes I could come up with to bring in those same flavors.
One day it dawned on me: Salisbury Steak with Mushroom Gravy!
I've already shared the gravy recipe with you, so let's get straight to the "meat" of things.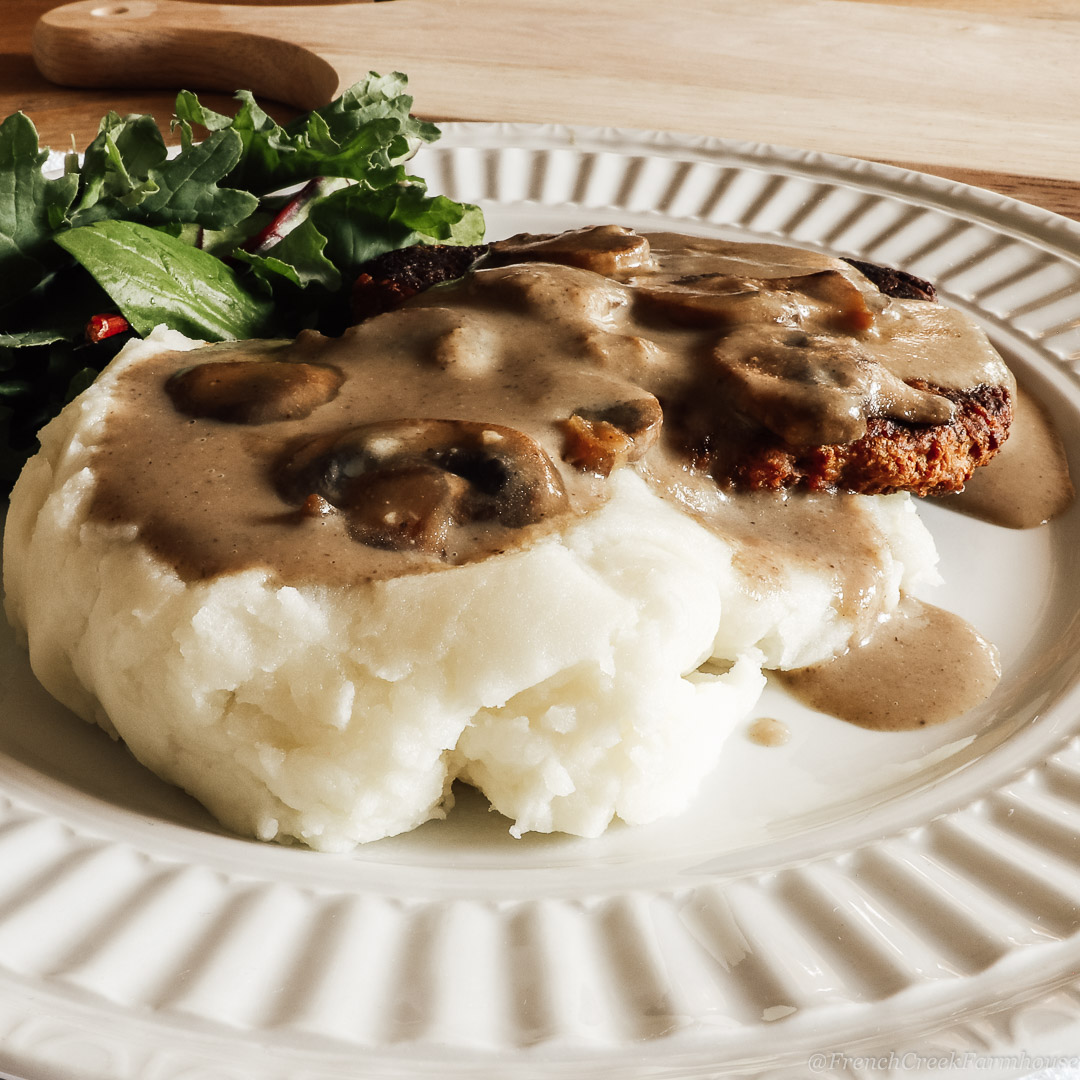 So, what is Salisbury Steak?
Most simply, salisbury steak is sort of like a fancy hamburger patty, but oh-so-much more! Although it's a dish that originated in the US, similar minced meat dishes were popular in Europe hundreds of years earlier. The Hamburg Steak from Germany is an early relative.
Then in the late 1800s, and I swear this is true, an American physician named Dr. Salisbury was an advocate for a meat-centered diet. Sort of like a 19th century Dr. Atkins, he believed that animal protein and low-carb diets could cure a number of ailments, including digestive troubles. His was the earliest known "fad diet" in US history.
This is what he prescribed:
Eat the muscle pulp of lean beef made into cakes and broiled. This pulp should be as free as possible from connective or glue tissue, fat and cartilage…previous to chopping, the fat, bones, tendons and fasciae
should all be cut away, and the lean muscle cut up in pieces an inch or two square. Steaks cut through the centre of the round are the richest and best for this purpose. Beef should be procured from well fatted
animals that are from four to six years old. The pulp should not be pressed too firmly together before broiling,
or it will taste livery. Simply press it sufficiently to hold it together. Make the cakes from half an inch to an inch thick. Broil slowly and moderately well over a fire free from blaze and smoke. When cooked, put it on a hot plate and season to taste with butter, pepper, salt; also use either Worcestershire or Halford sauce, mustard, horseradish or lemon juice on the meat if desired. Celery may be moderately used as a relish.
While the recipe has changed a bit, and more than a bit in the case of my own vegan kitchen, the dish has remained popular.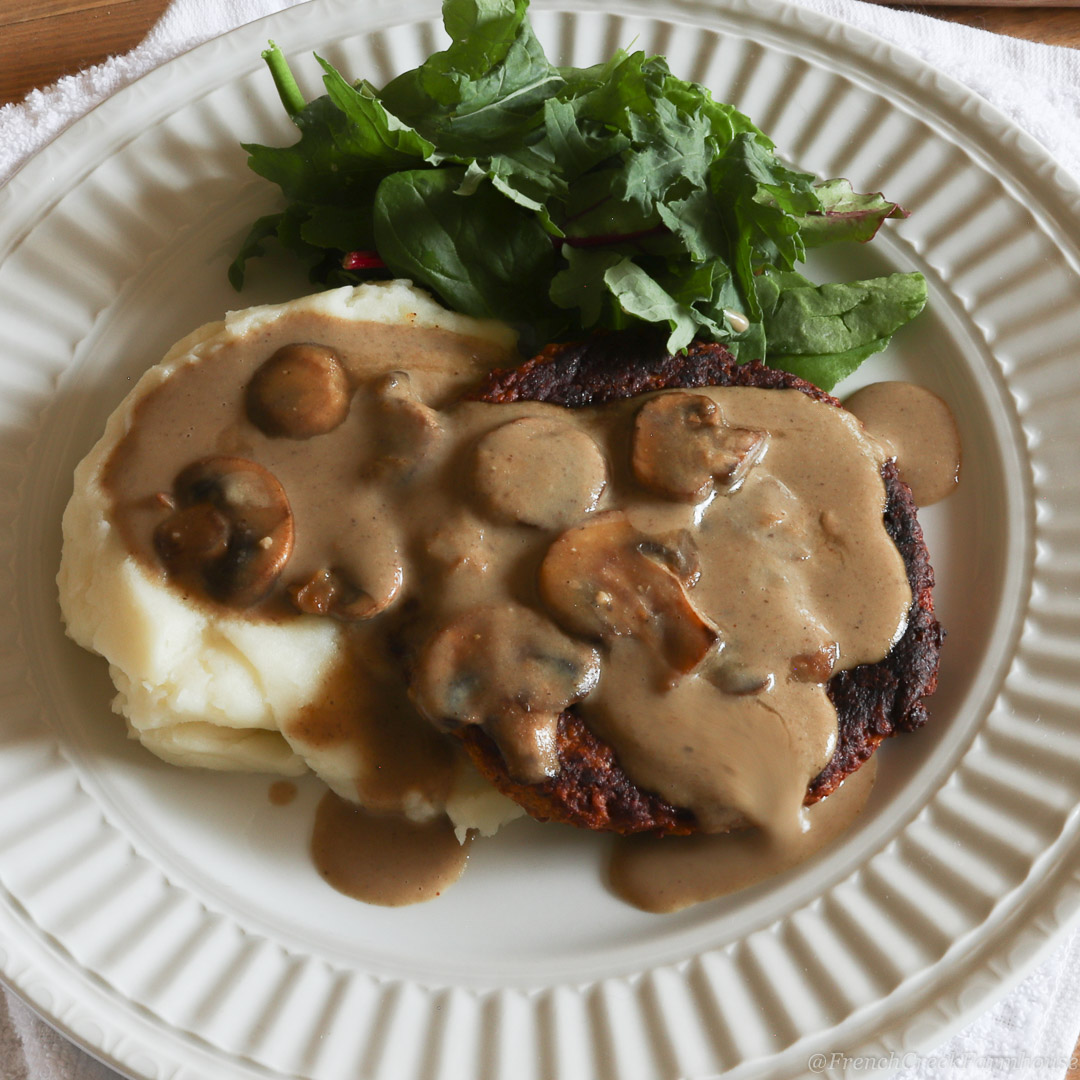 Making it deliciously vegan
The biggest challenge with this recipe was, of course, making it vegan. Fortunately, the new plant-based ground options that have hit the market helped out a great deal with that part of the equation.
The next challenge was to make it actually taste good and have the proper texture and "bite". That took some time, and I fiddled with the recipe for several months before I was happy with the final product.
There are three important keys to this recipe.
1. First, I used panko bread crumbs instead of homemade breadcrumbs or stale bread. Something about the gluten-free nature of the breads we enjoy just didn't lend themselves to the texture I needed for this recipe. Earlier iterations of this recipe were much too mushy, although the flavor was still lovely.
Once I switched to panko, everything improved.
2. Along with that, grating the onion instead of chopping it, and then allowing the panko crumbs to soak up the onion juices is so important to properly blending the flavors. All of the savoriness of the onion is present, but you won't have any onion bursts from biting into a random chunky bit.
3. The final key was cooking time and method. My first go at this recipe, I tried the traditional method for cooking a minced meat patty–in a skillet. But plant-based grounds simply cook differently, and the outside would burn faster than the inside would set up.
Then, I tried cooking it more like meatloaf, in the oven. Better, but still not right. The patties will certainly cook up this way, but they lacked the "bite" I was looking to replicate. It shouldn't be like meatloaf because, well, it's not meatloaf. Time, temperature, etc…none of the variables were getting me there.
Eventually I got the idea to merge the two. I seared the patties in the skillet, then cooked them to done-ness in the oven. Perfect!!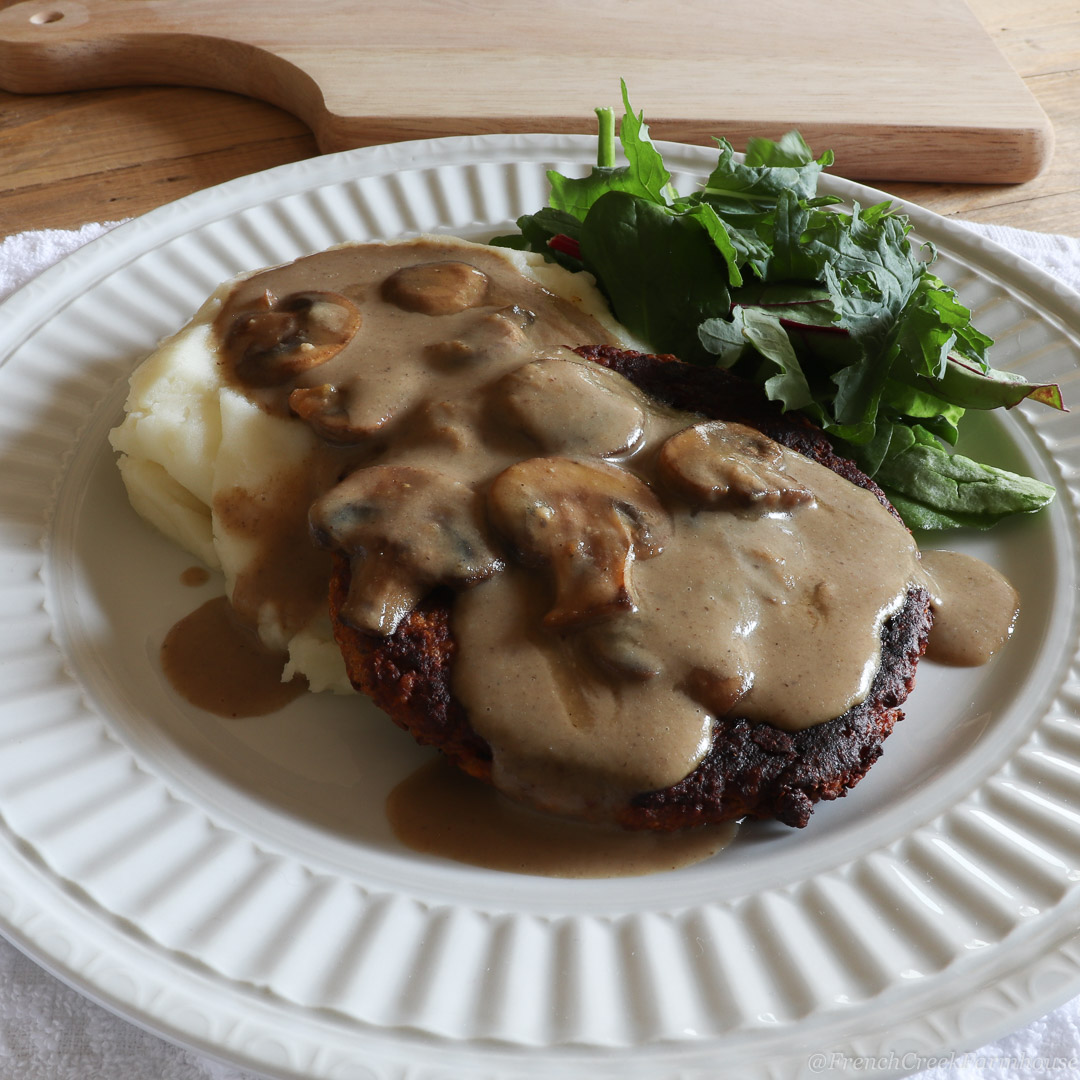 Whether your family is vegan, or you're simply working to reduce your impact on the environment by eating a more plant-based diet, I hope you enjoy this recipe. And, as always, I would love to hear how it turns out for you!
xo,
Kristi
P.S. As I was testing this recipe, I polled my social media family about their preferences: mashed potatoes or noodles? The winner was mashed potatoes, so that's how I've pictured it in this final iteration…but I have to say, I truly prefer noodles (like these). If you've never tried your Salisbury Steak over noodles, I would encourage you to experiment with it. How food feels is just as important as how it tastes, and the noodles definitely add some wonderful depth to the textures in this meal.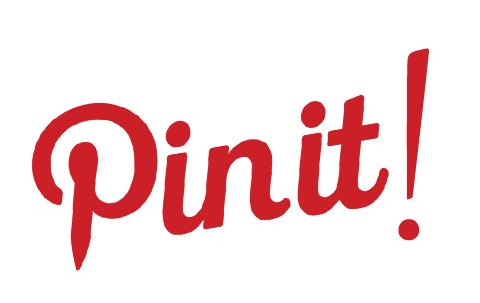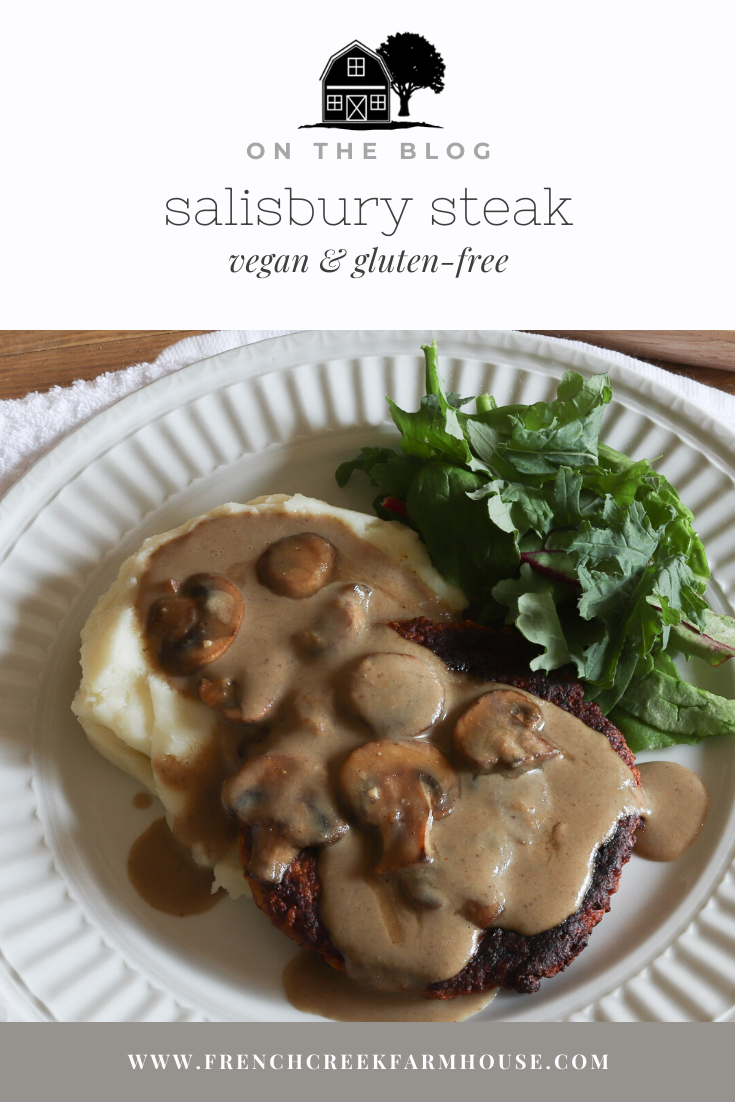 Salisbury Steak
Prep Time: 5 minutes
Cook Time: 55 minutes
Serves: 6

Disclosure: This is not a sponsored post. All opinions are my own, and this recipe is my original work. Some links to products that follow may be affiliate links, and I might earn a commission at no additional cost to you if you make a purchase through that link. This usually amounts to cents, not dollars, and helps to support the projects and recipes featured on this blog. I only recommend products from companies that I have found to be trustworthy. Read my full disclosure here.

Ingredients
Tools you'll need:
Instructions
Add bread crumbs to a large bowl. Grate onion over bread crumbs. Mix and allow juices to saturate crumbs for several minutes.
Pre-heat olive oil in a skillet over medium-high heat. Pre-heat oven to 350°F.
Mix vegan egg with ice cold water until thick. Add to breadcrumb mixture along with all remaining ingredients through pepper. Combine.
Form 6 patties by rolling ground mixture into round balls, then placing onto waxed paper. Top with another sheet of waxed paper and press down evenly.

Cook patties in skillet to sear; approximately 3-5 minutes per side. Then, transfer to a greased 9×13 glass dish.

Cook patties in oven for 30 minutes. Turn over, then cook an additional 15 minutes. Internal temperature should reach 165°F.
Serve patties over your choice of starch (mashed potatoes, noodles, rice), and top with mushroom gravy. Enjoy!