Home-Style Summer Berry Shortcake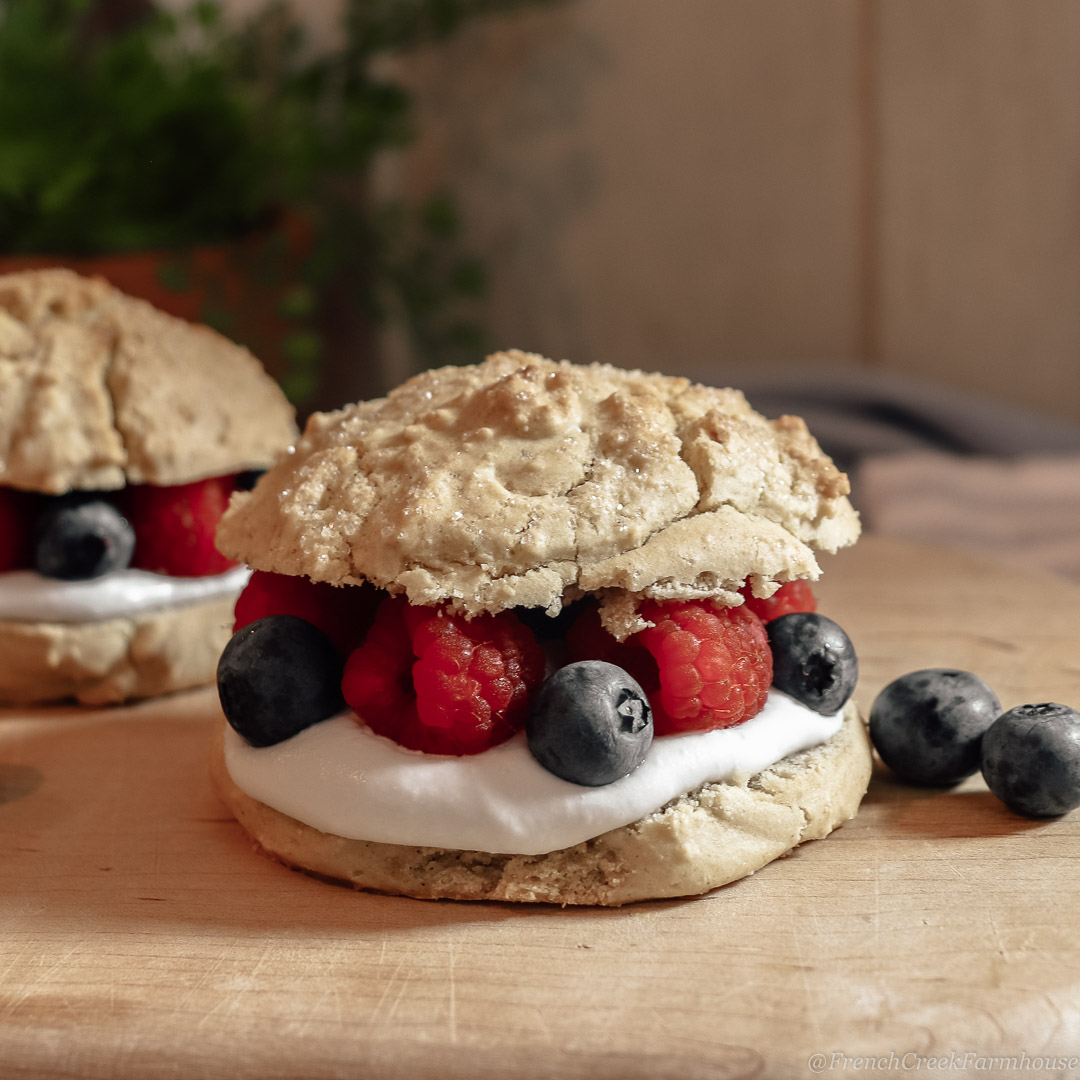 Homemade baked biscuits might just be the epitome of wholesome farmhouse cooking, and their sweet cousins–shortcake biscuits–are always a sure sign that summer has arrived.
Showing off the season's delicious bounty of berries and topped with a dollop of chilled whipped cream, these shortcakes will transport you back to childhood memories of swimming in the creek, relaxing on porch swings, and catching fireflies in mason jars!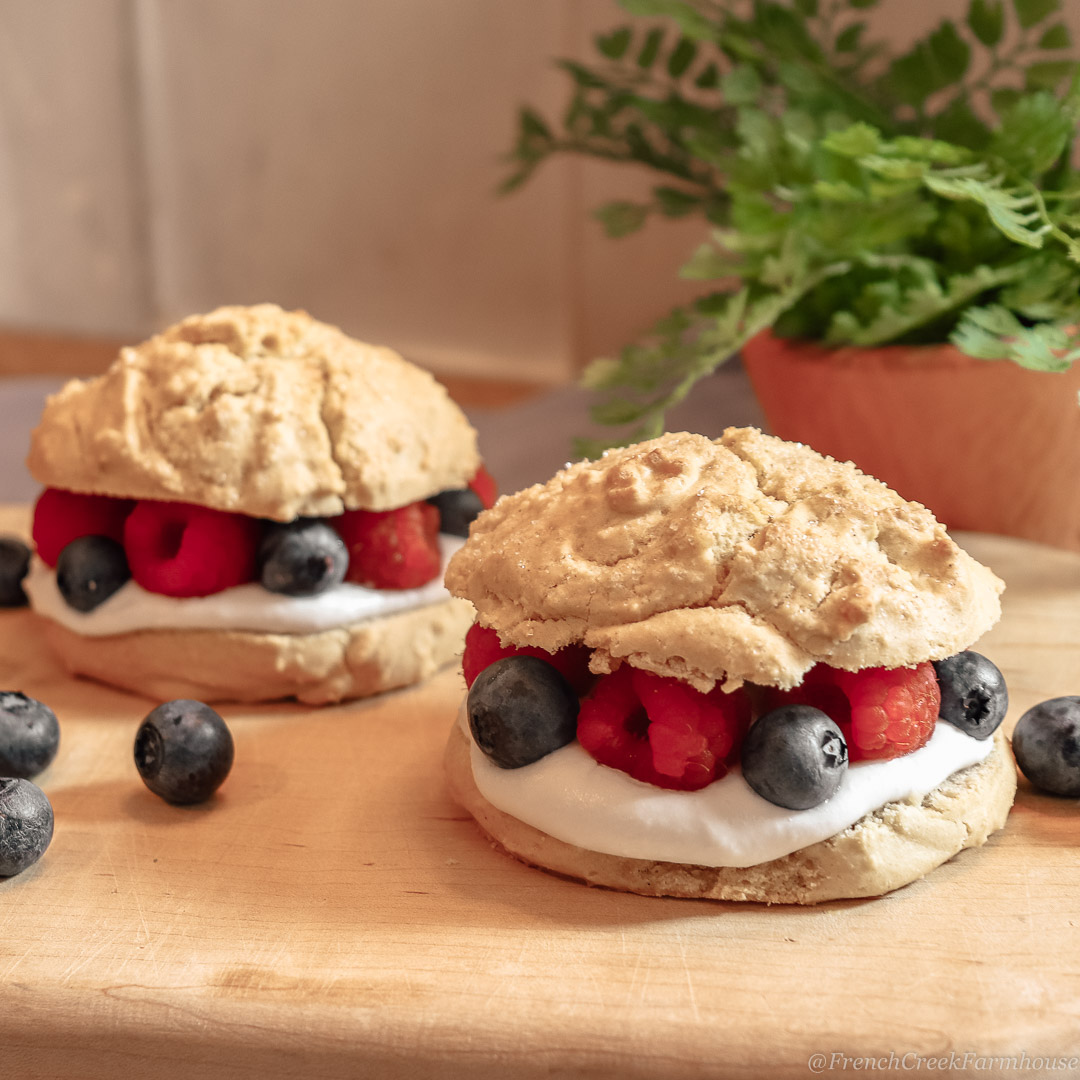 The basic shortcake biscuit recipe that our grandmothers prepared is loaded with butter, heavy cream, eggs, and flour. My goal was to recreate everything I loved and remembered about this quintessential summer dessert for a gluten-free + vegan lifestyle.
Challenge accepted!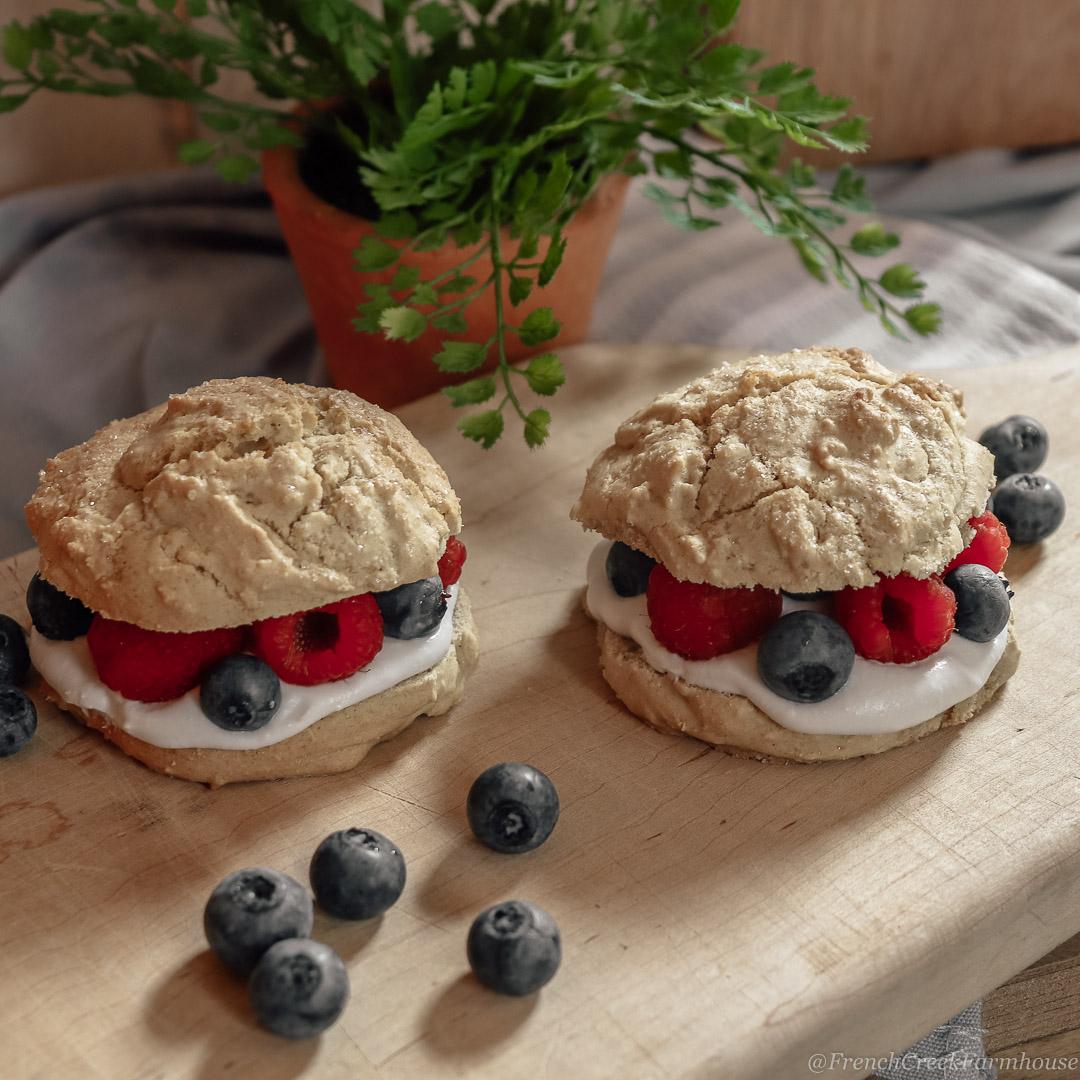 I defy you to find anyone who will be able to tell the difference between these shortcakes and the original recipe. These babies will be the hit of your next backyard gathering, and no one has to compromise or miss out because of dietary needs.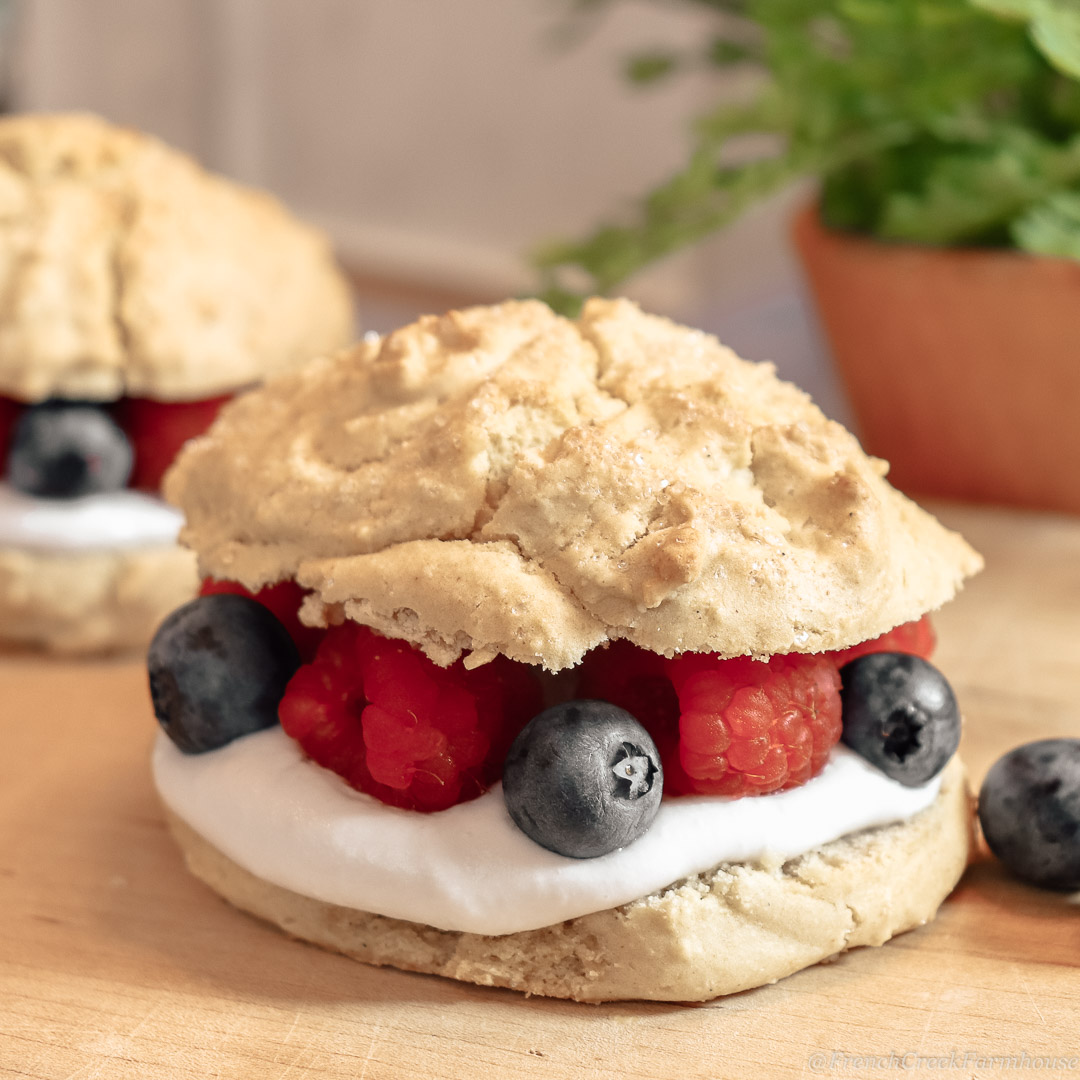 With this recipe, I also wanted to tackle another kitchen challenge and make these biscuits without the use of any gums that are a cornerstone of many gluten-free baking recipes. See, baking is all a matter of chemistry.
I know, I know…we thought we'd never need any of that stuff we learned in high school science class. But when it comes to baking, and especially gluten-free + vegan baking, it's a necessity!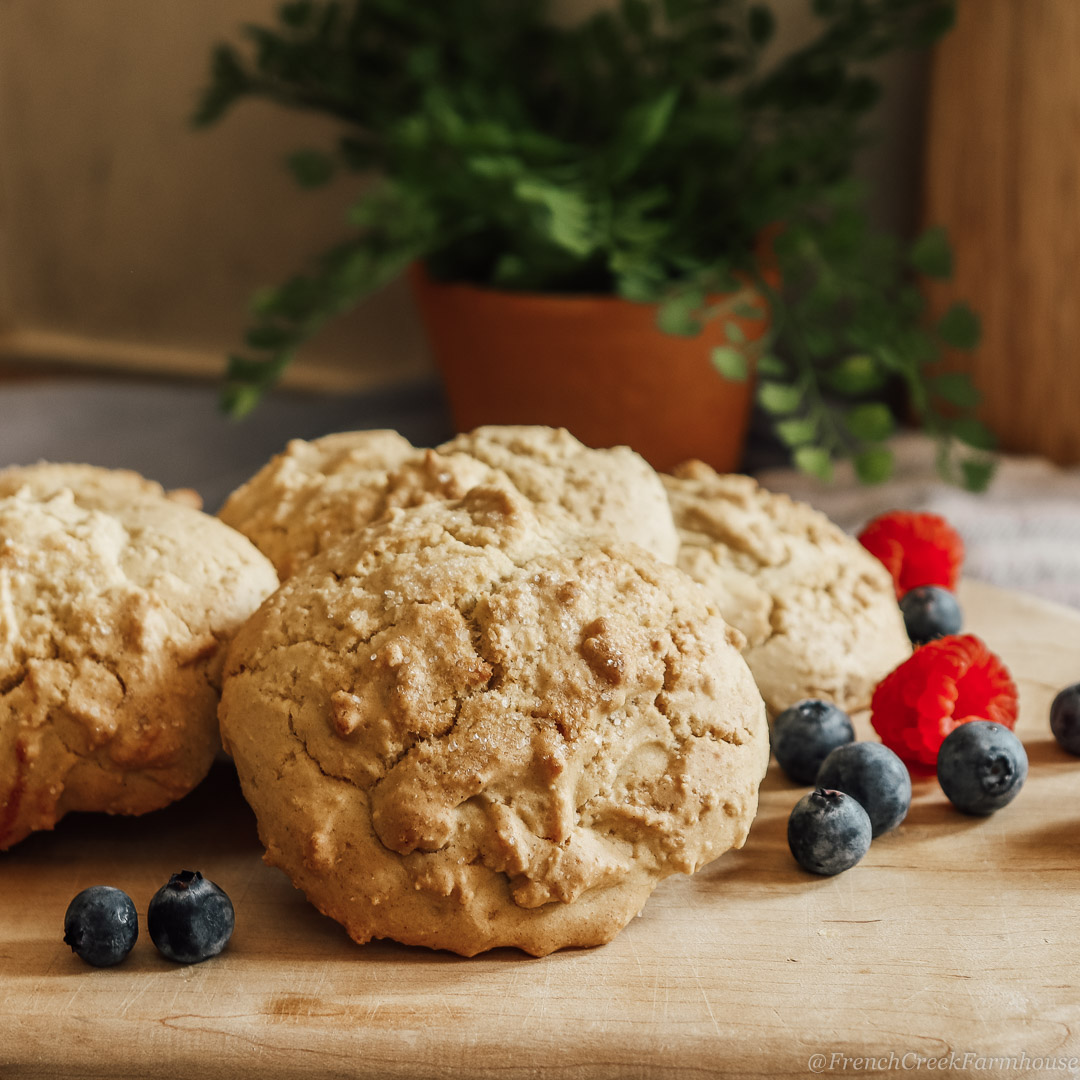 Traditional flour made that's from wheat contains a protein called gluten. When baking, you need a chemical reaction to happen between your ingredients in order to release carbon dioxide and give your baked goods texture and structure. In traditional baking, the stretchiness of gluten is what helps to contain the carbon dioxide and make everything bake up beautifully.
We all know the jokes about gluten-free baked goods that are as dense as a brick or, on the flip side, utterly crumbly. It's no wonder that gluten-free bakers around the globe reach for various gums (xantham, guar, etc) in an attempt to recreate this stretchy substance that's necessary for recipes to achieve the desired structure and appearance.
However, gums aren't ideal for everyone. They can cause gastrointestinal distress and may not be tolerable for those with sensitivities to products derived from corn.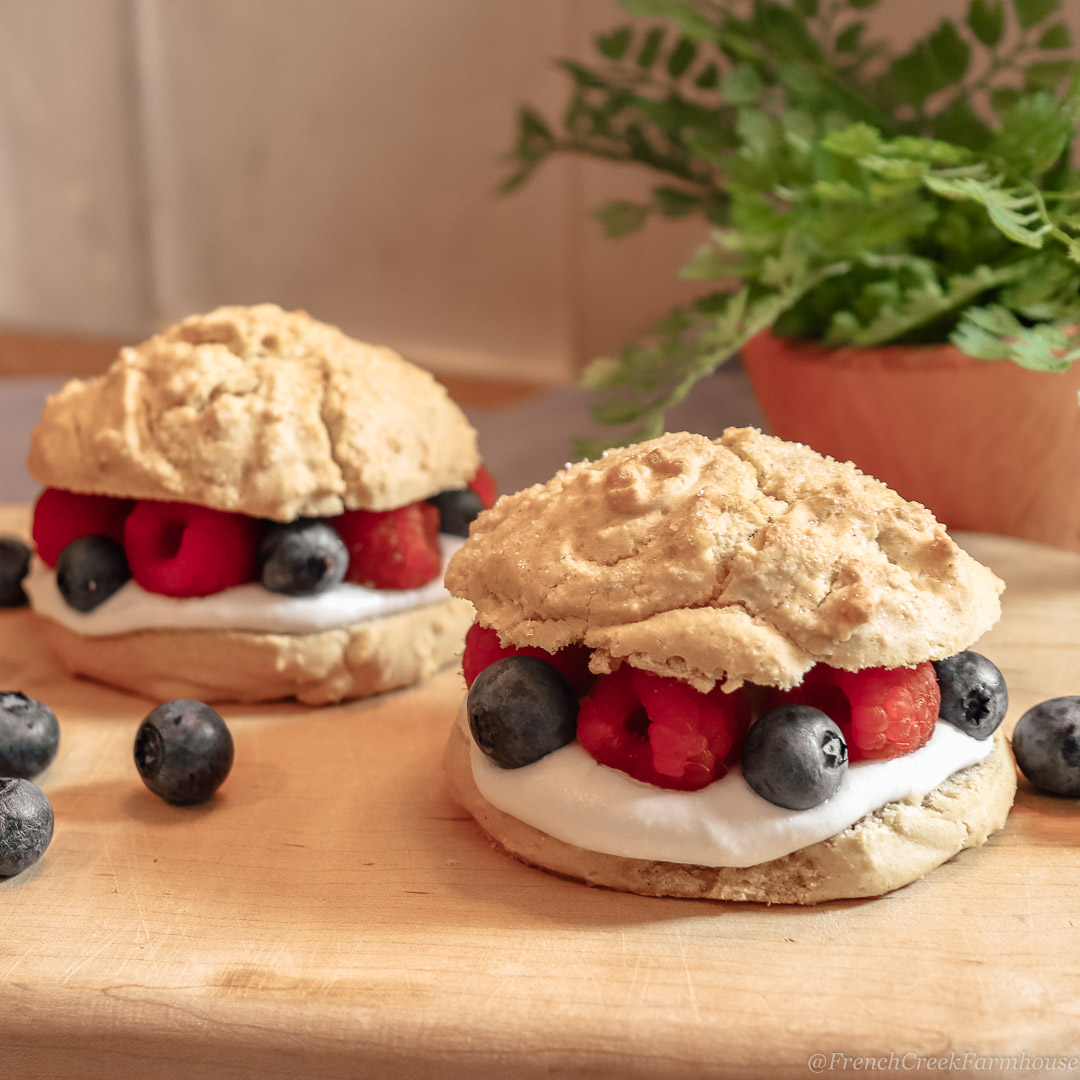 These shortcakes are not only beautiful, but also have a delicious texture–crisp on the outside with the perfect amount of soft chewiness on the inside–and use absolutely no gums to achieve all that wonderfulness!
My hope is that they make your summertime celebrations even sweeter!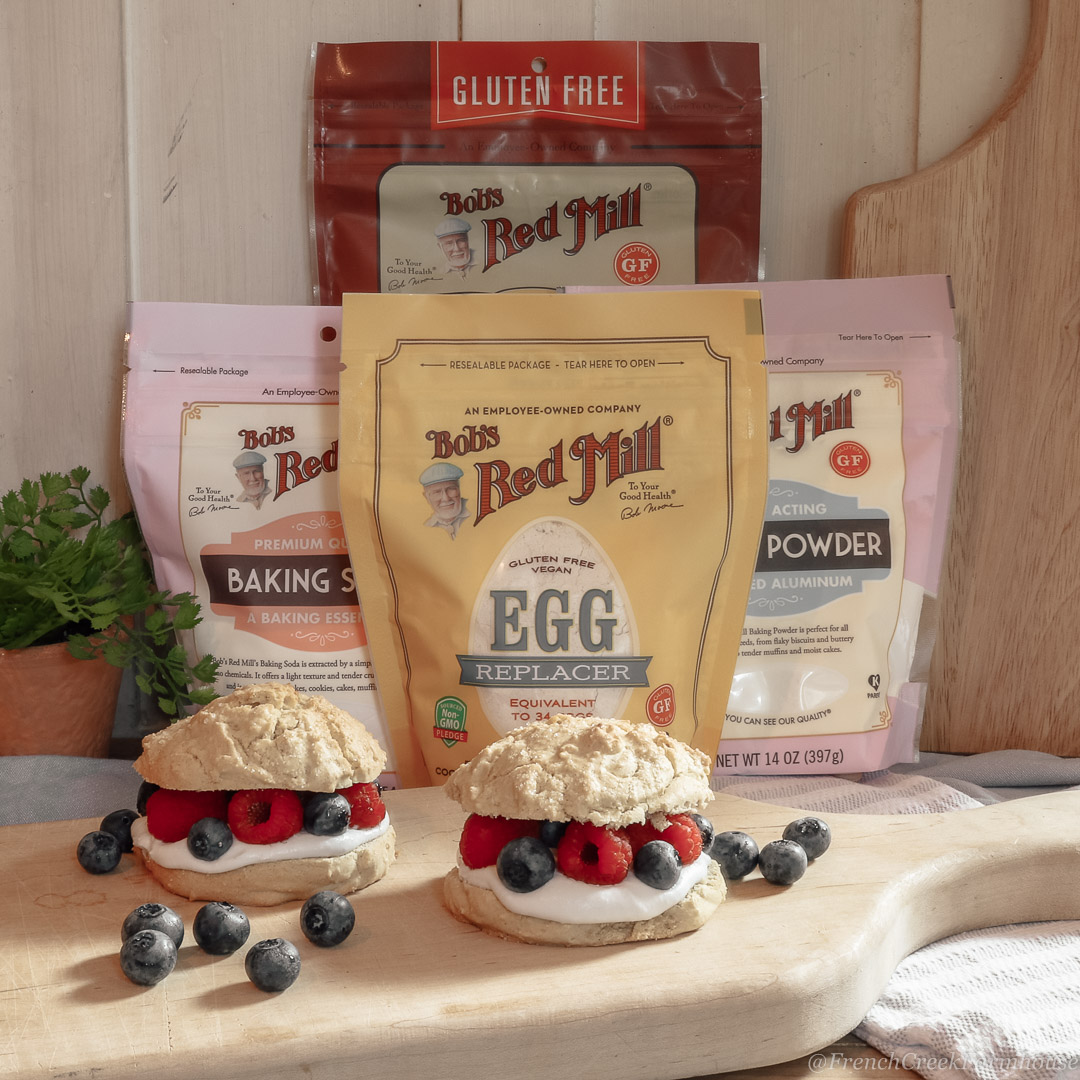 Home-Style Summer Berry Shortcake
Prep Time: 15 minutes
Cook Time: 10 minutes
Servings: 12

Disclosure:
This post is sponsored by Bob's Red Mill, however all opinions are my own, and this recipe is my original work. Some links to products that follow may be affiliate links, and I might earn a commission at no additional cost to you if you make a purchase through that link. This usually amounts to cents, not dollars, and helps to support the projects and recipes featured on this blog. I only recommend products from companies that I have found to be trustworthy. Read my full disclosure here.

Ingredients
To top the biscuits:
Instructions
Preheat oven to 425°F.
Combine dry ingredients through sugar. Whisk to ensure that ingredients are well mixed (or sift, if desired).
Cut in butter.
Add wet ingredients to the flour mixture and blend well (about one minute on medium-high). Rest and refrigerate batter for 15 minutes (no more, no less!). Resulting batter should be a sticky consistency with stiff peaks.
Using two spoons, scoop and clump batter onto a greased baking sheet. Home-style biscuits should look imperfect and heaped high–not smoothed nor perfectly rounded. Lightly sprinkle the tops with coarse sugar.
Bake 10-12 minutes until cakes are lightly browned and cracked on top. Remove from oven and cool for 5 minutes, then transfer to a wire baking rack to continue cooling.
When ready to serve, cut or carefully fork-split each biscuit. Fill with whipped cream and berries. Enjoy!
These shortcakes are best when enjoyed right away (you don't need to tell me twice!). To store them overnight up to one day, keep on a wire rack and cover biscuits with a clean dish towel. To store for 3-4 days, line an airtight container with paper towels, then cover biscuits with another layer of paper towels before sealing.
Don't forget to pin this recipe so you can find it again later!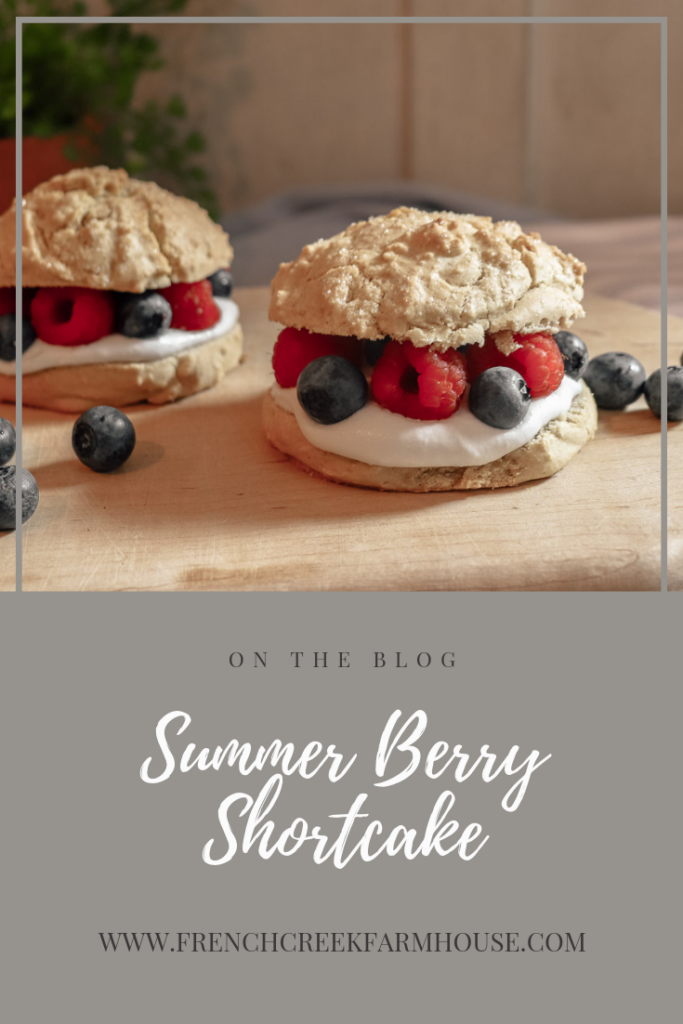 Looking for some delicious and easy ideas for dinner?
Get my free grain bowl recipe guide
Let's be email pen pals! Sign up to join our community, and get your free printable PDF Grain Bowl Recipe Guide. This is so good!