Laundry Room – Week Seven: Countertops…and a Ghost??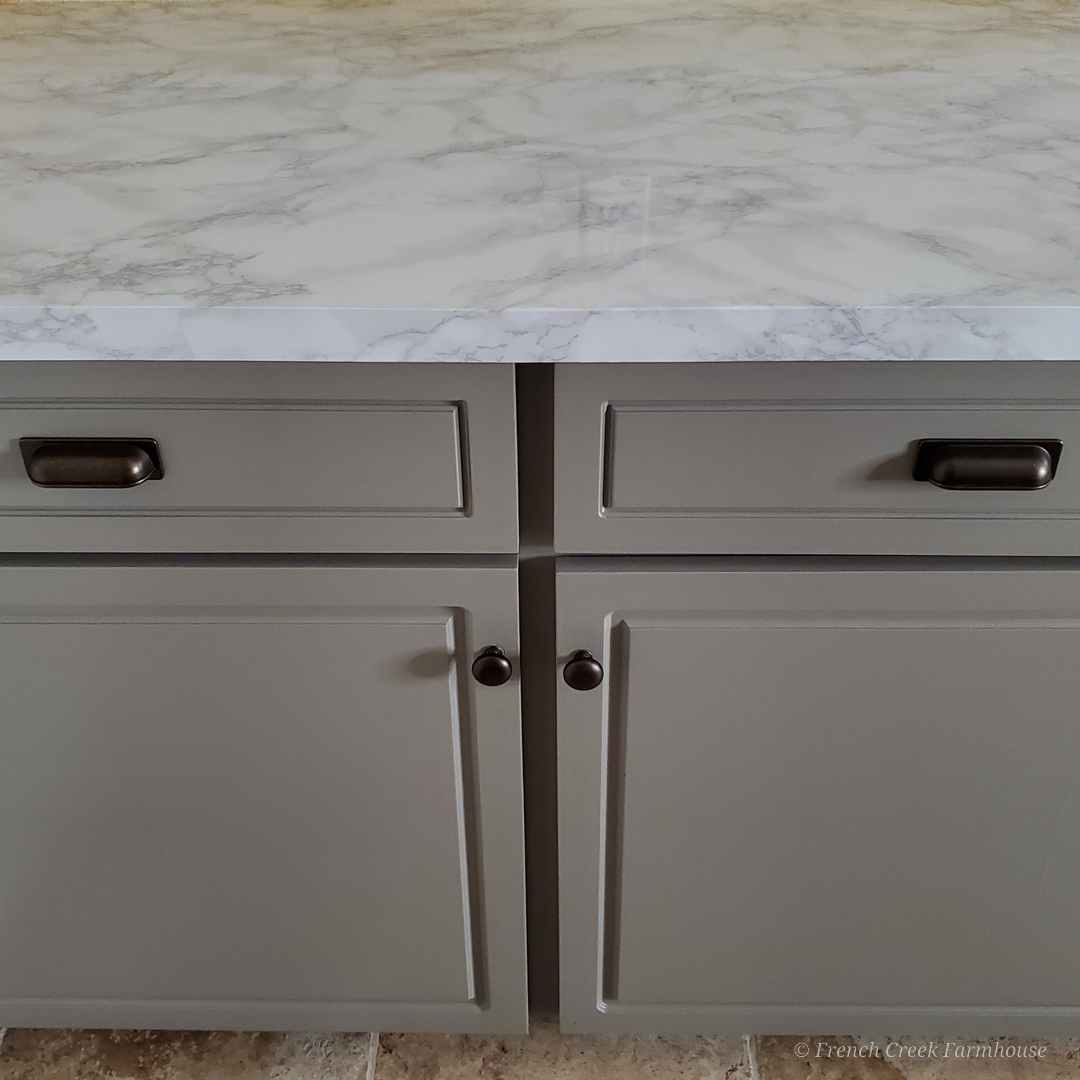 This is it–the final few miles of our, truly, marathon of a renovation! This week, we tackled the countertops, and I'm absolutely thrilled to see the light at the end of the tunnel.
If you've missed previous posts, we're completing our laundry/mudroom renovation as part of the Spring 2021 One Room Challenge. In partnership with Better Homes & Gardens, the ORC is a celebration of creativity that brings together designers as they make over one room in eight weeks. Each week, you'll get to see the progress and watch the project unfold.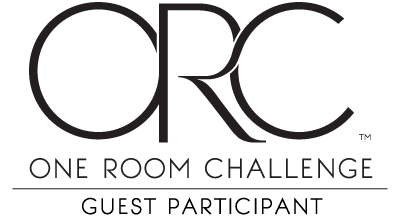 In case you're just now joining us for this renovation, you can catch up on the past few weeks here:
Week Five: Painting the Cabinets, Part 1

Week Six:  Painting the Cabinets, Part 2
If you've come over from the ORC participants' page and we're meeting for the first time–welcome! This short video will introduce you to our family's story and how we came to live in this fixer-upper farmhouse in rural Snohomish, Washington. You'll also get to see the state of the mudroom when we first got the keys!

Disclosure: This is not a sponsored post, however, our supplies partner for this week's project work was EZ Faux Decor. As always, all opinions are my own. Some links within this blog may be affiliate links, and I might earn a commission if you make a purchase through that link. This usually amounts to cents, not dollars, and helps to support the projects featured on this blog. I only recommend products from companies that I have found to be trustworthy. Read my full disclosure here.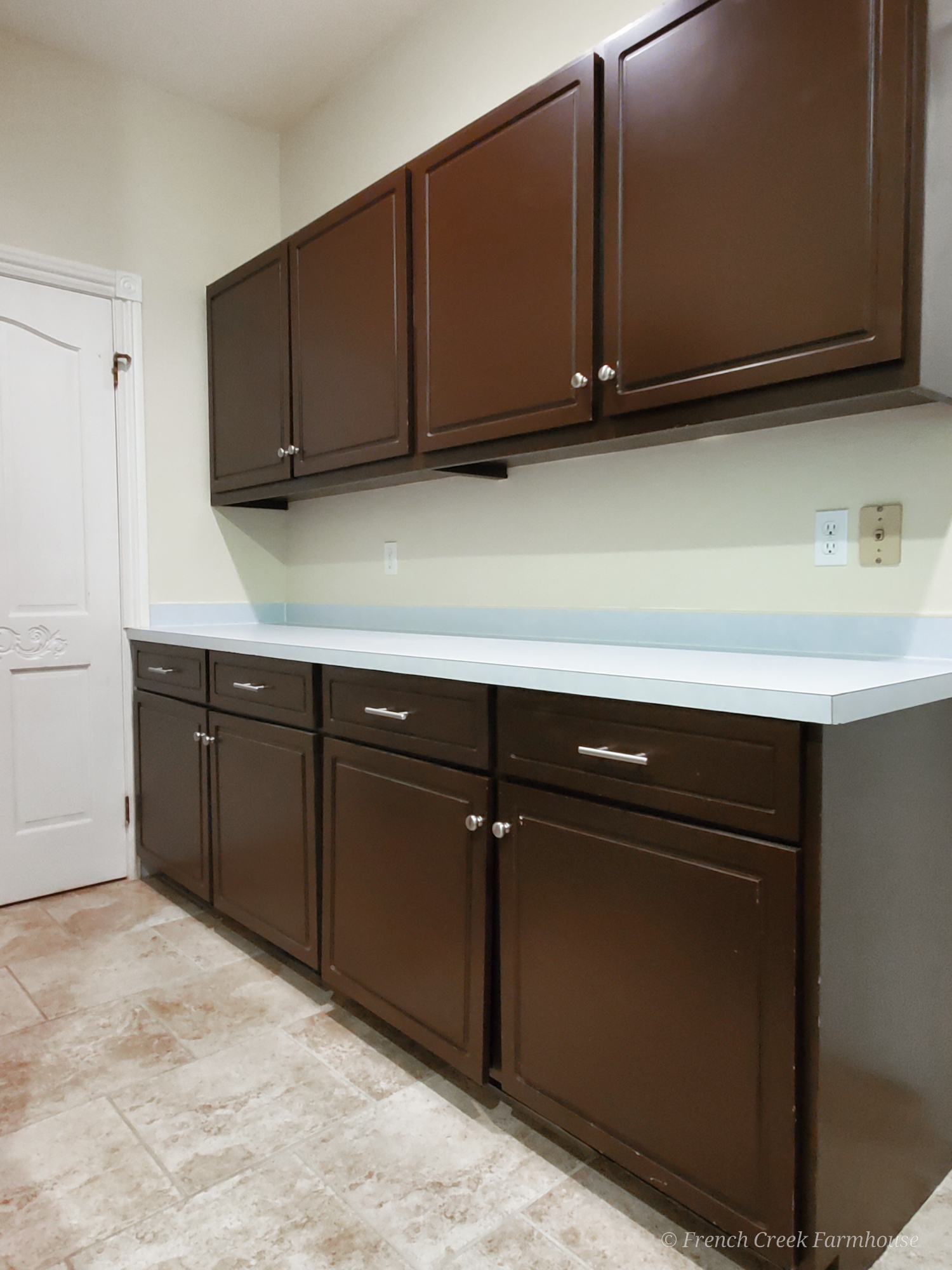 THE COUNTERTOPS

I really do believe that you can find something positive to say about almost any part of a "before". There's almost always something to work with, if you look at it the right way.
The countertops in this room were quite literally one of the first things I wanted to change after we bought the house. But, here we are, ten years later, and they've served us well for a decade.
The reason we've lived with them is that we've really been careful about where we utilize our budget dollars. Since our entire house is one big renovation project, we've had to prioritize projects that "must" be done over things we want to complete for purely aesthetic reasons.
Simply put, the countertops were doing what countertops are supposed to do. Even if they weren't very attractive all this time, they gave us a nice big solid surface in the mudroom, made for a place to fold laundry, and they were completely intact without a chip or blemish to speak of.
But seriously, y'all…baby blue laminate? Why?? Just…why??
Changing them has been on my wish list since Day One, but we still can't justify putting our budget dollars here when we have more pressing projects on the list this year.
Fortunately, we found a way to make it work without breaking the bank!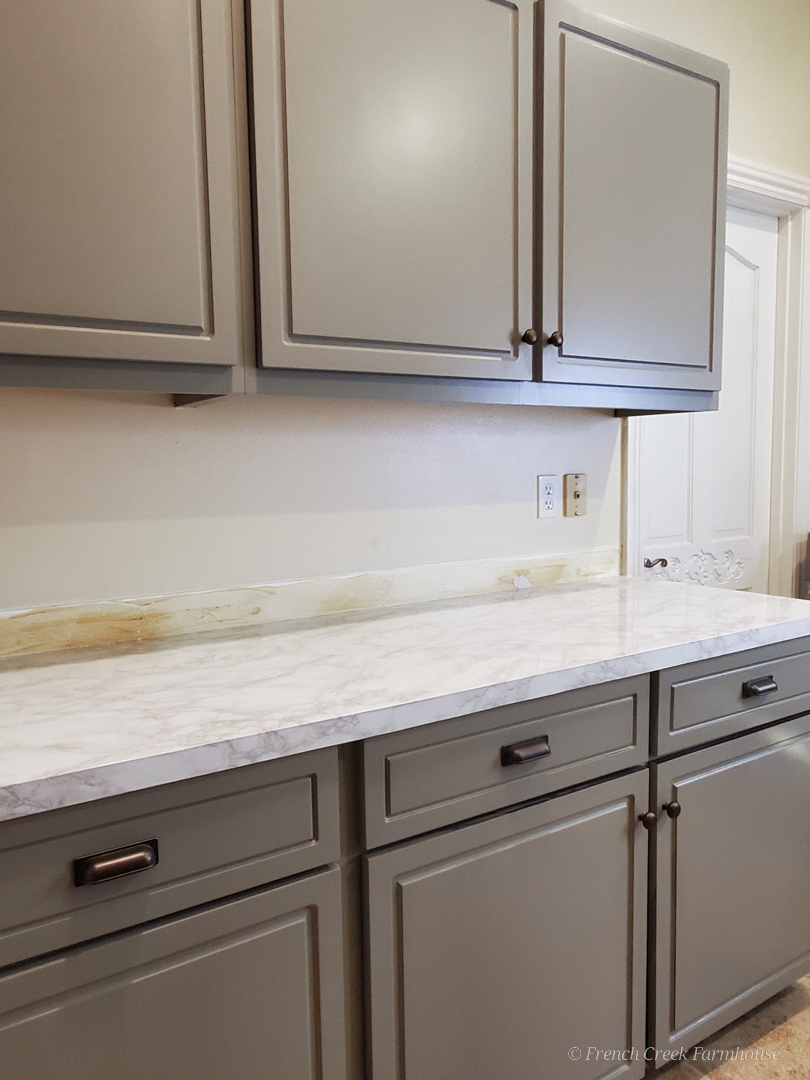 THIS WEEK'S PROGRESS

Before I get into the countertops, let me give a brief update on where we left off last week.
As you'll recall, we ran into some hurdles last week, which is pretty common at this point of any renovation. It just comes with the territory.
This week, the replacement screws we ordered arrived for the drawer pulls. But, here's the funny part…
There was an extra bag of screws included with the cabinet knobs that happened to be exactly the size we needed for the drawer pulls!
Of course, we didn't find this out until after the new screws arrived. And it happened because we ordered exactly 8 screws (the number we needed for 4 drawer pulls), and one of them mysteriously disappeared while I was putting the pulls on.
We searched everywhere. And, it's not like there's a lot of places were it could have gone. We're talking about a basically empty room! All 8 screws and 4 pulls were sitting on the bare countertop. I'd just finished the second pull, when suddenly, one screw disappeared.
I actually thought Rob took one as a joke to make me think I was going crazy. (He does those kinds of things because he thinks he's sooo funny…wink wink!) There was just no explanation for how this could happen.
We scoured the floor, sifted through the garbage, and even looked under the washer and dryer. Gone…just gone. Two pulls left to install, but only three screws.
Maybe we have a ghost? I've heard that spirits can get a bit irked during renovations, so who knows??
But then, I remembered the extra bag of screws we had from the knobs, and figured I'd "just check" to see if they might fit. Lo' and behold, they happened to be an exact match!
Maybe one day that mystery screw will reappear…and I will laugh.
Long story made short, all of the hardware is now updated…whew!
So, back to the countertops.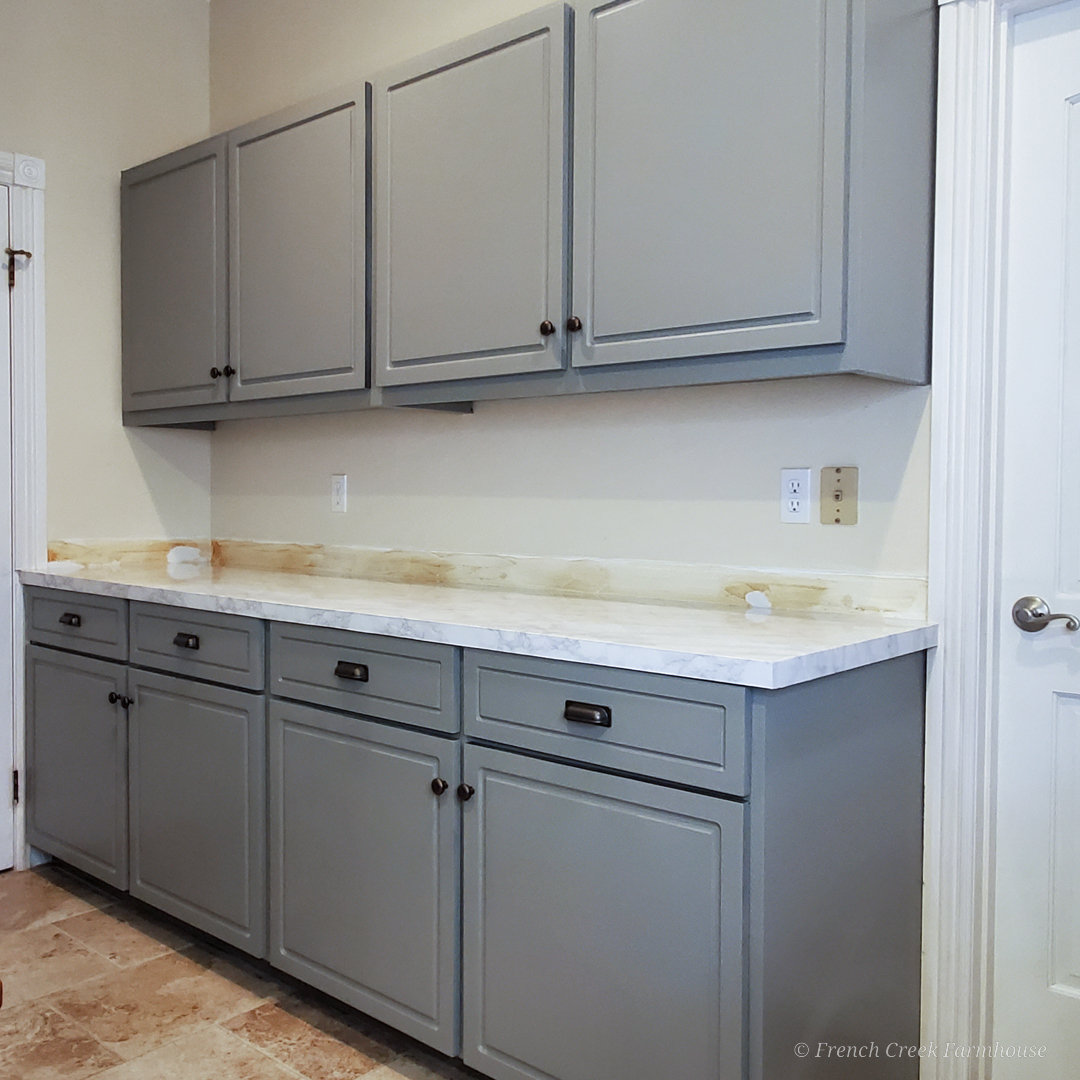 As much as I'd love to put natural stone into this room, it's simply not in the budget right now. Instead, we decided to experiment with a faux finish to give the existing countertop a total, yet budget-friendly, makeover.
When we started looking for options of what we might do, we happened upon a product that's made by a woman-owned, family-run small business. Amber, the owner, was kind enough to send us her product to test out during this season's ORC, and I'm so happy we went with this option.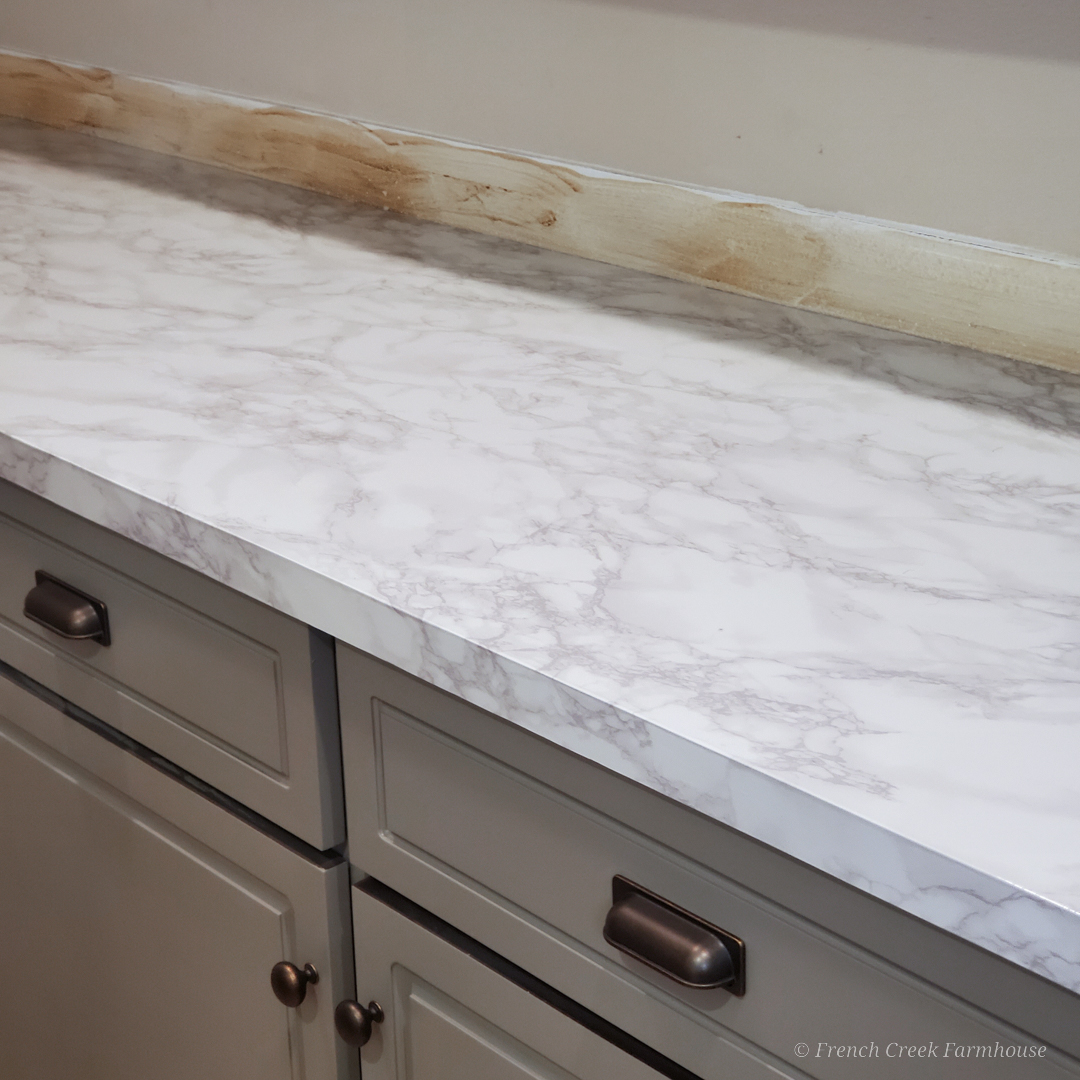 Let me also say that I know it's tough to trust a review when the writer has received something in exchange for their opinion, but I want you to know that I always tell companies that want to partner with us that I am going to be 100% honest with what I write–meaning, if I have reservations or don't like something, I'm going to write exactly that.
Right away, that scares off some companies because they know that what they're trying to sell has problems, and they don't want me to write something unflattering. But Amber had no hesitations…and there's a good reason why: Her product is flat out AMAZING.
Honestly, it looks so real that, unless you touch it, you would absolutely never know it wasn't marble. I am so incredibly impressed with this product, and I'll be doing a full step-by-step tutorial in a separate post because I want to encourage everyone who loathes their current countertops to try this!
I'm even including these in-progress photos to prove that this isn't real marble…it looks that good!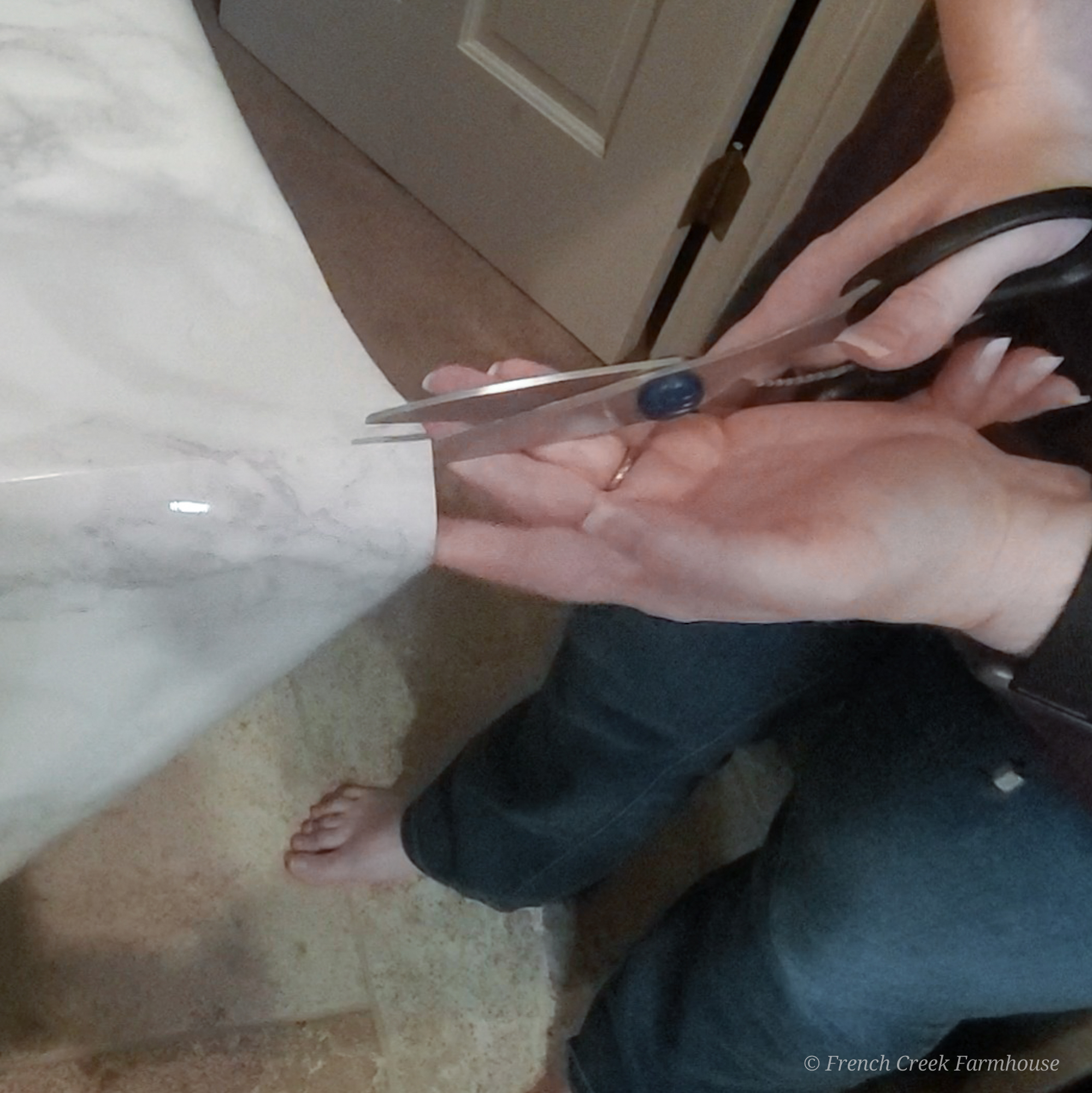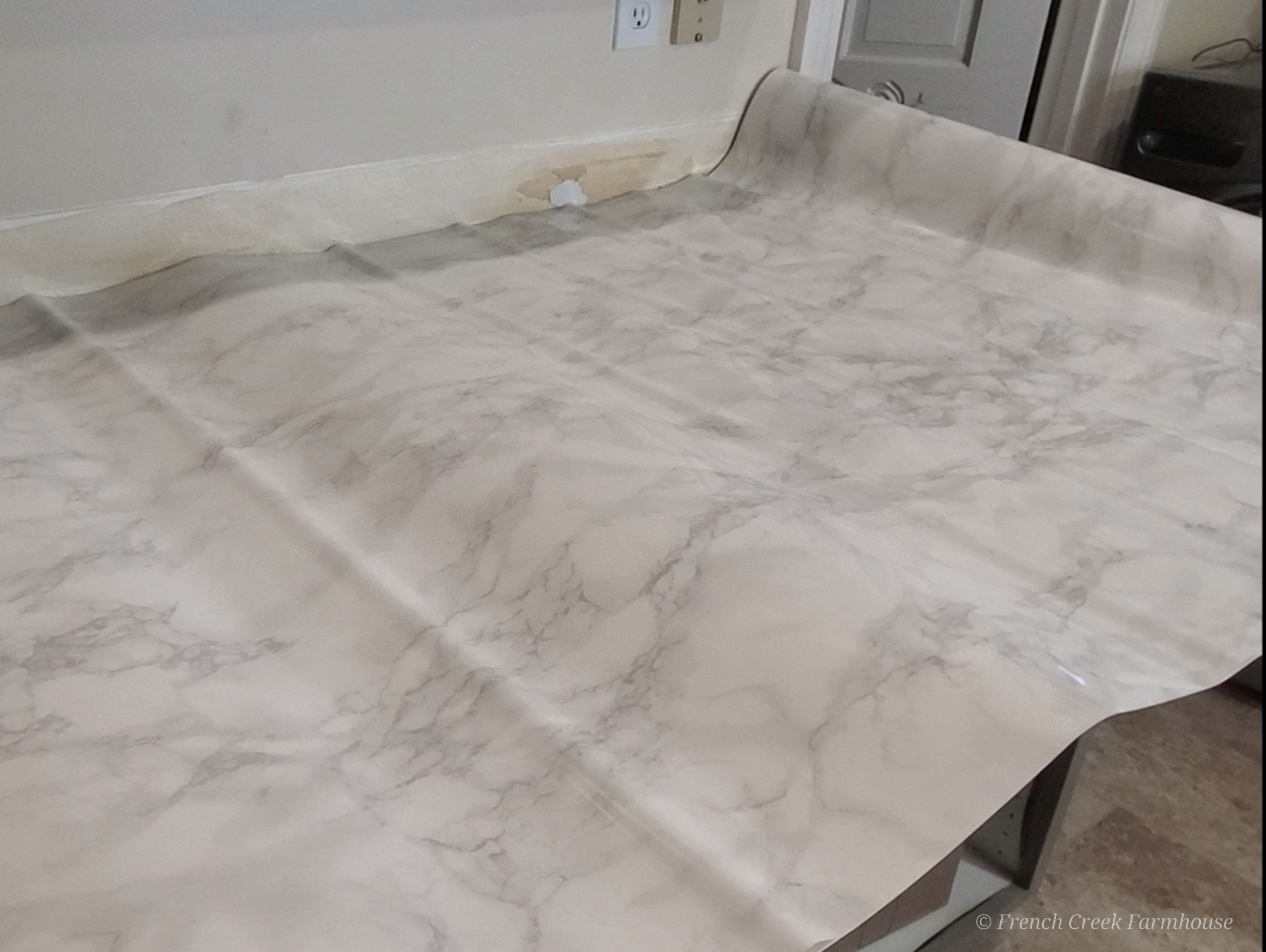 Stay tuned for my full review and tutorial…coming soon!
UP NEXT

It's hard to believe it, but we only have one week left in the One Room Challenge. Time sure does fly when you're DIYing. My next update will be the full and final reveal!
Yet, we do still have a few things left to finish before we can sit back and relax…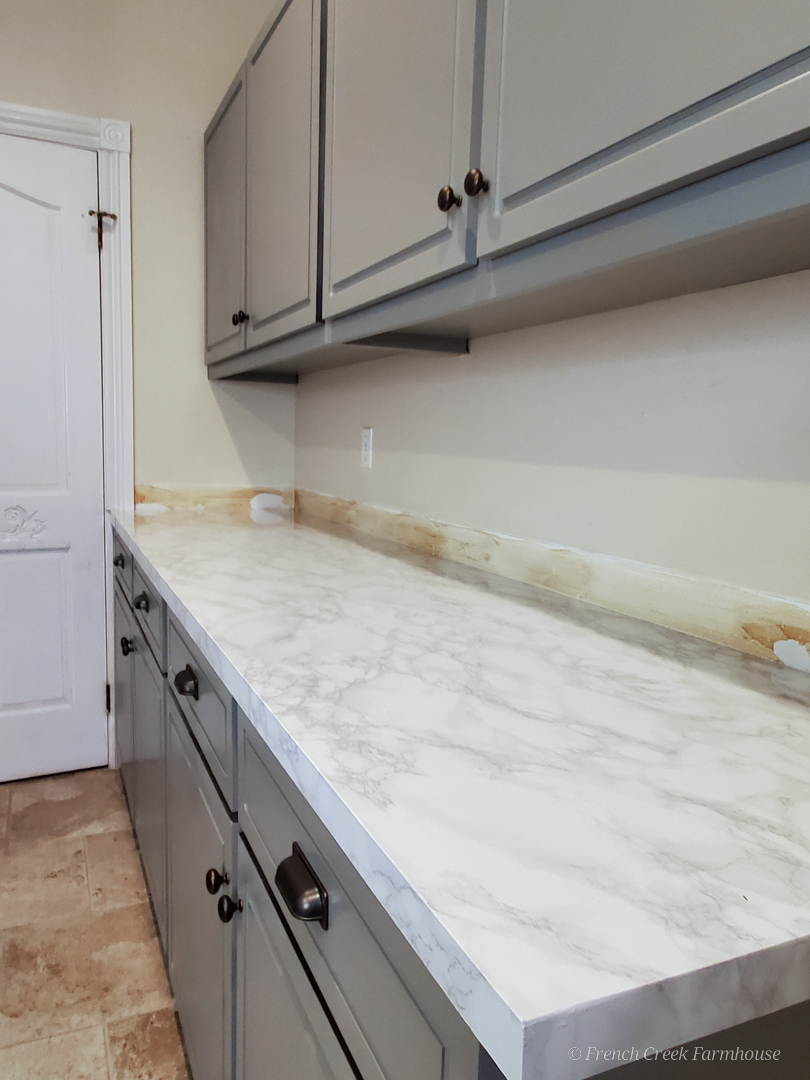 The main project to complete is to tile the backsplash, so you know where I'll be the next few days–up to my elbows in tile and grout!
After that, it's all about the finishing touches and re-styling the room for the big reveal.
I can't wait to finish and share it with you! Be sure to sign up for my newsletter so you don't miss a thing!