A French Farmhouse Christmas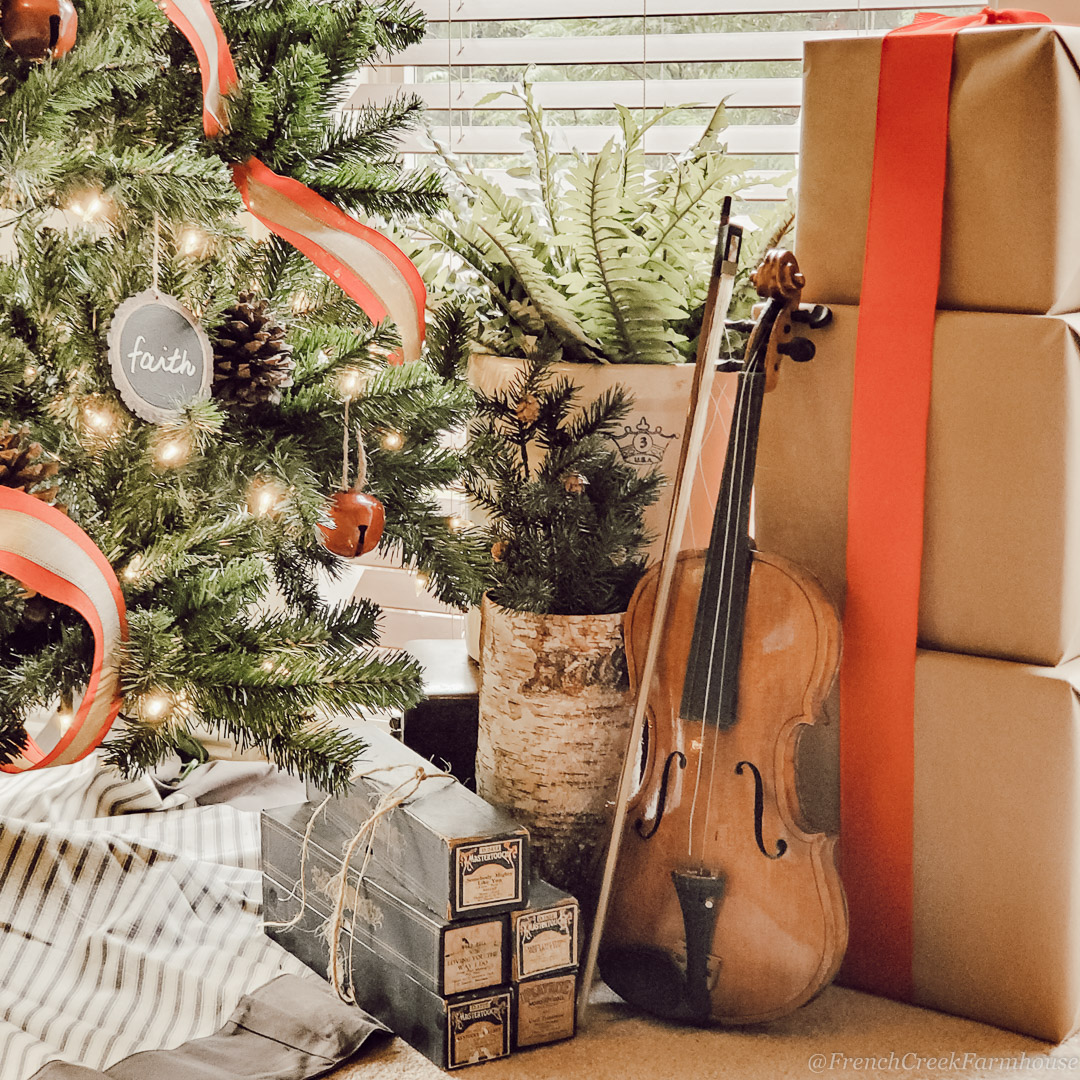 In our family room this year, I was inspired to bring in elements of our ancestors. More specifically, Mr. FCF's ancestors who came to this country from France several generations ago. Marrying our Pacific Northwest home with a vintage French farmhouse was a creative project that added so much meaning and love to our Christmas decor. Shall we take a tour?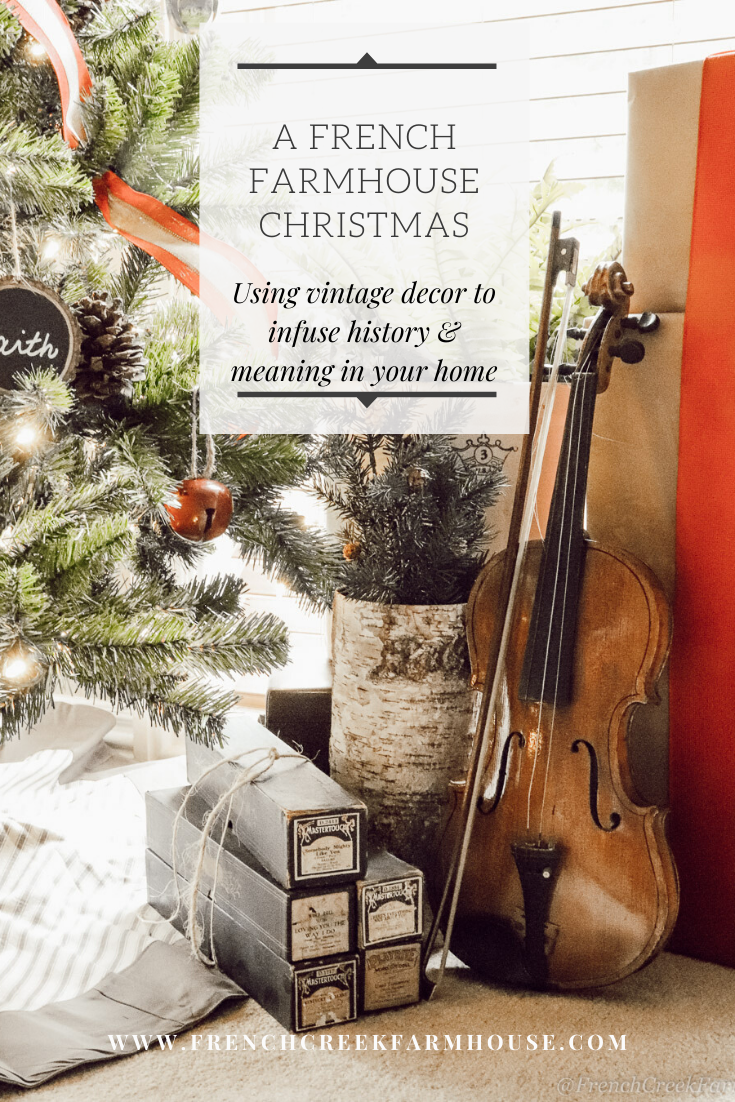 Disclosure: This post is sponsored by King of Christmas, however all opinions are my own. Some links that follow may be affiliate links, and I might earn a commission if you make a purchase through that link. This usually amounts to cents, not dollars, and helps to support the projects featured on this blog. I
only recommend products from companies that I have found to be trustworthy. Read my full disclosure here.

Earlier this year, I picked up a pair of French arm chairs that I knew I wanted to work into our family room decor. It's a cozy room where people tend to congregate, so extra seating is always high on the priorities in this room. The chairs truly set the tone for everything else.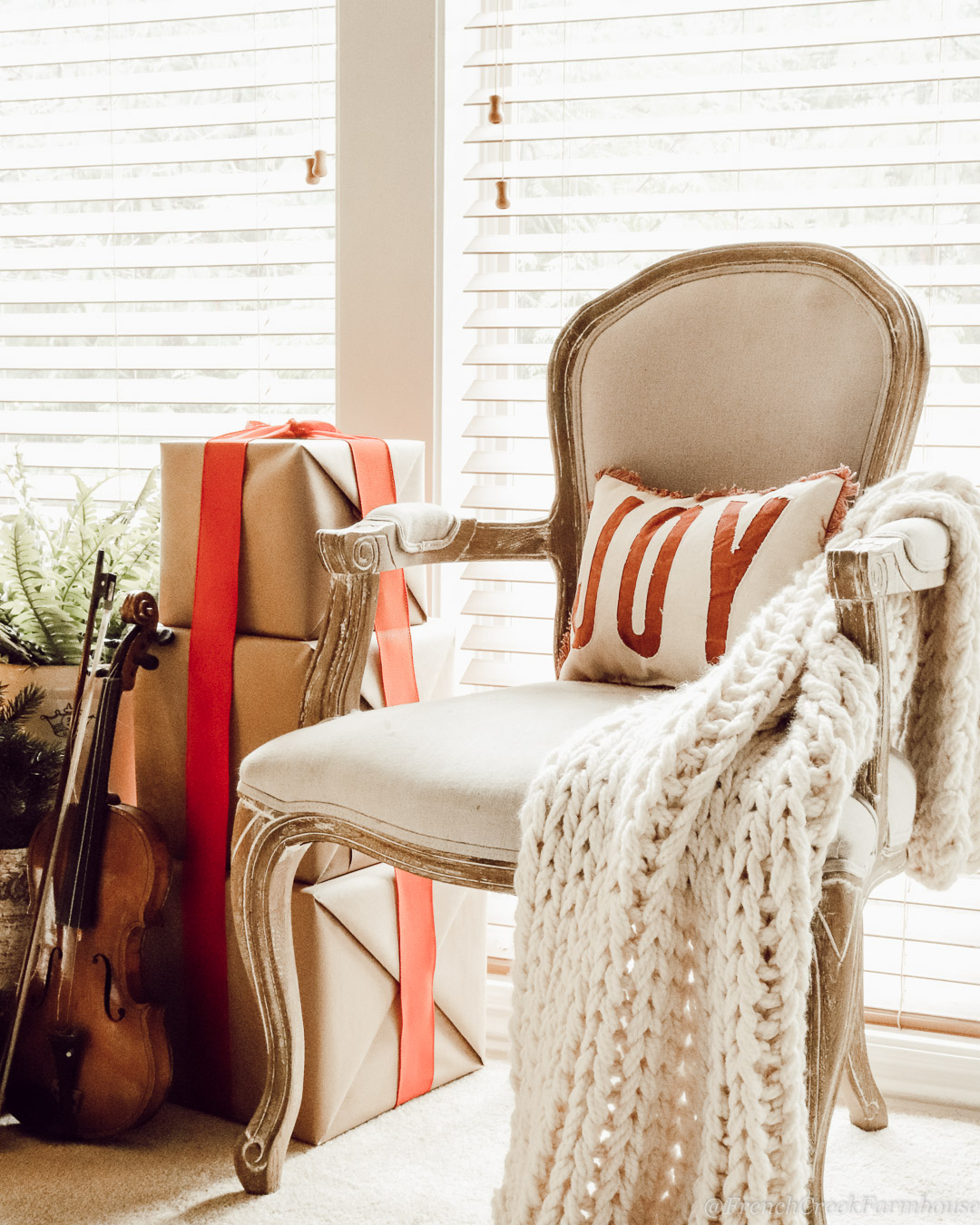 I wanted to make sure I pulled in plenty of vintage and French accents to bring the aesthetic together, so I used a champagne bucket filled with antique spindles, along with a charming rocking horse and vintage wooden croquet ball. Both of those childhood items helped me reconnect with the magic of the season and those memories of waiting for Santa to arrive.
The vintage harvest basket with cozy pillows added some rustic texture that I really love when I imagine a traditional French farmhouse.
When I think of France, I often think of the arts and beautiful music. This summer, we stopped by a garage sale, and I spotted an antique violin with a piece of paper attached that said "make offer". I asked the owner to give me an idea of an offer that she would accept, and I was thinking it would most likely be way, way out of my garage sale budget.
To my surprise, she said she would accept $20!! There was no need for me to haggle over a deal like that, I knew it was meant to be!
The woman, who was probably in her young 70s, went on to explain that the violin had belonged to her father who played in an orchestra in the 1930s. She'd kept it hoping someone in her family would take interest in playing it, but now that she and her husband were downsizing to move, she'd decided to pass it on. I promised her I would cherish it always, and I really do!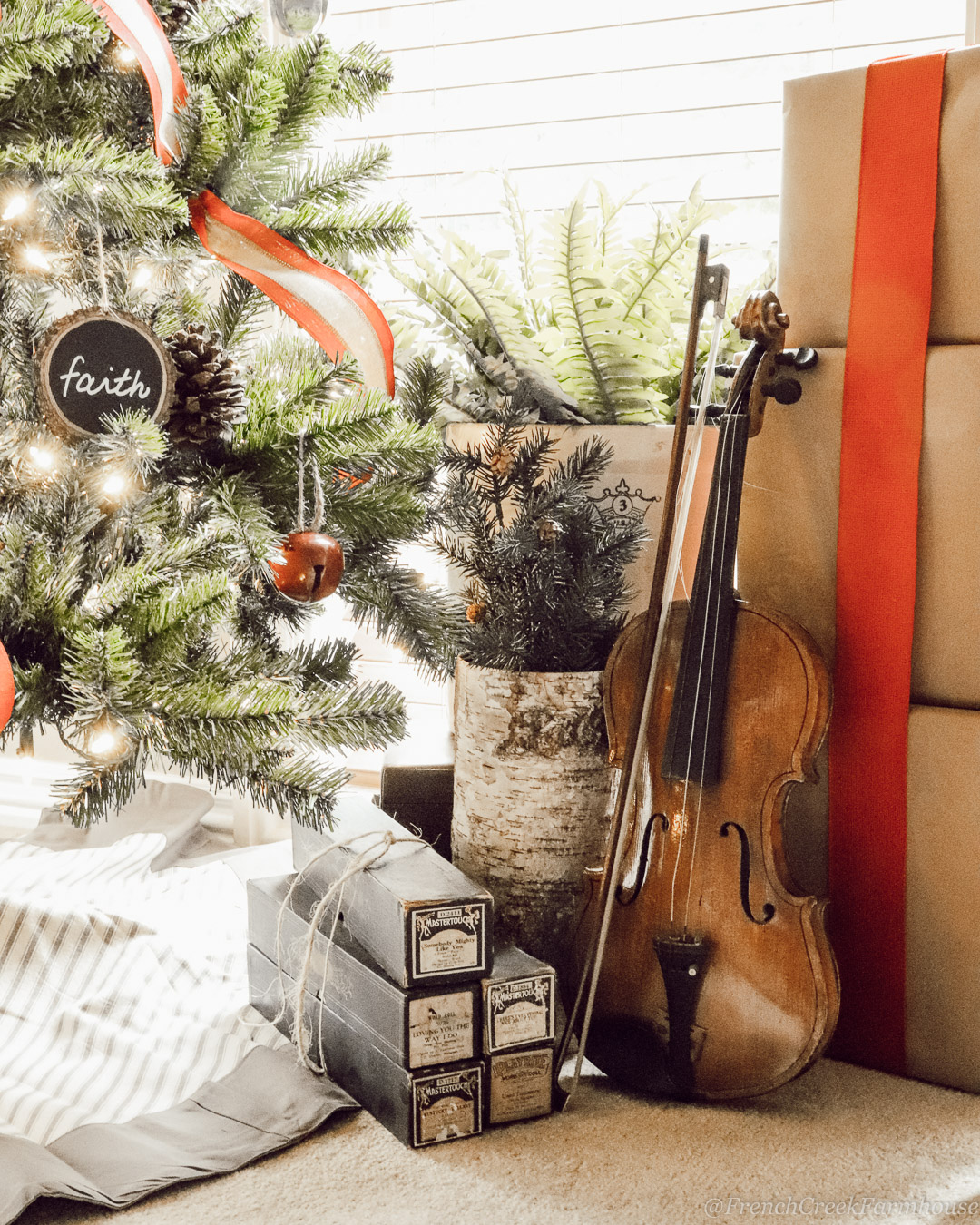 Coincidentally, at a different garage sale the same day, I was thrilled to find a bundle of player piano music rolls. Even their boxes are darling, don't you think?
It was also important to me that I capture a sense of coziness and warmth, so I draped a chunky knit blanket over one chair with my favorite canvas accent pillow. Aspen sure enjoys the cozy winter vibes!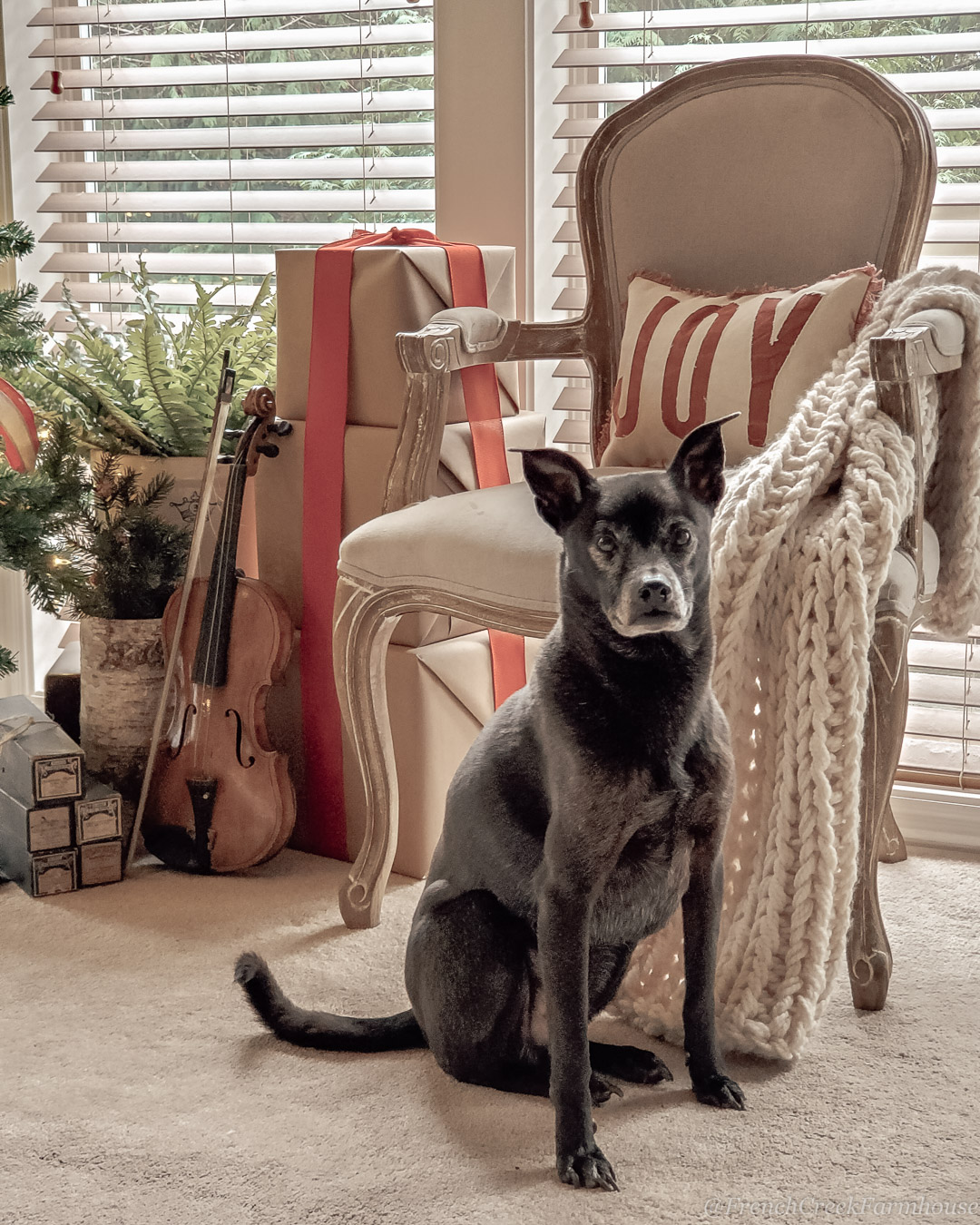 Of course, the centerpiece of the room is our gorgeous King of Christmas tree! I decorated it with the same ribbon I incorporated into our foyer decor, pine cones, rustic bells, and the chalkboard bark rounds I made this fall. The ticking stripe tree skirt furthered the French farmhouse feelings in this design.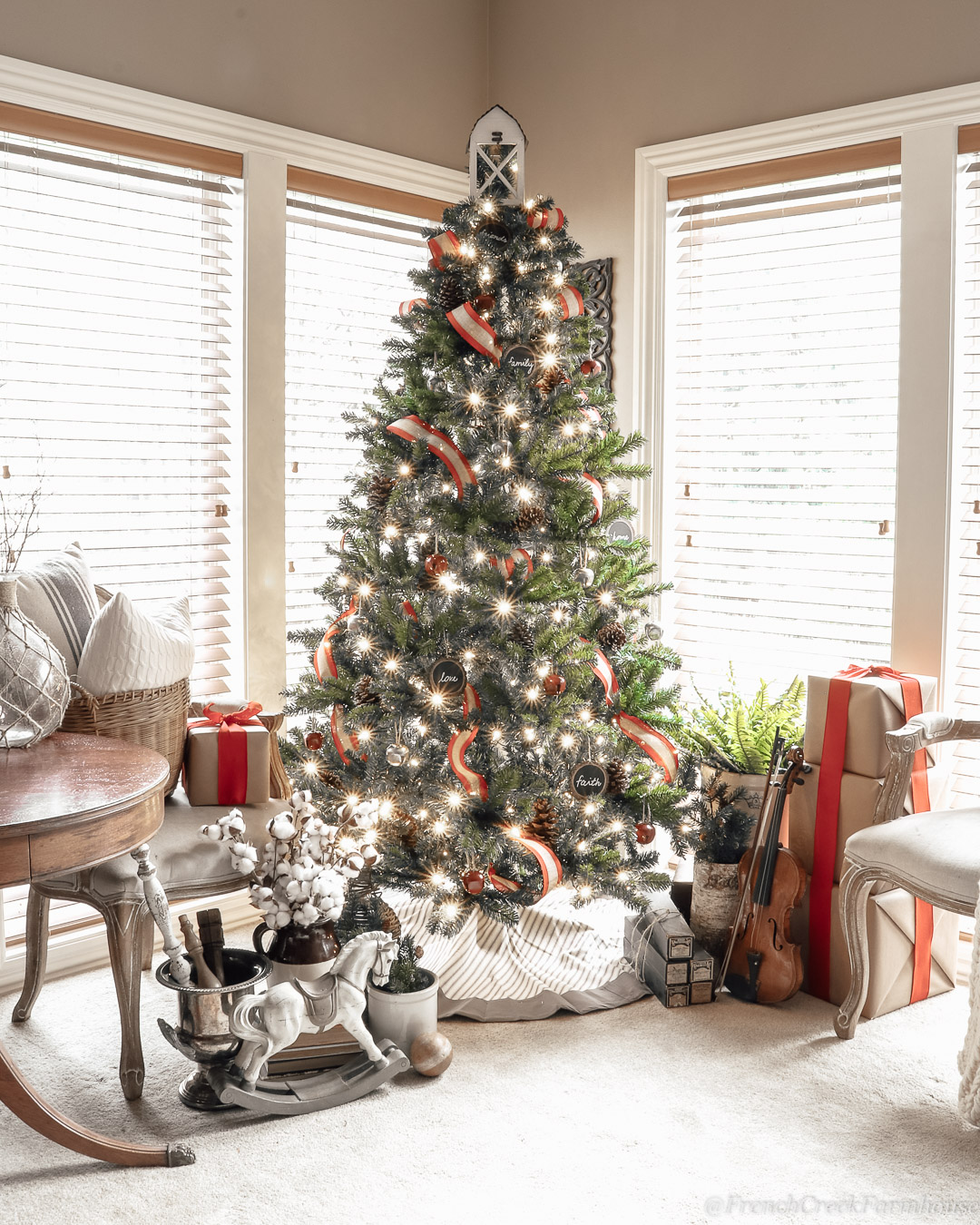 I finished it all off with a new tree topper that's a sweet little replica of our bunkhouse here at the farm!
For years…and I do mean years…I have lamented over not having a pre-lit tree and swore we would buy one "next year". But, I also loved how realistic our old artificial tree was, and I had a hard time finding one that I thought would measure up. I can tell you, without hesitation, that our King of Christmas tree has not only met my expectations, but far exceeded them!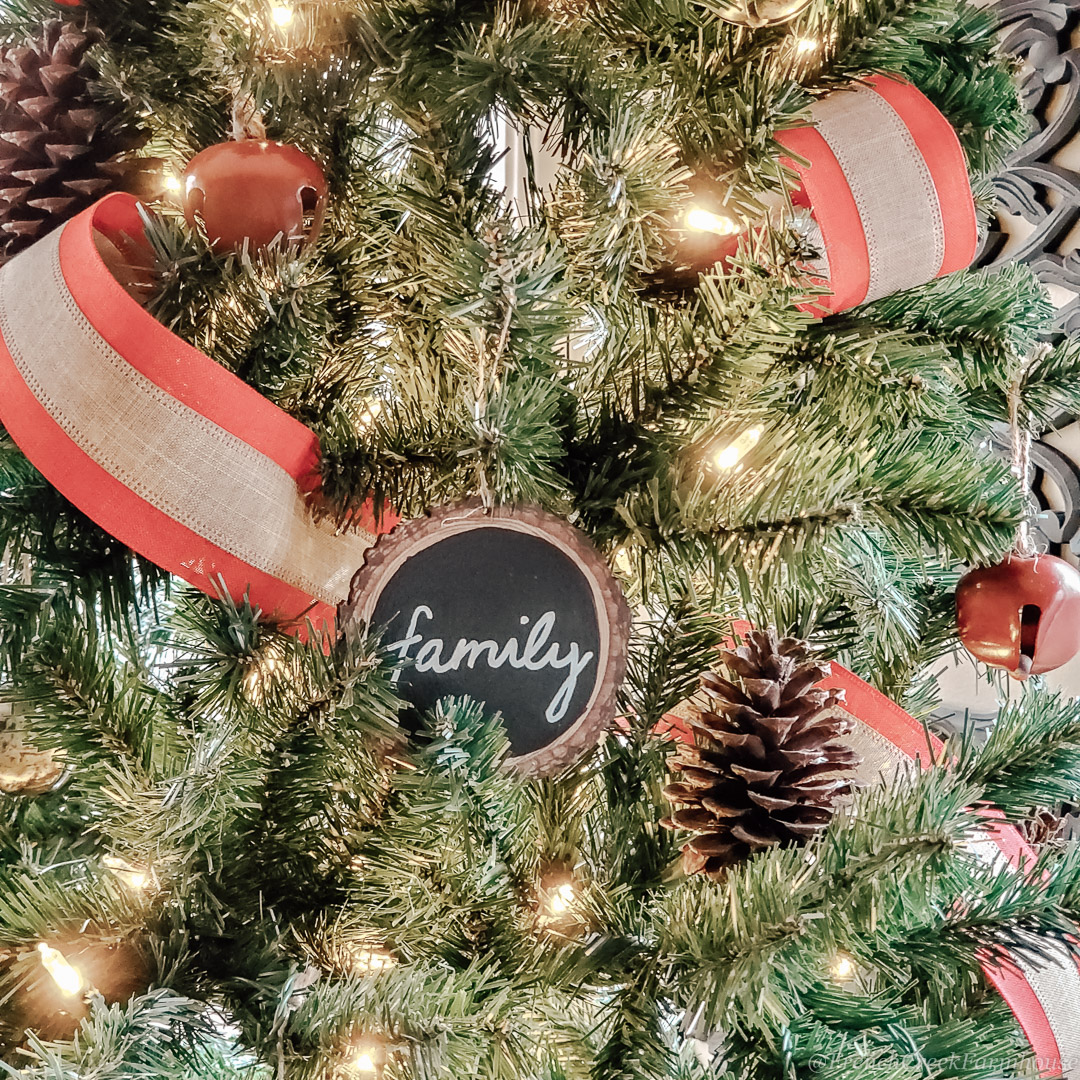 It is incredibly realistic, and–the best part–it's SO easy to set up. There are just three sections to interlock, then fold down the hinged branches, fluff a bit, and plug it in. I had the tree up in about 20 minutes this year compared with, literally, the hours that it used to take!
If you've been mulling over bringing a new synthetic tree into your home, take a look at King of Christmas, and use code FRENCHCREEKFARMHOUSE to save 10%. We have the 7′ pre-lit Hancock Spruce, and I highly recommend it!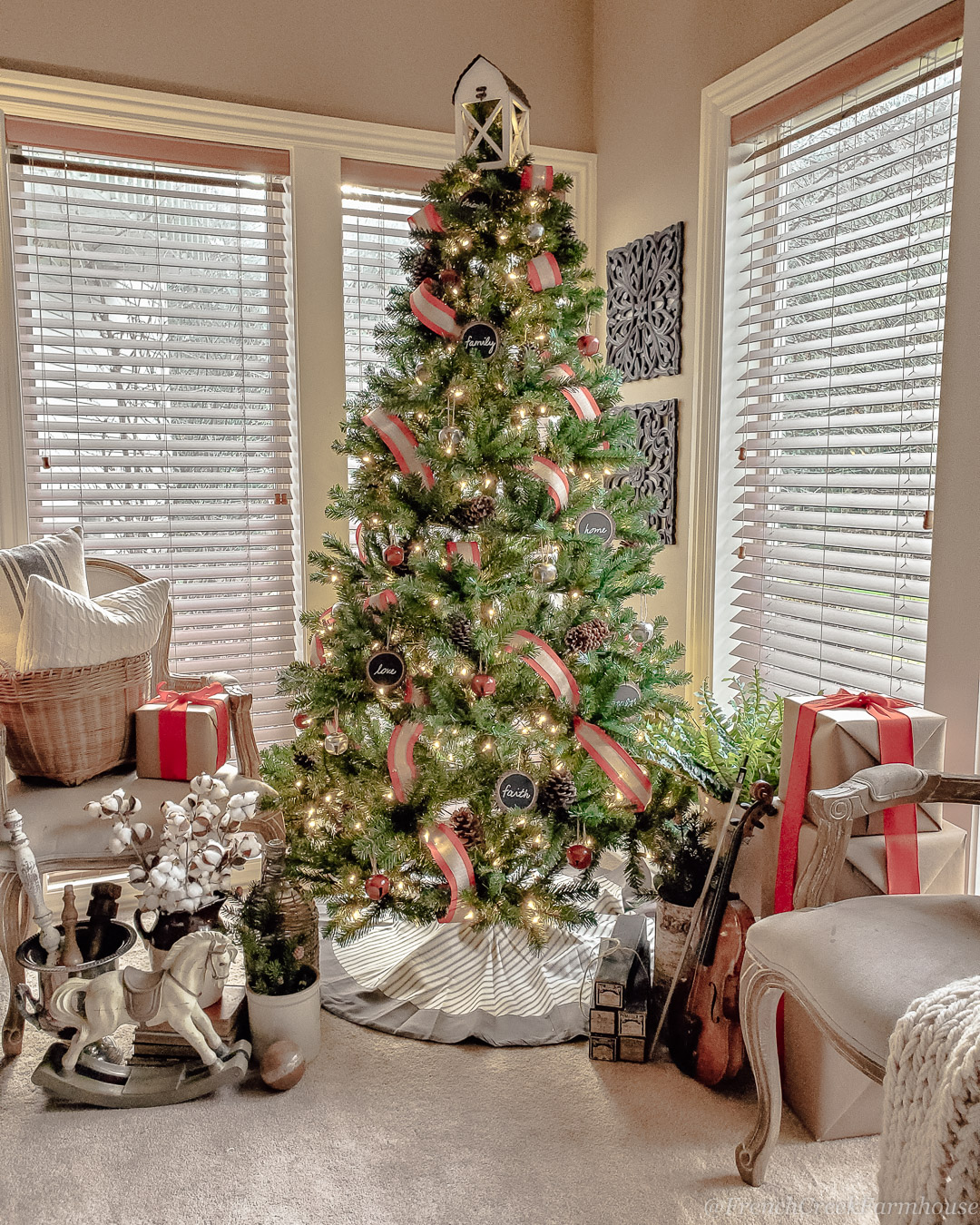 I hope you enjoyed this tour of our home today, friends! It's so important to me that our home tells the story of our family, and this project was especially meaningful to us. Sharing our story with you, today and every day, is such a joy, as well. Thank you so much for your kindness and friendship as we make our house a home. xo!