Rustic Farmhouse Thanksgiving Tablescape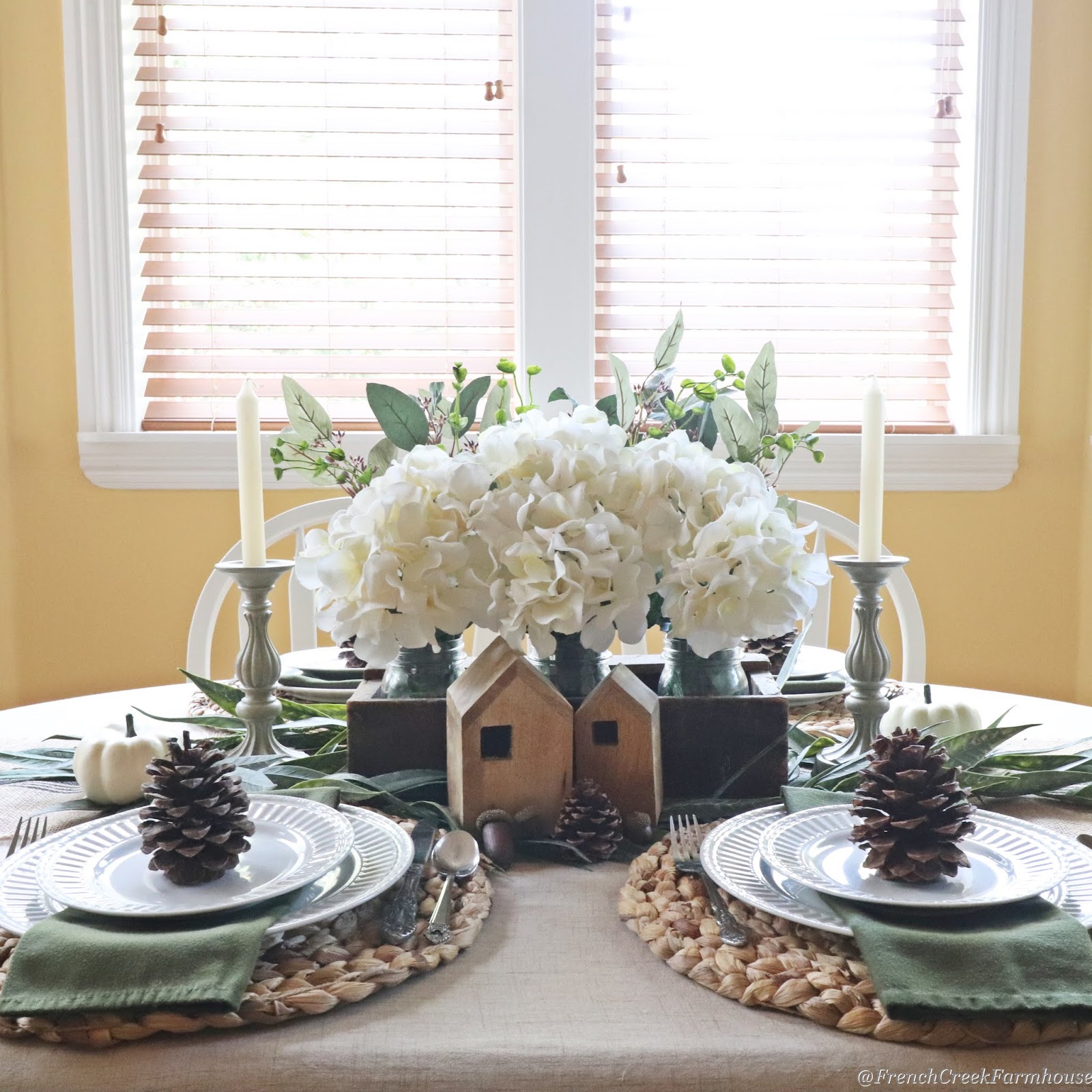 For years, we have hosted Thanksgiving for a growing group of friends who, just like us, live far away from their families. I love that our farmhouse can feel like home to others and be a joyful gathering place. And, I also love the chance to decorate our table for guests.
This year, however, we are switching things up. Being in the final stretch of completing my PhD, the demands on my time and energy are significant right now. Taking on the hosting role just feels like a bit too much this year, but I still wanted to set a pretty table.
I've also been honored to be a host in a different way this year. Recently, I gathered up a group of truly inspiring blogger friends, and all week long, they've been sharing their gorgeous Thanksgiving tablescapes. Honestly, it's utterly humbling to be collaborating with people of their talent, and I hope you'll take the time to read all of their posts and gather some inspiration for your own table this year.
Here's my own table for the collection…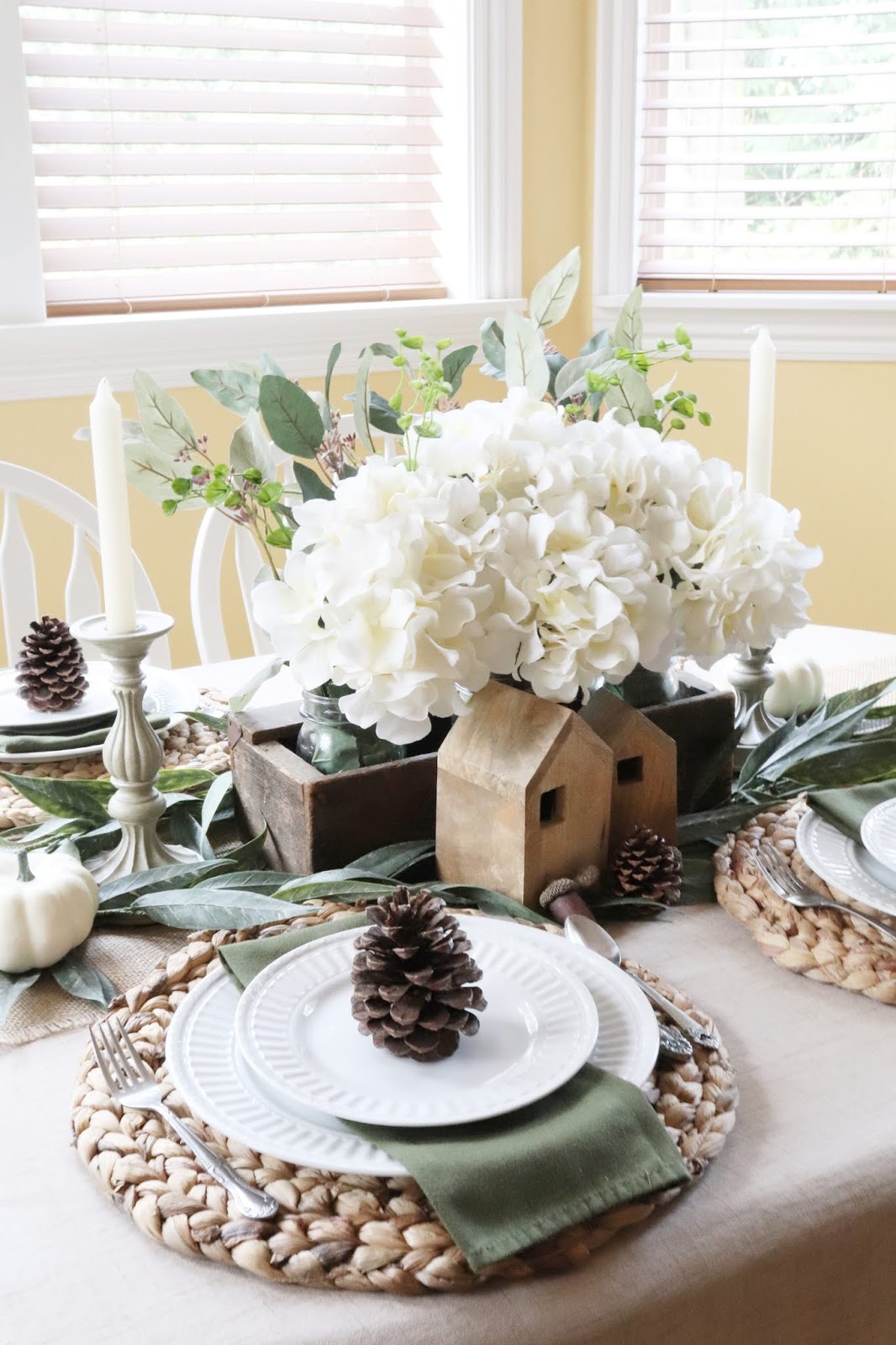 Disclosure: This is not a sponsored post, and I have received no compensation for sharing any of these supplies. Some links to products that follow may be affiliate links, and I might earn a commission if you make a purchase through that link. This usually amounts to cents, not dollars, and helps to support the projects featured on this blog. I only recommend products from companies that I have found to be trustworthy. Read my full disclosure here.

This year, I wanted to emphasize a few things that have been important to me in my recent design style. First, and let me preface this by saying that I'm not sure if others do this too or if I'm a little nutty (and, most likely, those things aren't mutually exclusive!), but when 2018 rolled around, I had a strong attraction to the word "home". It showed up, first, when I redecorated our entryway after putting away the 2017 Christmas decor, and has since sort of became my design muse.
Every element of my decor over the year has centered around that one idea, and it really became a theme for me. This table was no different, and those little wooden houses from Hearth & Hand by Magnolia captured that feeling for me. You might have noticed them earlier this fall on our coffee table, too.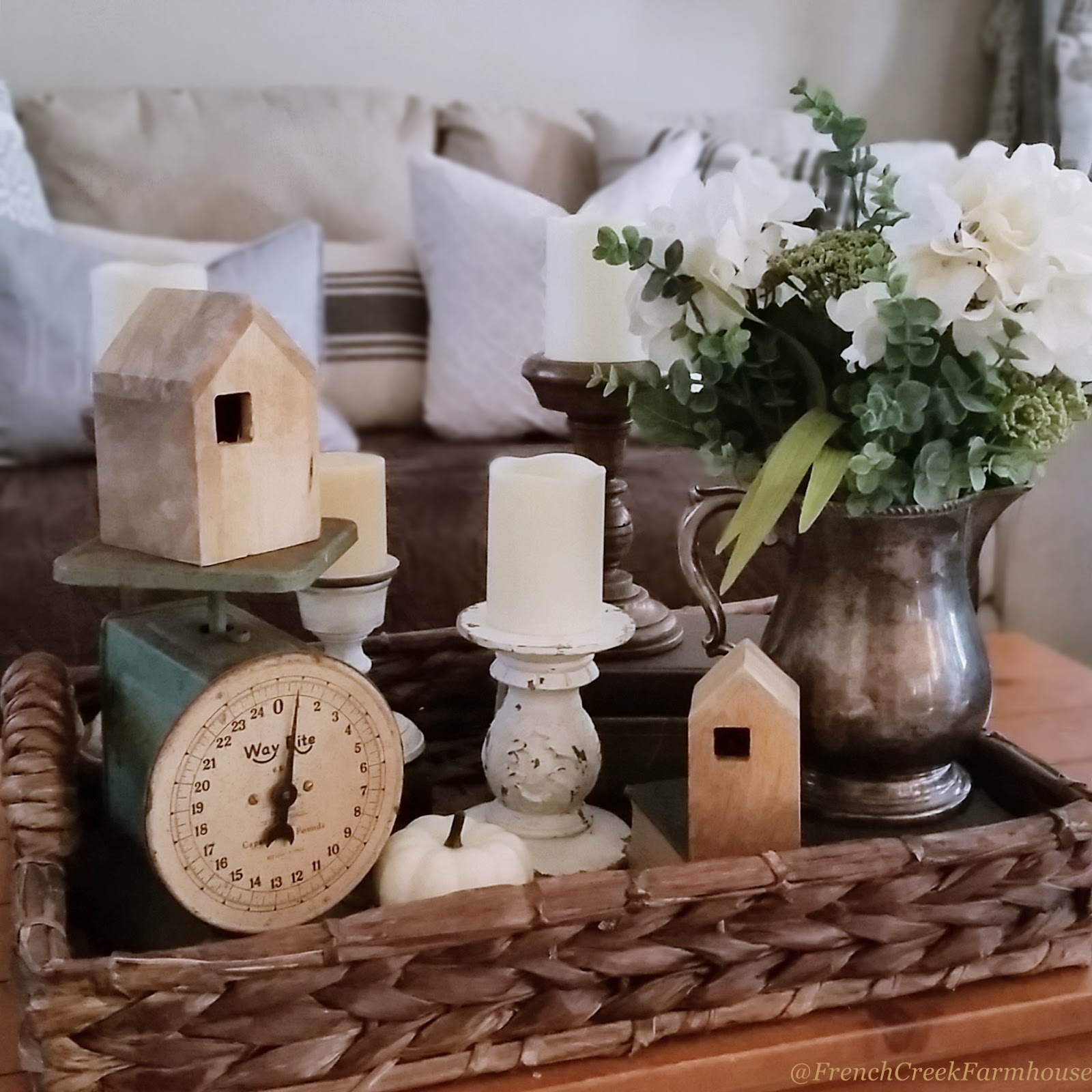 Continuing with the idea of "home", I knew I wanted our table to be a mix of rustic farmhouse and Pacific Northwest–a way to honor the two things about our home that I really love. The pinecones really captured the PNW vibe for me, and our French stripe burlap table runner is a current decor obsession (not to mention one of the best selling items in our shops!). It's also worth noting that Robert's ancestry is 50% French, so we have quite a few French country details throughout our home that celebrate his family's history.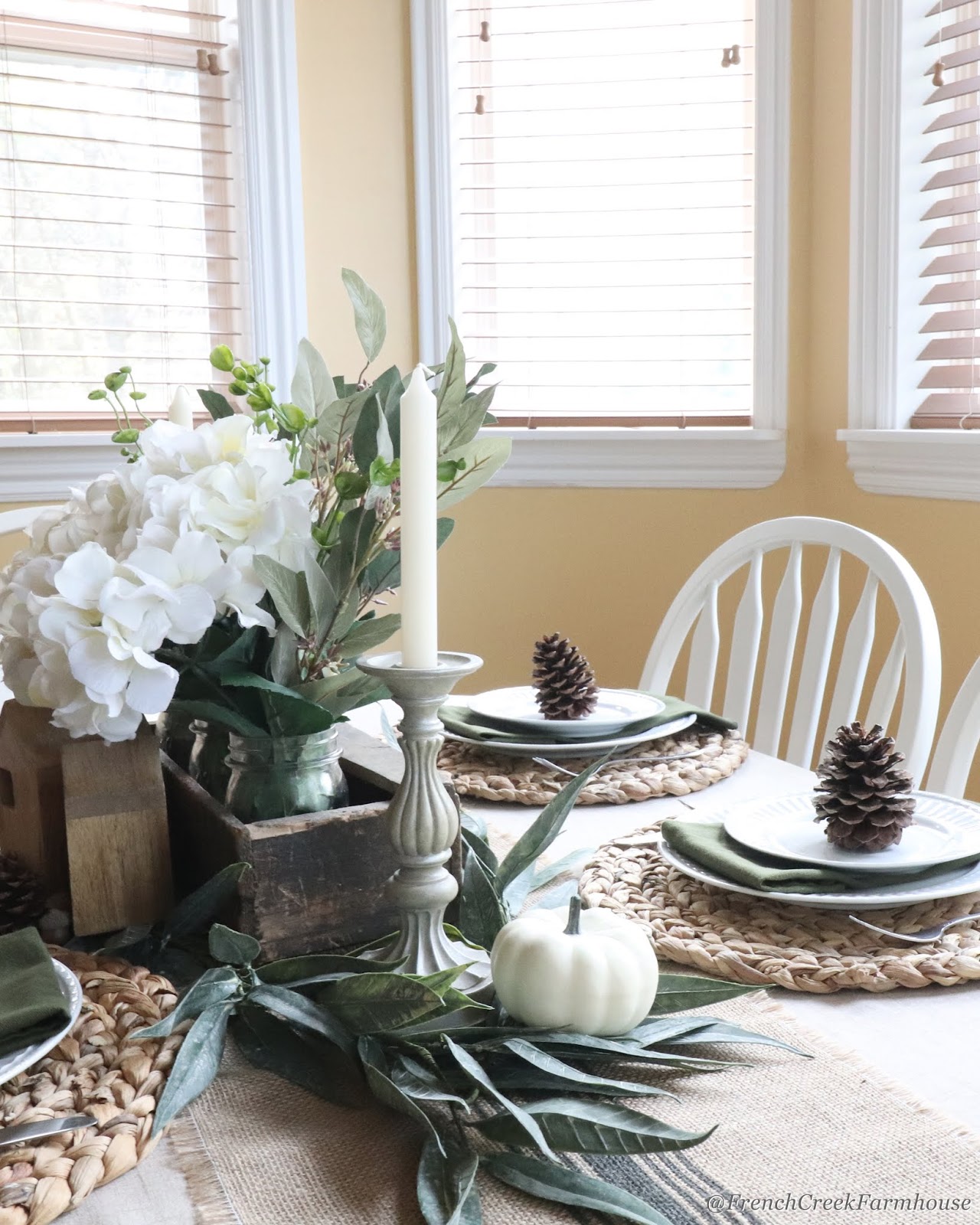 The vast majority of the time, we don't use a tablecloth on this table. We have both a formal dining room as well as this family dining nook off the kitchen, and this room is not usually so fancy. But, in the spirit of transparency, I will confess to you that our formal dining room is currently doubling as shop storage, and it's filled with boxes upon boxes of inventory for Christmas!
Honestly, I didn't even own a tablecloth that fit this table, so it was my one and only purchase for this tablescape. Everything else was shopped from our own home (my favorite kind of shopping!). I decided to go with a very neutral linen tablecloth that would transition nicely throughout the year so that it was versatile enough to use again and again. It also paired well with the burlap runner and the woven grass placemats that add so much warmth and texture for fall.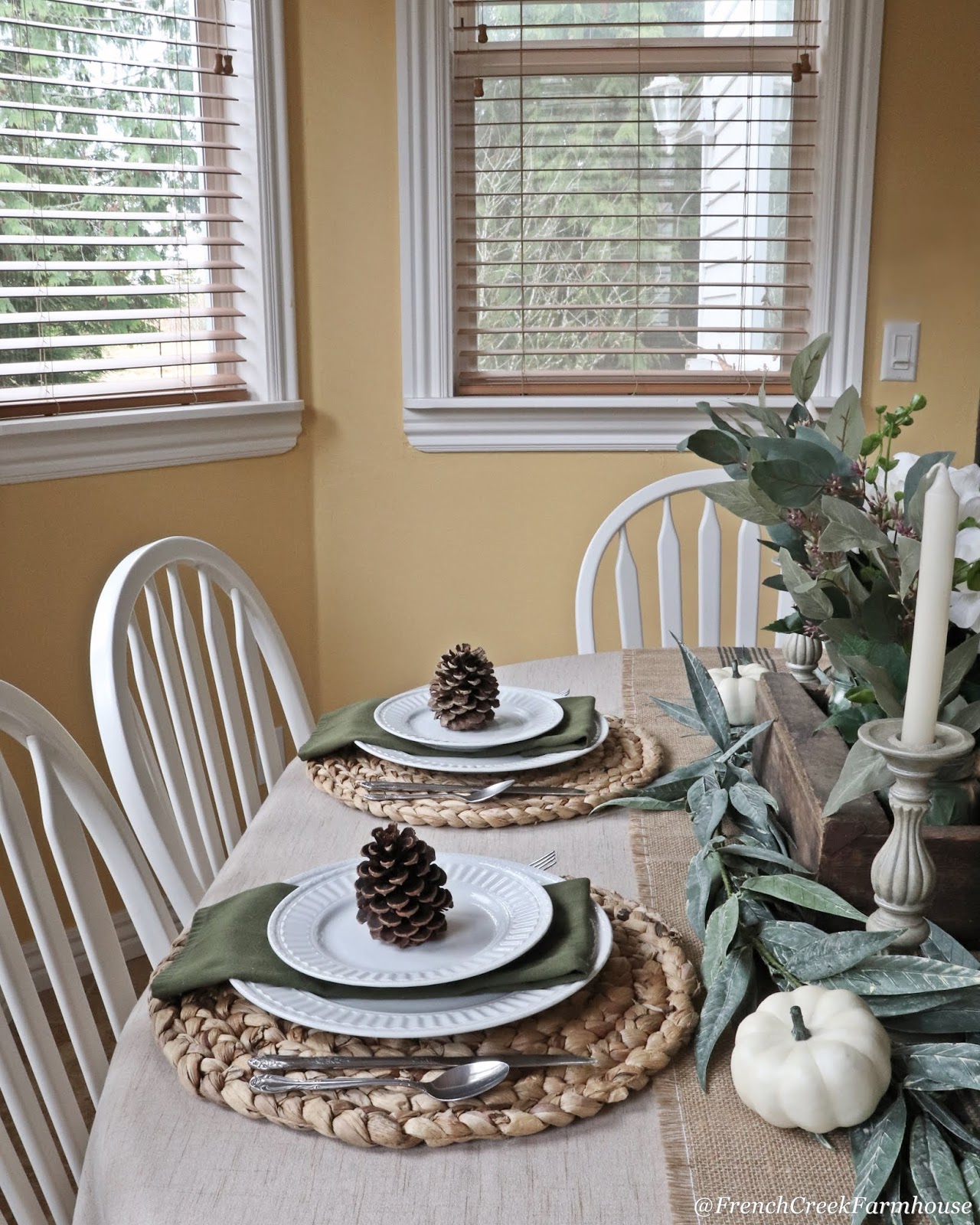 Our everyday dishes, contrary to my neutral-palette-loving-heart, consist of colorful Fiestaware that I've collected over the past 20-ish years. The set I used for this table normally live in a cupboard in our dining room, except for special occasions, so it was nice to bring them out for this design. Plain white tableware has always felt special to me–like a fancy catered dinner party! But since they are so neutral, I don't think you need to spend a load of money on fancy china to set a beautiful table. And these are dishwasher safe, so it saves me a chore! Although they are a discontinued pattern now (originally from the JCPenney Home Collection), I've linked a similarly affordable set below.
Between the dinner and salad plates, I folded a dark green cloth napkin so that it would trail out onto the place mat enough to contribute to the PNW color palette in this design. We use cloth napkins all the time in our home because they're environmentally friendly and just make sense!
Our flatware is especially sentimental to me. When we got married, I spent months going to thrift stores and finding vintage flatware to mix and match in a sort of "Anthropologie" inspired style. It took me quite some time to gather over 100 complete placesettings for our reception, but I did it, and we still use them today. I love that they don't match. It feels cozier to me. Some of the pieces I collected even have engravings and monograms, and it makes me happy to know that they have a story and a history.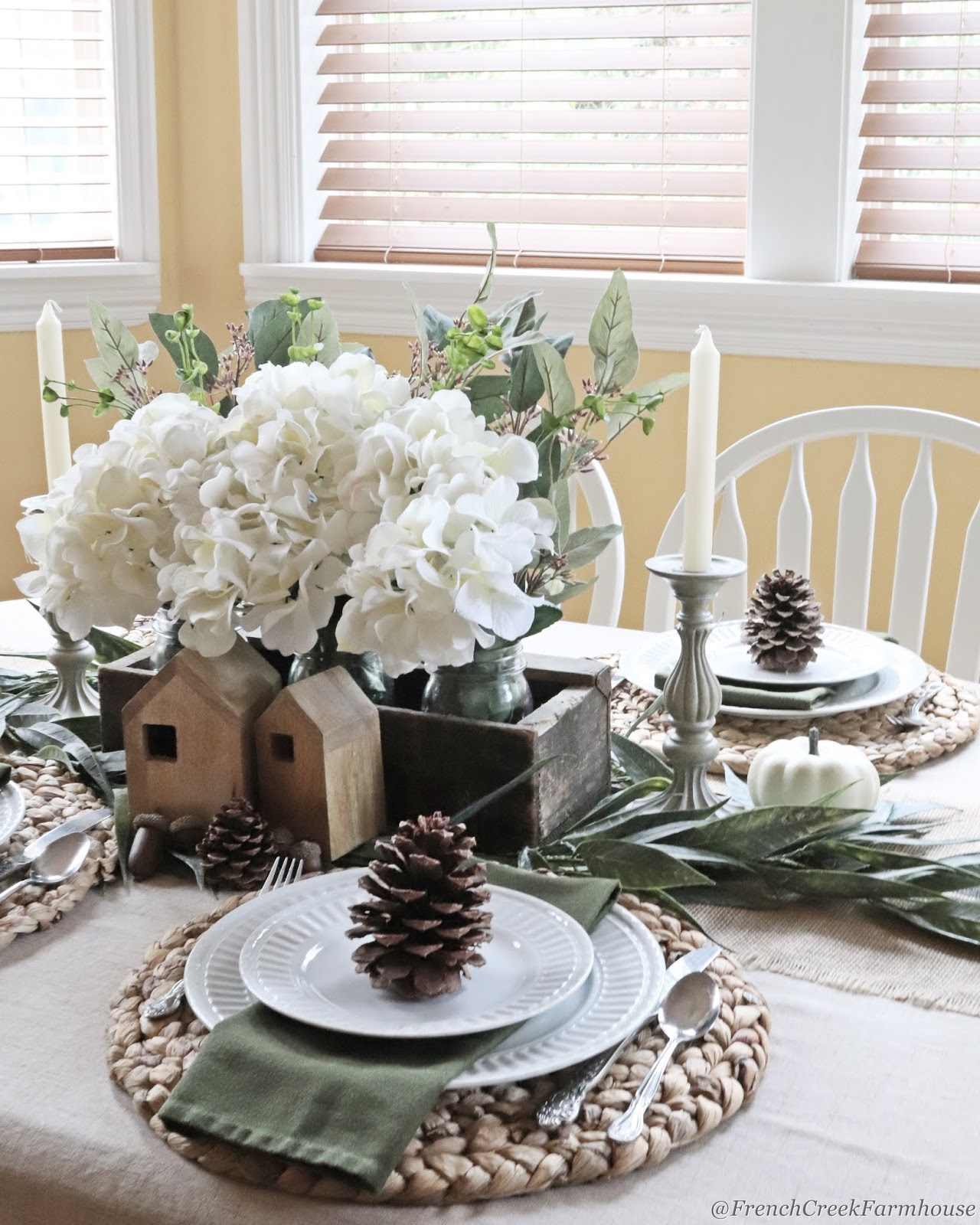 Maybe my favorite part of this design was the centerpiece. The old rustic box was something I junked at a flea market and then filled with Ball mason jars from my collection. The candlesticks, which fit our French country vibe perfectly, were thrifted scores. And then we come to the floral.
I stuck with only two types of floral for this design: six stems of off-white hydrangeas (which happen to have been our wedding flower and have special sentiment) arranged into a triangular display, and gobs of eucalyptus. A lot of people only think of the silver-dollar variety of eucalyptus, but there are many varieties, so I went with a few.
The bottom layer of the centerpiece is a eucalyptus garland that most resembles the Lemon Scented Gum variety (eucalyptus citriodora). This garland is normally six feet long, but I simply folded it in half to create a foundation for the rest of the design. In addition to the silver-dollar variety of eucalptus, I also used two types of faux Weeping Red Ironbark (eucalyptus sideroxylon). Leaves on juvenile plants are bluish white, and later deepen in color as the plant matures. We sell both types in our shops, and I mixed them together in this centerpiece.
Finally, since this is a Thanksgiving tablescape afterall, I included some mini faux pumpkins. Throughout fall, I love sprinkling these little guys all over the house!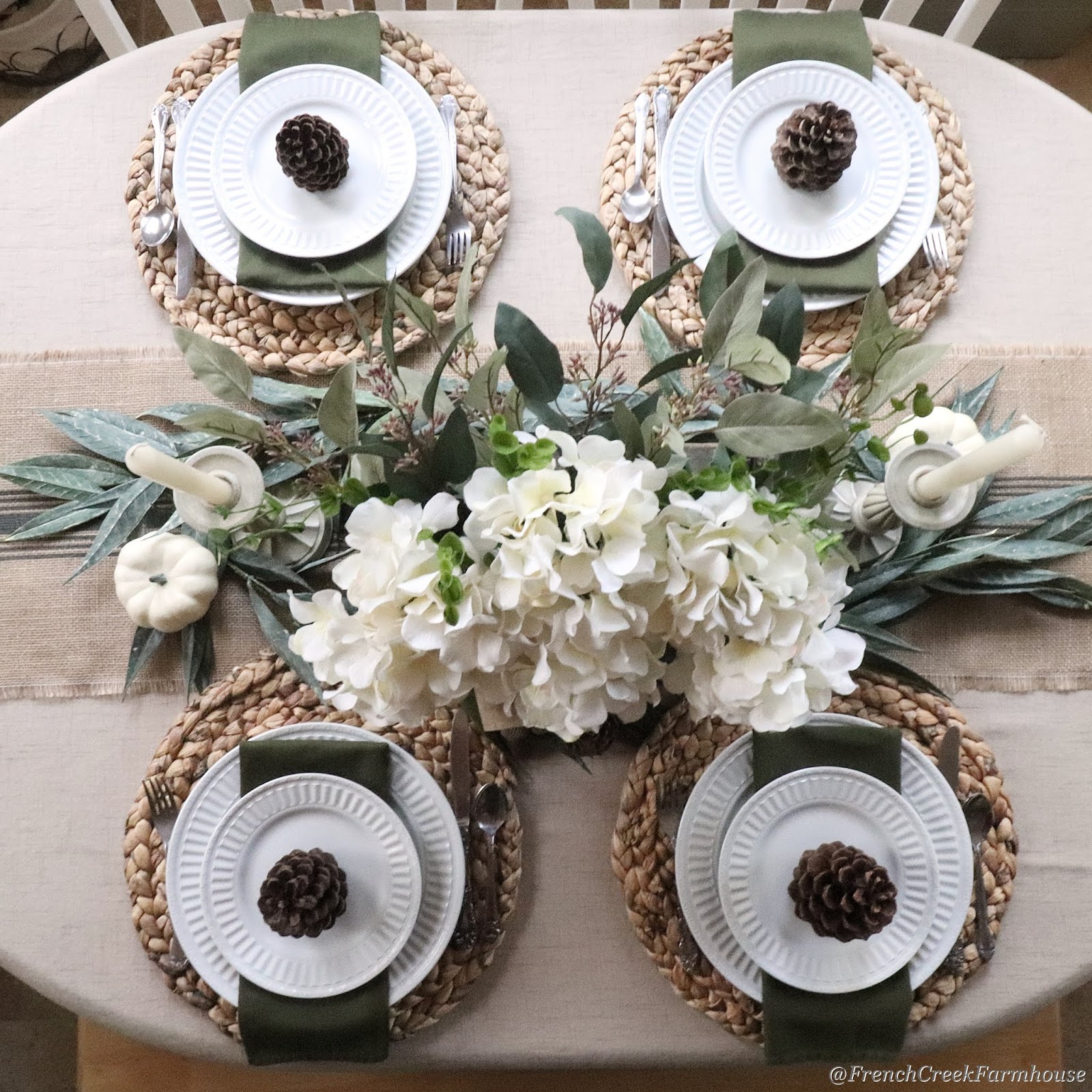 After I finished our tablescape, I decided to add a few more fall touches to our dining nook. A ceramic turkey dish from Williams-Sonoma that I adore, a few cottom stems mixed with even more eucalyptus, a glass bowl filled with more pinecones, and some vintage accents like a trio of wooden spools and my rolling pin collection. That giant pallet wood sign is a fall favorite, and we have one left in our Snohomish shop as of this blog post!
Designing this space, even though we won't be hosting a big gathering this year, really filled up my heart and let me enjoy using my creativity. Collaborating with a group of other designers and seeing their inspiration all week long has caused my heart to overflow! If you're looking for some ideas for your own table, be sure to go see what they've created in this giant library of gorgeous designs.
And finally, I want to say how grateful I am for the the friendships that have grown from this blogging adventure. What started as a love letter to our home has grown into something especially meaningful. Whether you've been with me since the beginning, or this is our first meeting, I am so thankful that you're here. There will always be a seat for you at our table.  xo
Shop this look
Do you love hunting for vintage treasures as much as I do?
Get my free vintage & junk hunting journal
Let's be email pen pals! Sign up to join our community, and get your free printable PDF Vintage Hunting Journal. This is so good!