Restaurant Style Fried Rice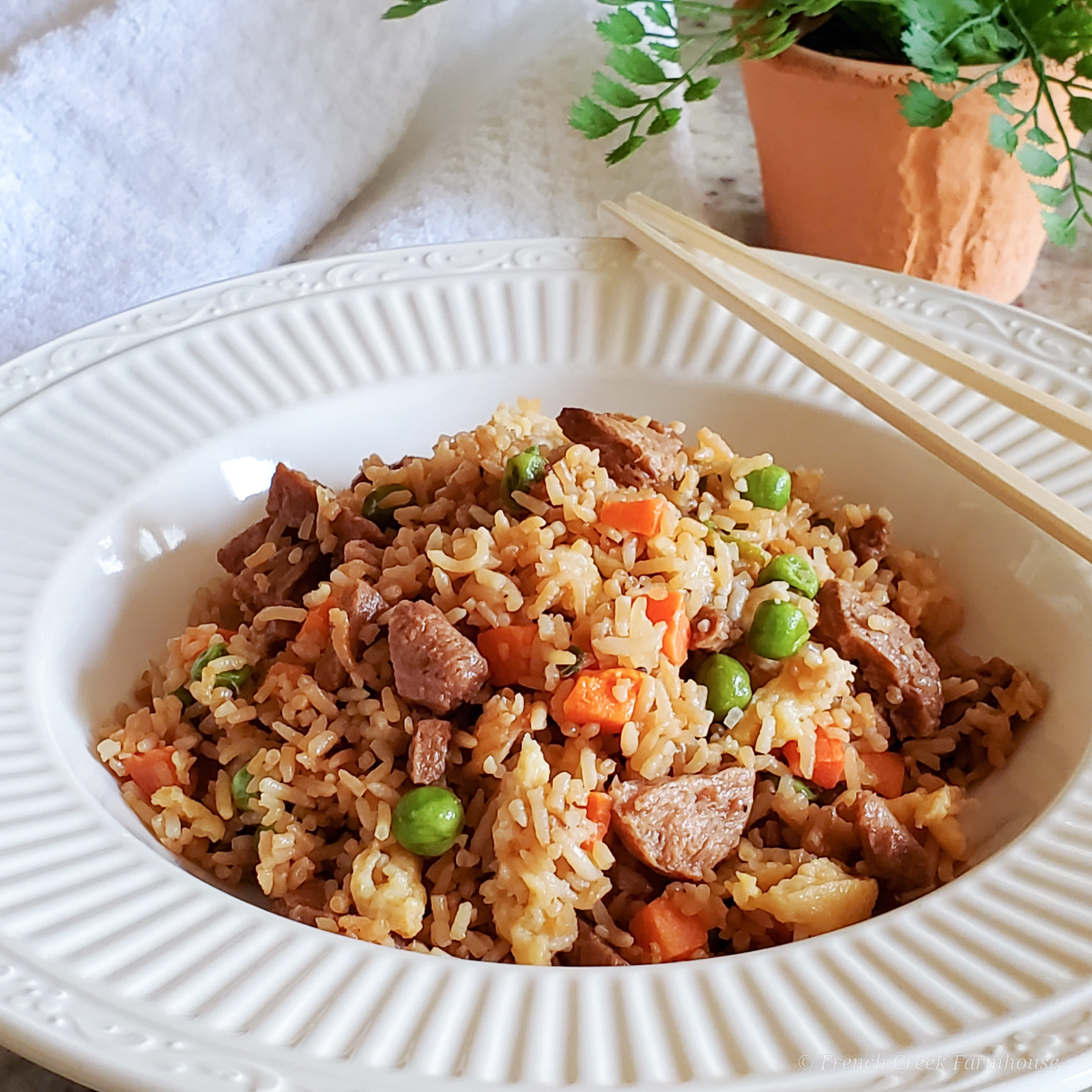 After making fried rice for over 15 years, I have finally perfected my recipe. That's a big claim, I know, but I stand by it. And I promise you–it tastes every bit as good as what you'll get at a restaurant!
Now, I know I typically try to find healthier ways to prepare family favorites when I share a recipe, but this one isn't technically going to qualify as "healthy". It's certainly healthier than what you'd eat at a restaurant, but it is in no way guilt-free.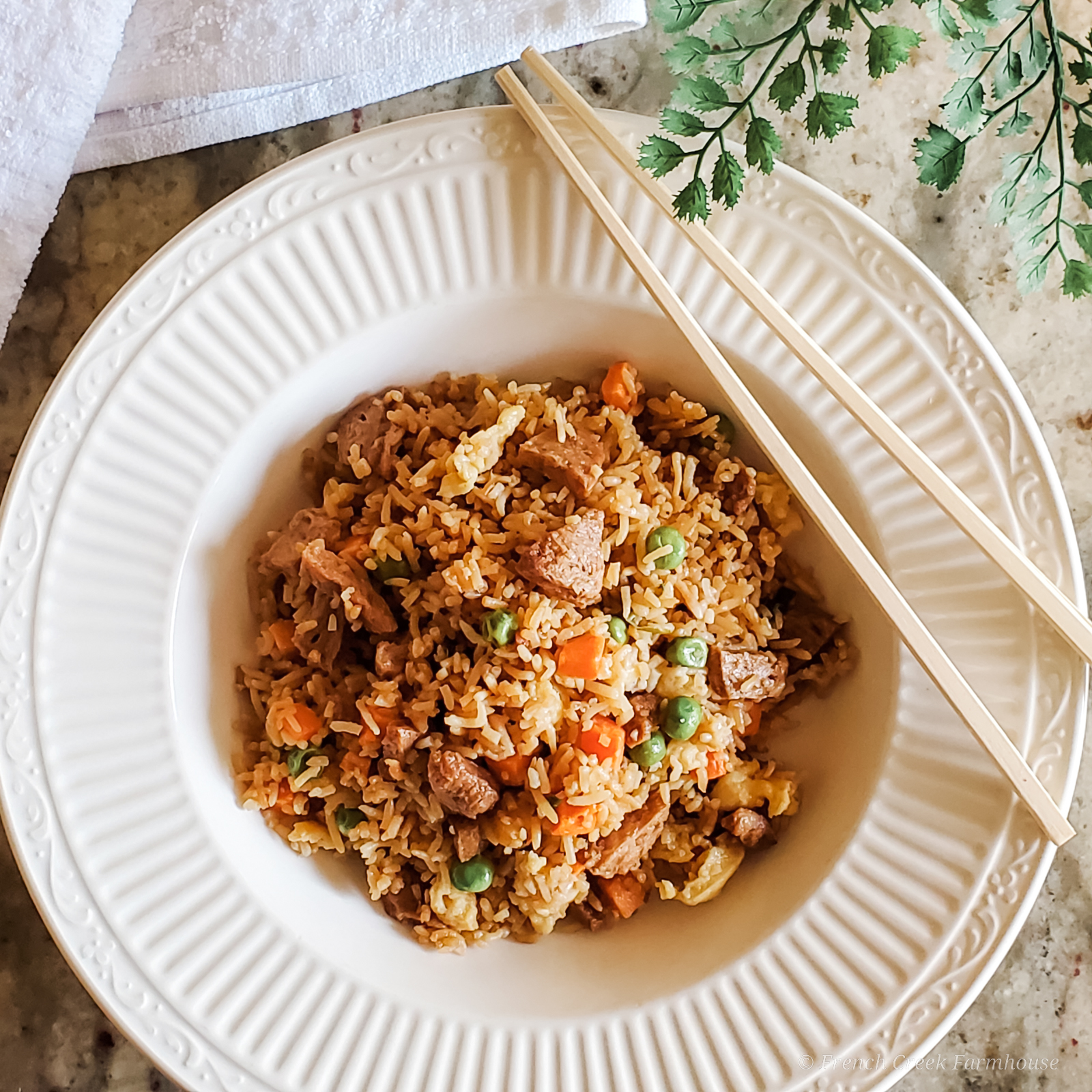 That said, this recipe is both vegan and gluten-free, just like all of the recipes I create. So you can feel good about the fact that no one with food sensitivities misses out!
(And, bonus, I did include a suggestion to make it a bit healthier in the recipe below.)
But "healthy" was not really what I was going for with this one, so I have no apologies whatsoever. Haha!
After over a year of living in a pandemic and never being able to splurge with a restaurant dinner, I wanted to make my fried rice as close to what I was craving as possible. And what I was craving was a deeply flavorful, greasy, delicious bowl of comfort food.
Yum.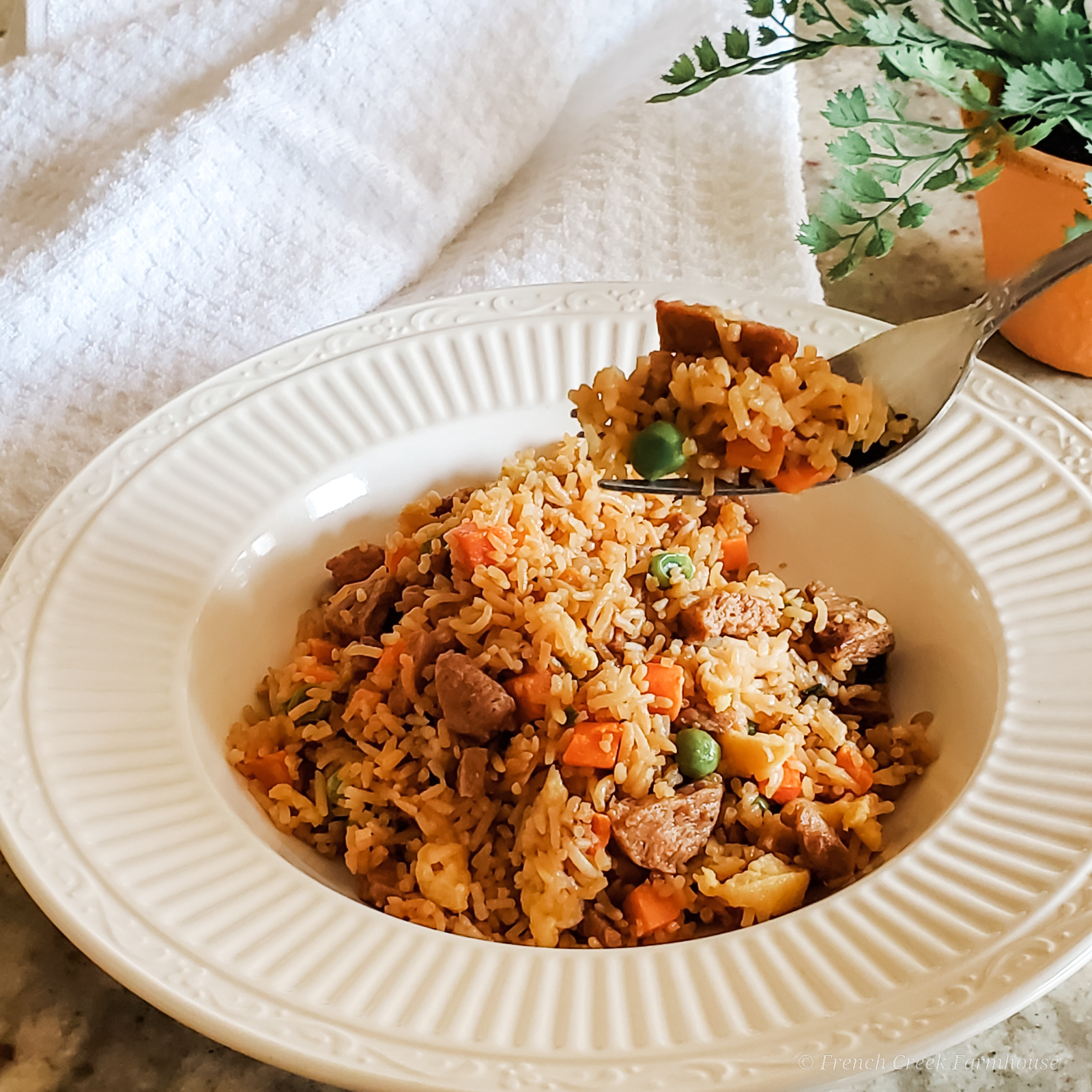 Obviously this isn't something we'd eat every day, but when the mood strikes, I love that I've finally gotten my recipe to a place where I don't feel like I need to tinker with it anymore.
We devour it now.
There are no more comments like "you know what could be different next time…" or the "it's really good, but maybe try…". Nope. We're all good now.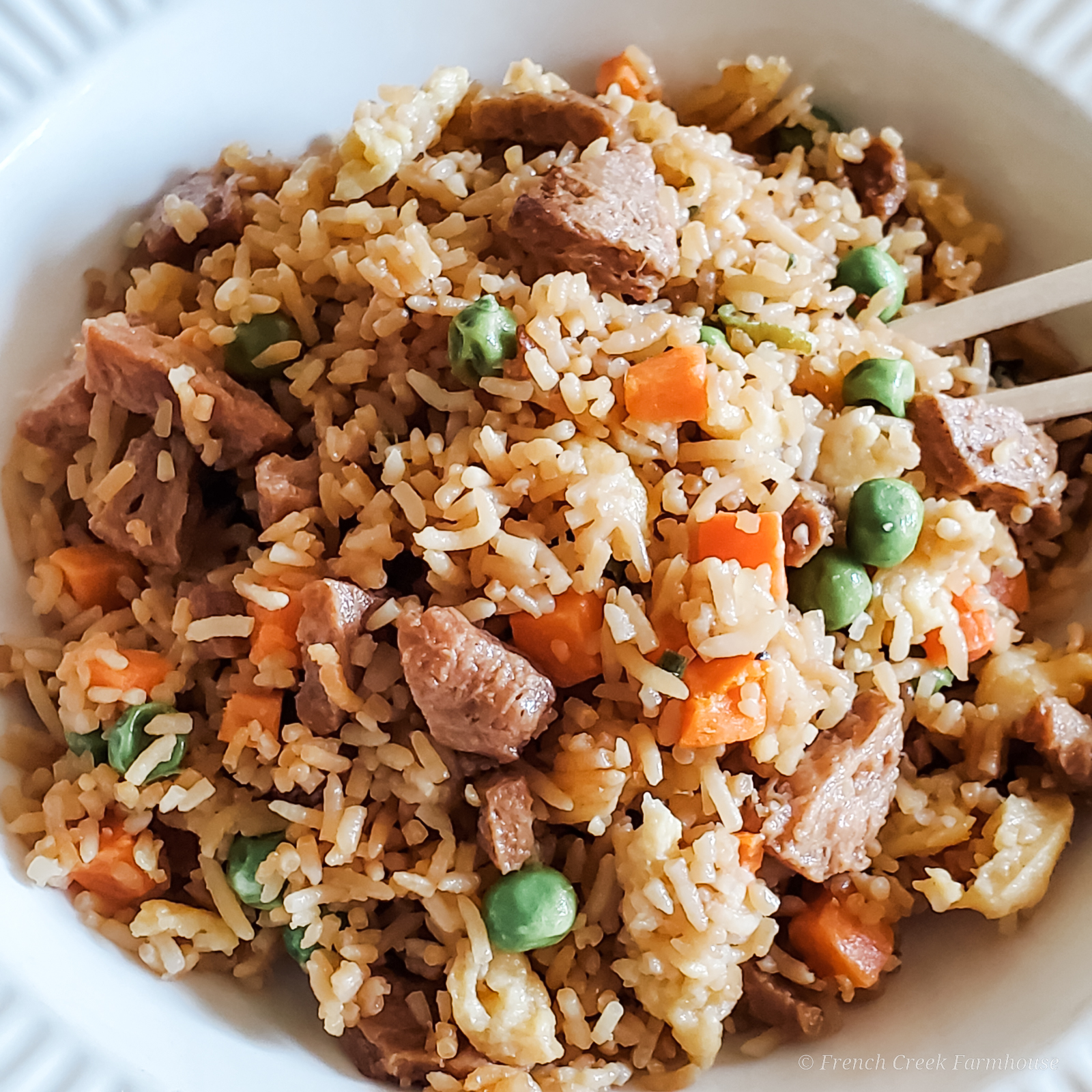 I could eat ginormous bowls of this rice. You know the legend that goldfish will eat until their stomachs explode? Yes, I could totally eat it just like that. This restaurant style fried rice makes me want to be that legend.
I wouldn't, of course, for the sake of my waistline and longevity…but I certainly could. It's that good.
So let's get on with the recipe, shall we? And don't forget to pin this because–trust me–you are going to want to find this again later!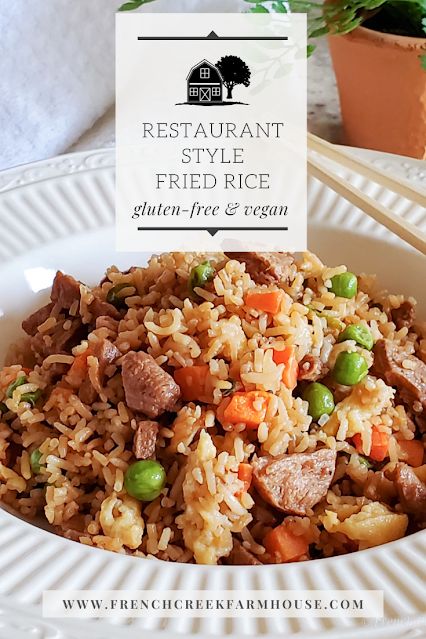 Disclosure: This is not a sponsored post, and I have received no compensation for sharing anything that follows. Some links within this blog may be affiliate links, and I might earn a commission if you make a purchase through that link. This usually amounts to cents, not dollars, and helps to support the projects featured on this blog. I only recommend products from companies that I have found to be trustworthy. Read my full disclosure here.

RESTAURANT-STYLE FRIED RICE
Prep Time: 15 minutes
Cook Time: 20 minutes
Servings: 4-6, depending on whether this is served alone, or with side dishes
Ingredients
3 cups uncooked Basmati rice (cooked and chilled in the fridge at least 8 hours)
3 tbsp vegan egg substitute mixed with ¾ cup chilled water
3 tbsp oil, divided
¾ cup protein of choice, cooked and cut to bite size (we use these)
¾ cup frozen peas & carrots blend
2 tsp sesame oil
¼ cup tamari sauce
2 scallions, sliced
3 tbsp vegan buttery sticks, melted
Instructions
1. Cook your plain rice as normal the day before (or at least 8 hours before) you plan to make this dish. We use this rice cooker because it helps to cook perfectly with almost no work–just add the rice and water, and turn on! It automatically turns off when it senses the rice is done.
Once cooked, spread the rice on foil or parchment paper-lined cookie sheets and allow to cool. This helps prevent the rice from sticking. Once cool, put into a storage container with lid, and chill in fridge overnight.
If you prefer to make this recipe a bit healthier, you can use 2 cups of rice, and 1 cup of cauli-rice (or other riced veggie).
2. When you are ready to prepare your fried rice, begin by preparing the vegan egg according to package instructions. Once cooked, allow to cool a few minutes, then cut into bite-sized pieces. Set aside.
3. Cook your protein in about 1 tablespoon oil. Set aside. I prefer to use this grapeseed oil when cooking with high heat, like stir-frying.
If using vegan proteins (tofu, textured vegetable protein, etc), you might want to marinate ahead of time or season it as you cook for added flavor. Garlic, onion powder, tamari sauce, and veggie broth are all great choice–experiment to find a combination that you love!

4. Add remaining oil to skillet, then add chilled rice. Mix and stir until there are no clumps and all grains are separated.
5. Mix tamari and sesame oil in a bowl. Pour over rice and stir until coated. 
6. Add back protein. Add peas and carrots.
7. Once heated through, add back vegan egg and scallions.
8. Just before finishing, pour melted butter over rice and stir to disperse. This is a crucial step to get the restaurant quality and flavor, so don't skip this step!
9. Gobble it all up!

 
If you've tried making my vegan and gluten-free Restaurant-Style Fried Rice, I would love to hear what you think! Drop a note in the comments below, or tag me in your posts on Instagram or Facebook. I hope you love it as much as we do!