Tiered Tray Decorating Ideas for Easter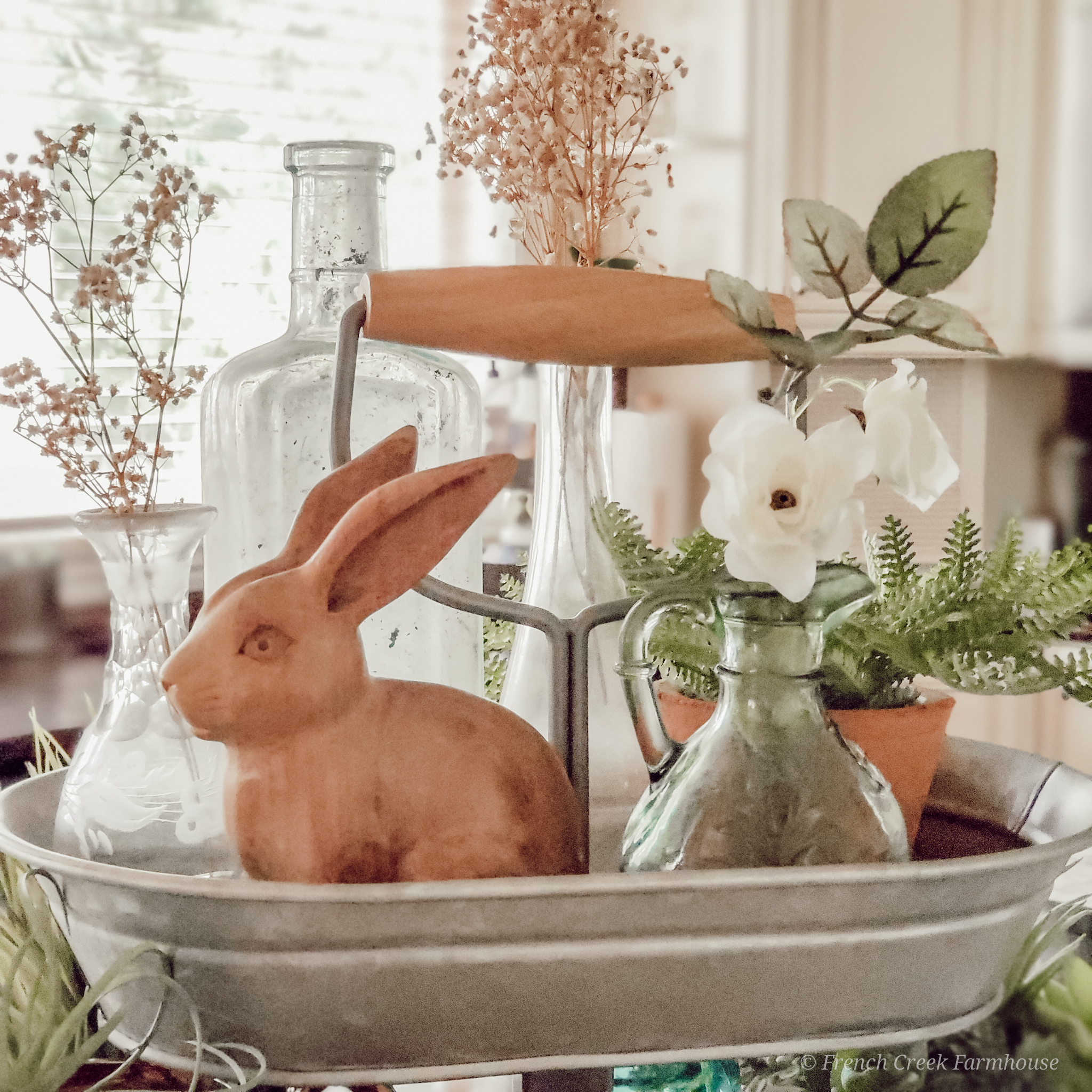 Hippity hoppity, Easter's on its way! Of course this means that I just had to decorate one of my tiered trays for the occasion, and I'm simply tickled with how it turned out.
If you haven't already heard about the tiered tray decorating craze that's sweeping the world of home decor, let me tell you–it is in full swing right now!
I've been casually decorating trays, here and there, for the past few years. They're such a great way to create a small themed vignette for your kitchen island, entryway, coffee bar, or any other little nook within your home.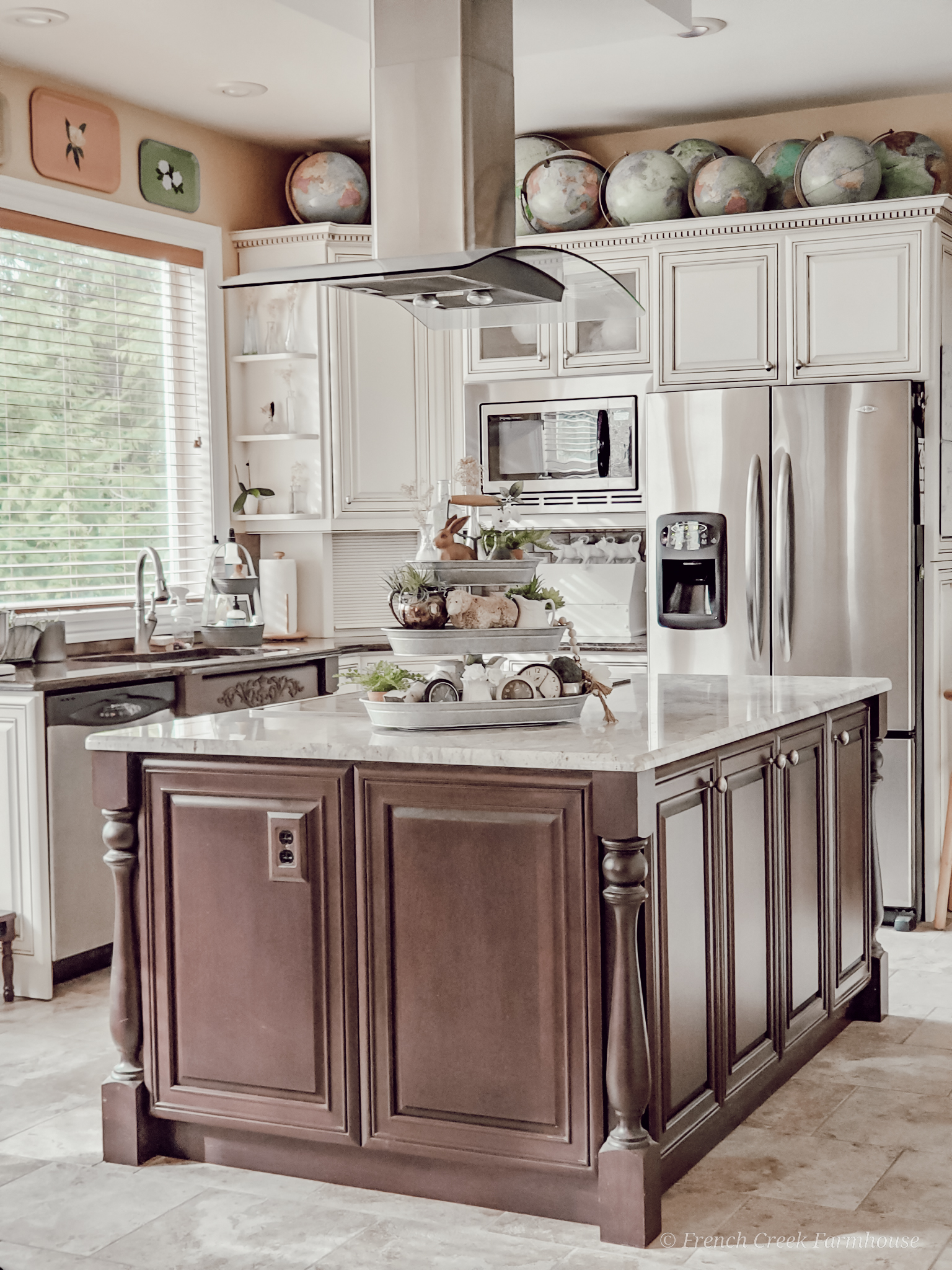 But ever since we got sick last year, and I've been less able to do major redecorating around our home, I've been obsessed with decorating my tiered tray. It is an absolutely perfect outlet for my creative energy that doesn't take a ton of time, money, or physical effort.
There are more than a few great reasons you should be thinking about joining in on the trend:
If your schedule is so busy that you feel like pulling your hair out trying to redecorate your entire home for yet another holiday, then tiered trays offer a perfect opportunity to bring a bit of celebrating into your home in very little time.There's about a six-month stretch of time between fall and early spring when there's some kind of holiday happening every few weeks. Not all of these are major holidays, like Thanksgiving or Christmas, but it's fun to decorate for the little occasions like Valentine's and St. Patrick's Day, too. Seriously, though…that's a lot of work! Tiered trays are excellent for these times!

If you suffer from chronic pain or mobility issues that create obstacles to large scale seasonal decorating, tiered trays are the perfect creative outlet that won't take too much of your energy. And we all know that using your creative energy is very healing for the body and soul!This is exactly where I'm at right now, and tiered trays are seriously saving my sanity. Not being able to do the creative things I love on the scale I wanted was having a negative impact on me. So when I started using my trays for that purpose, it really made a difference!

If you like to use creative projects as a way to de-stress, tiered tray decorating is a soothing activity that uses visual and spacial skills as well as sensory processing–all of which have been shown to have neuroplasticity benefits.Neuroplasticity is about creating new pathways and connections in the brain, and there are many ways that's been shown to improve quality of life including recovering from brain injuries and stroke, as well as helping to calm overactive immune responses.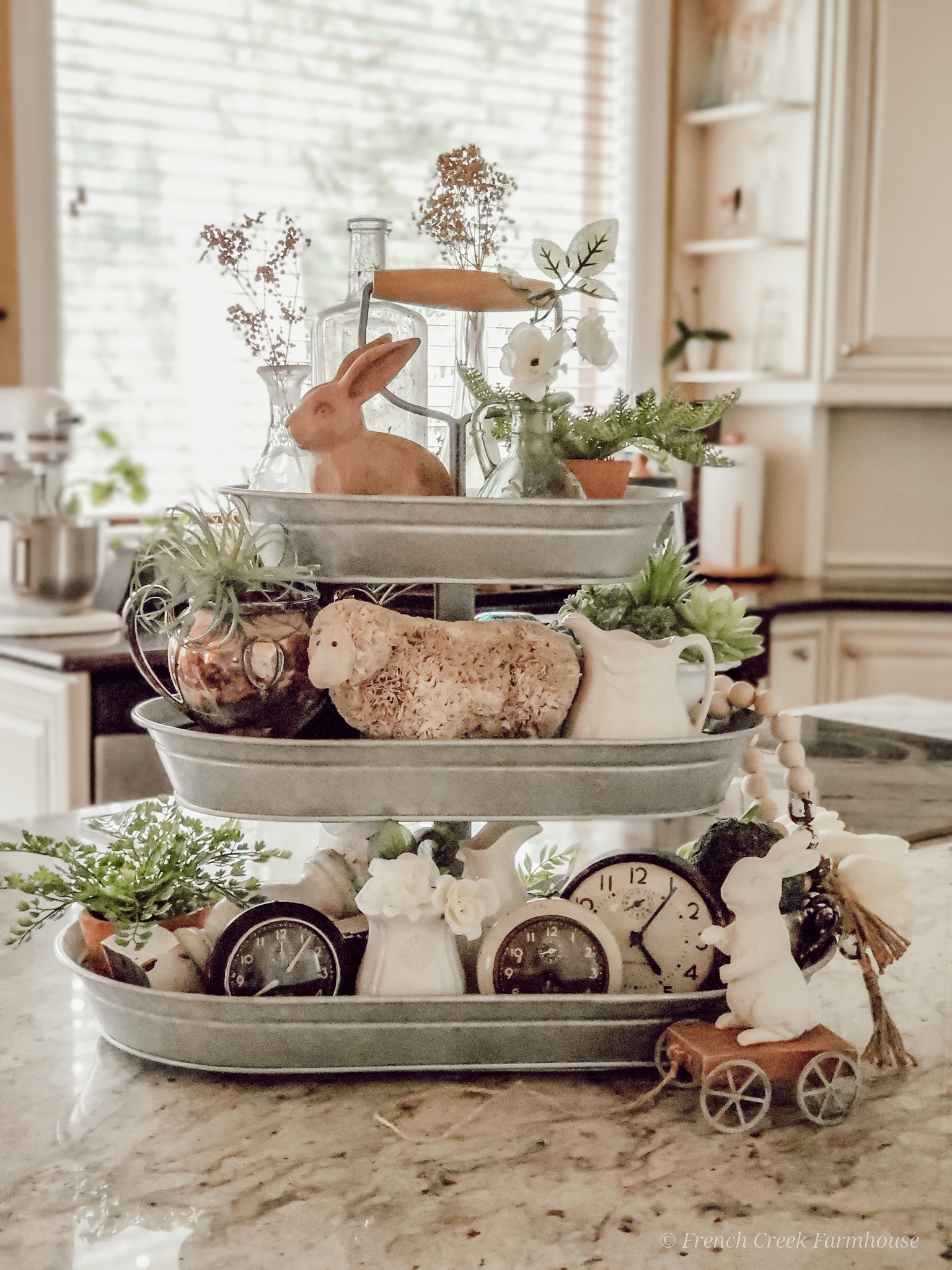 And if you aren't already convinced by all of those reasons why this is such a fantastic activity, then how about just looking at how pretty they are and enjoying the beauty in your home! That, alone, is a great reason!
If you're brand new to tiered tray decorating, or if you're looking to create a truly Pinterest-worthy tray and need some tips, be sure to check out this guide I wrote that will walk you through the four important steps to designing a tray.
Plus, I also pin my favorite tiered tray ideas to Pinterest nearly every day, so if you're ever short on inspiration, this is the place to look!
Today, I've put together a brand new collection of my absolute favorite trays for Easter this year, as well as some adorable decor pieces that you might want to incorporate into your own spring-themed trays this season.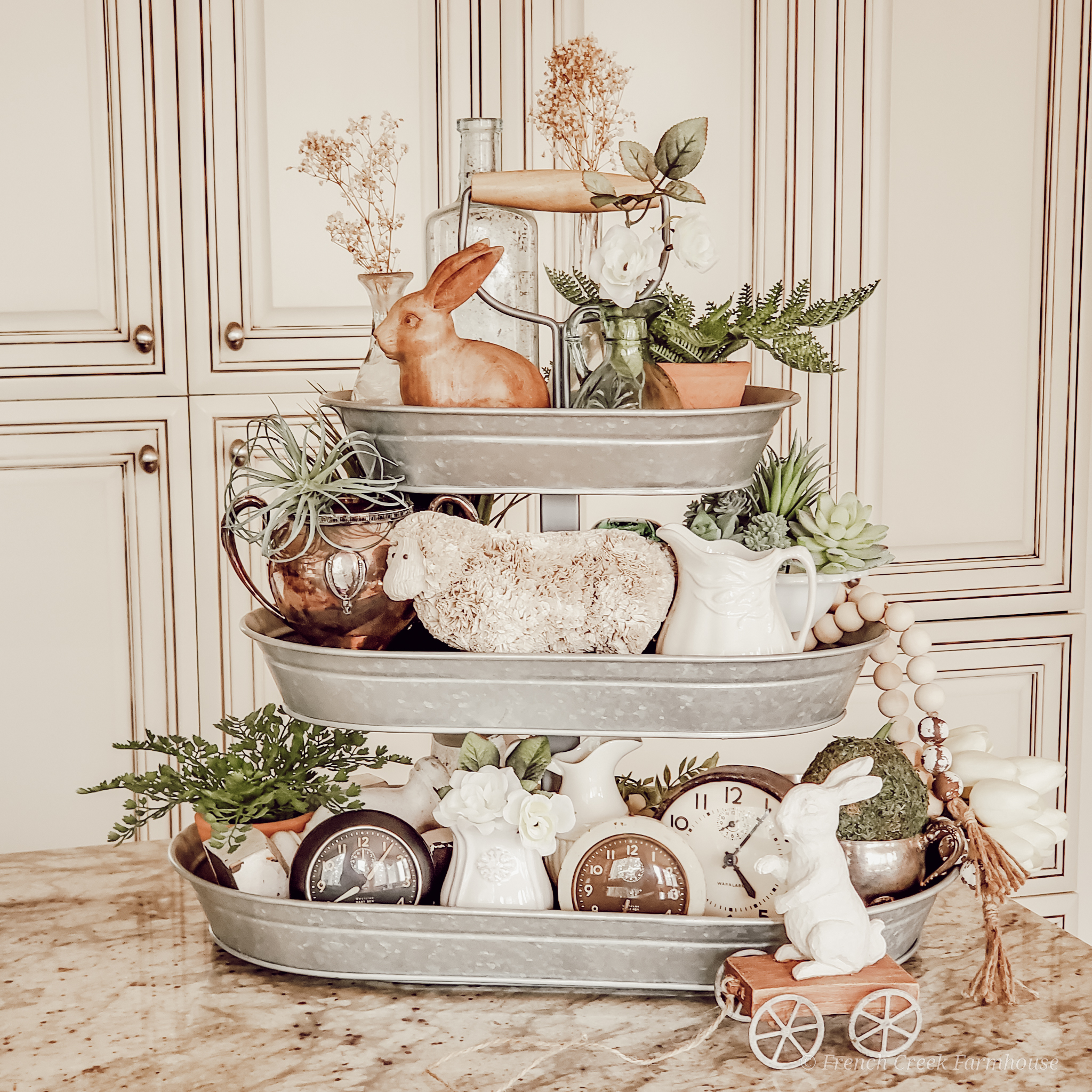 My hope is that these ideas will give you some fresh inspiration for getting creative with your own tray.
Plus, most of the decor pieces I'm sharing were handcrafted by small business owners, so when you give one of these items a home, you're also making a real difference in the life of a hard working family. Win win!
Don't forget to pin this post so you can come back to these ideas for future inspiration too!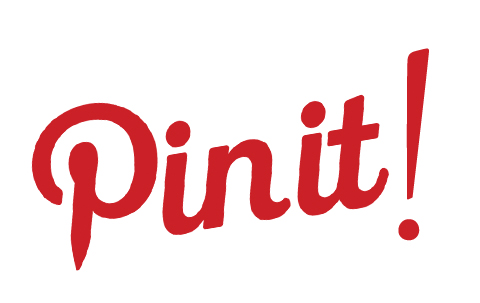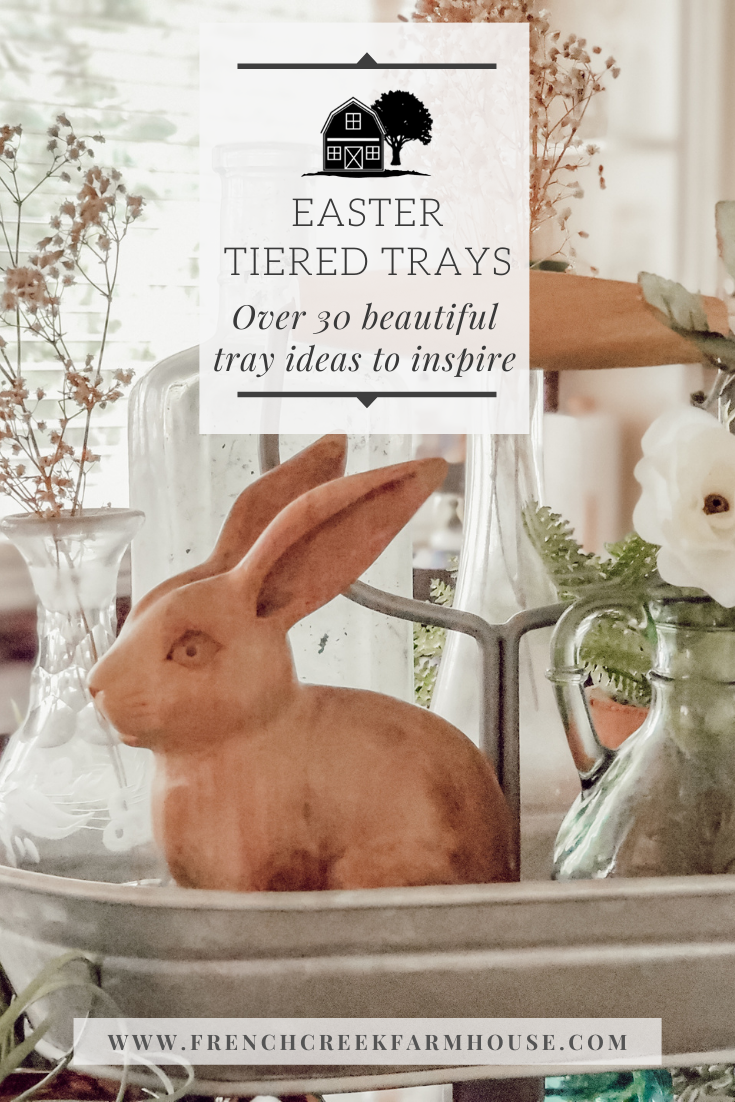 Disclosure: This is not a sponsored post, and I have received no compensation for sharing anything that follows. Some links within this blog may be affiliate links, and I might earn a commission if you make a purchase through that link. This usually amounts to cents, not dollars, and helps to support the projects featured on this blog. I only recommend products from companies that I have found to be trustworthy. Read my full disclosure here.

TIERED TRAY DECOR ITEMS FOR EASTER

THE BEST TIERED TRAYS DECORATED FOR EASTER
Enjoy this beautiful collection of tiered trays decorated for Easter, and be sure to visit the designers and show them some love for the amazing inspiration!