Modern Farmhouse Design on a Budget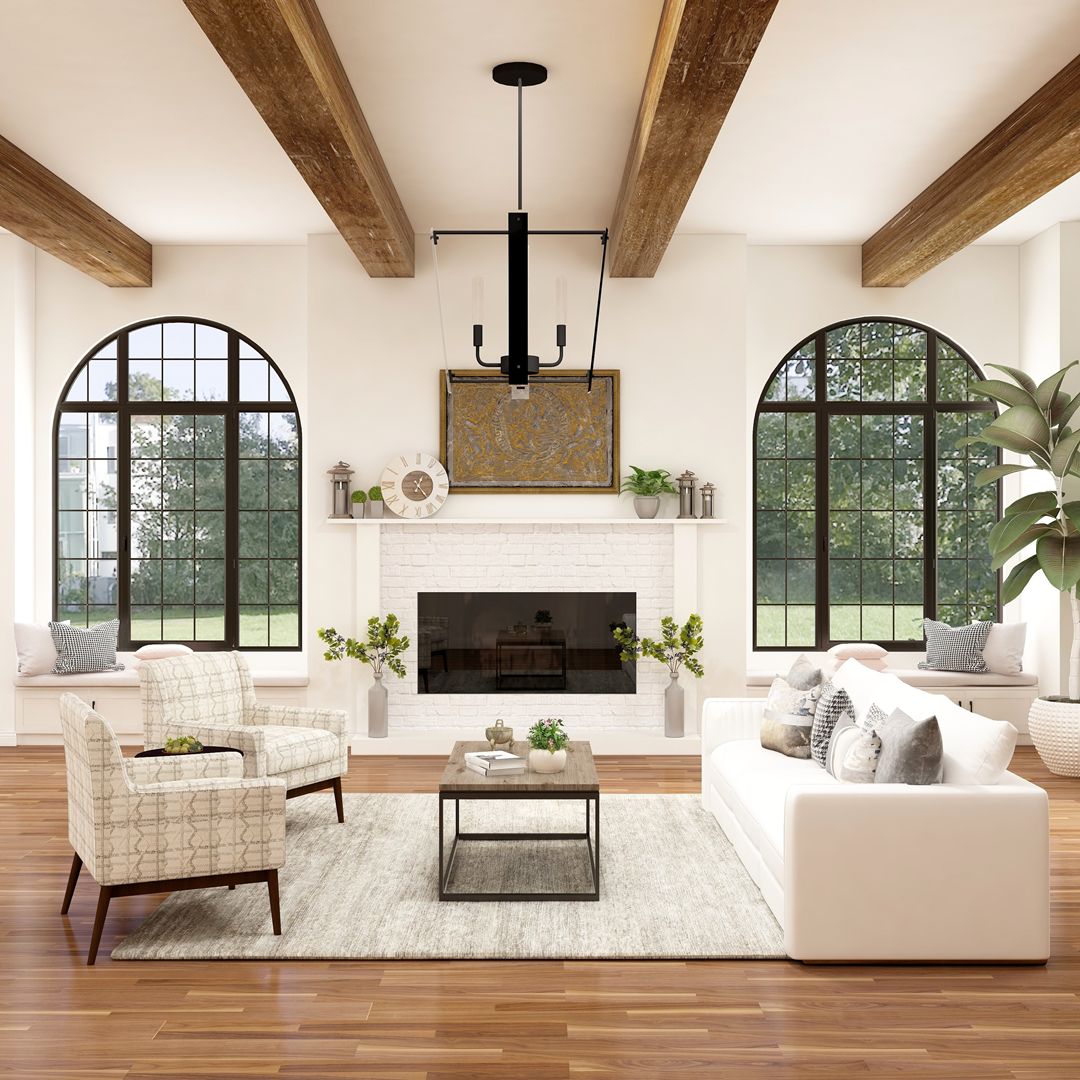 One of the toughest things about choosing to design in a style that's currently very popular is that the prices can often feel out of reach. But it doesn't have to be that way!
I've said it before, and I'll probably say it a hundred more times, but I'm a thrifty kind of gal. I always have been.
But don't confuse thrifty with being cheap!
To me, being thrifty is all about being frugal and prudent; making wise choices on how to spend your hard-earned dollars. I don't think you need to buy cheap items of inferior quality just to save money. There's a big difference between these two ideas.
I'd rather search for better deals and wait for the quality product at a price that better fits my budget than A) throw money away for instant gratification, or B) buy something that's not really what I want just because it's in my budget.
It's a personal choice, for sure. And my way might not fit for everyone, but it's the way we maintain our budget while still keeping a cozy and stylish home. It works for us!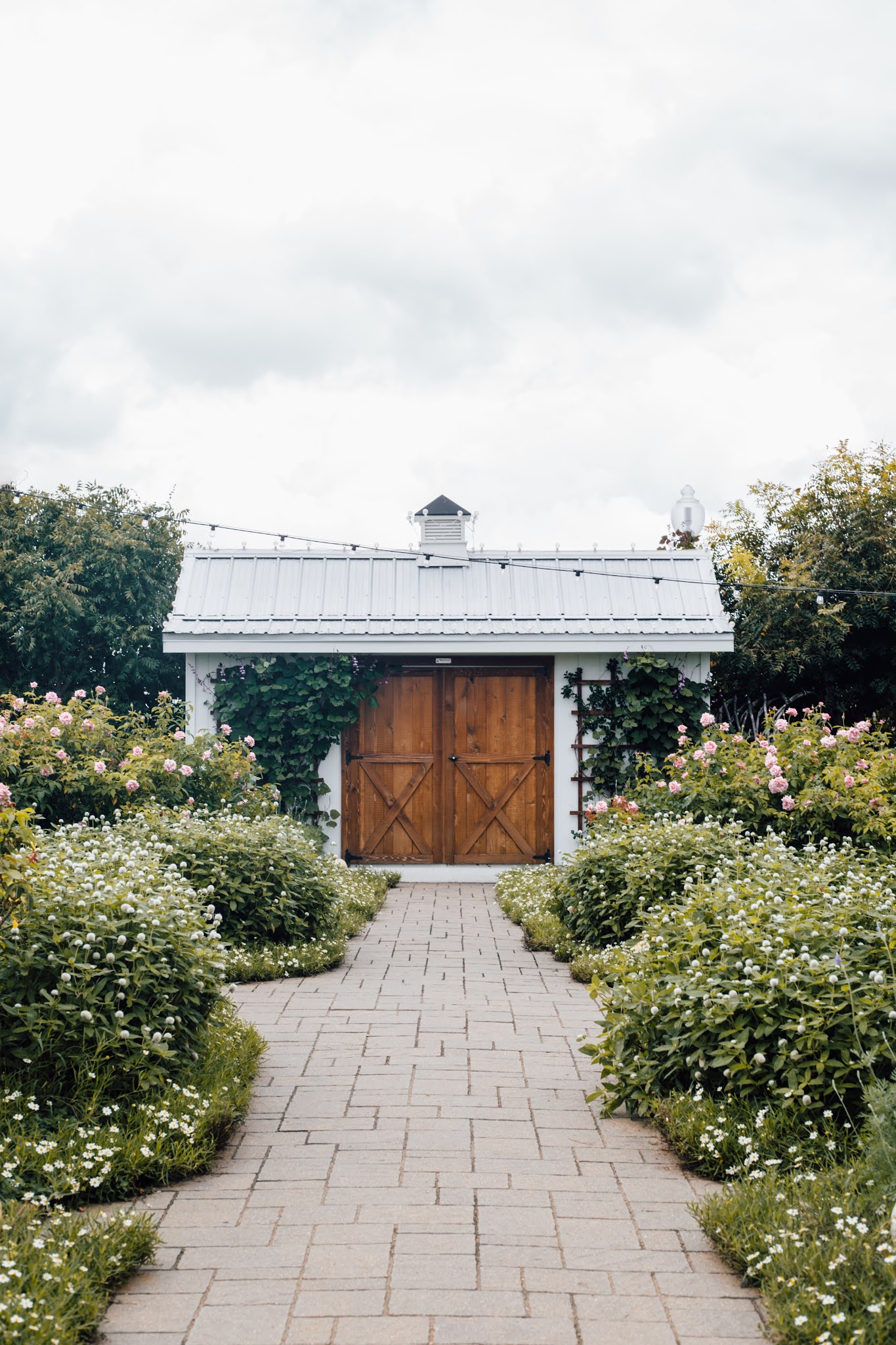 SAVING MONEY WITH SIMILAR ITEMS
When it comes to modern farmhouse decorating, there are some basic design principles that you know you're going to be looking for. We'll talk about those in more detail in just a moment, but the point is, you can find ways to fit that design aesthetic with similar items at a lower price point and still achieve the same look.
Here's an example of what I mean…
We all love Joanna Gaines' style, right? And I would love to shop her full collection at Magnolia Market for every room of the house because their products are beautiful. But, they're also set at a higher price point.
So, what can you do to get the same look within a smaller budget?
For starters, you can wait and shop sale items–that alone will help you bring many items into a more affordable price range. Every Magnolia Market item in our home was purchased on a sale day or with a discount code. But the particular items you're eyeing might not necessarily go on sale before they're sold out, so while this strategy is good–it's also a gamble.
The other option, then, is to find similar items priced lower. With this strategy, you can replicate the feel of a design within a smaller budget.
A few years ago, the Gaines' cut a deal with Target to offer their Hearth & Hand™ with Magnolia collection, which has the same modern farmhouse aesthetic at a much more budget-friendly price.
Take a look at these two pillows:
One of these is $59, and the other is only $19.99. Can you tell which one is the more expensive of the two?
Both fit the modern farmhouse design aesthetic. Both have that Magnolia Market signature look. But one is almost three times the price!
For the record, the pillow on the right is the bargain–and I think it's every bit as charming as the more expensive option.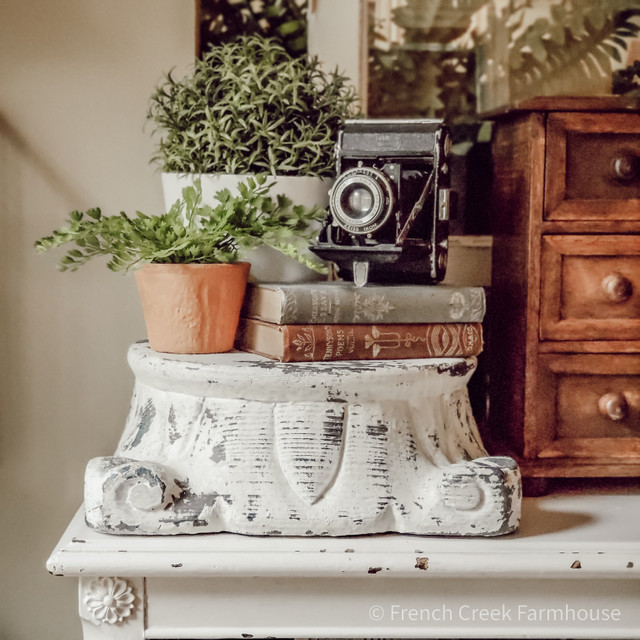 There's also a third option when it comes to decorating on a budget. If there are more expensive pieces that you feel you would absolutely cherish, simply allocate more of your dollars to those items, while filling in the rest of your look with the more affordable look-alikes.
This is typically what I try to do. If there's something particularly unique or something that really grabs my heart, I'll go ahead and splurge on those items. This chippy column base pedestal from our shop was one of those items for me. I know I'll love and use this piece for many years, so it ultimately made sense to spend a little more for something I'll get more mileage out of.  
Side note: Yes, I really do shop at my own shop! 🙂
Then, for more trendy items that might only fit my design or tastes for a short while, I'll make a more frugal choice because I know my preferences might change and make that item obsolete in my decor a bit sooner.
With this approach, you get the best of both worlds! You can give yourself permission to allocate a portion of your budget to special items that really tug at your heart while completing the bigger design picture with bargains that keep your entire budget in check.
All you need to keep in mind is: What are those design principles that fit the look you want?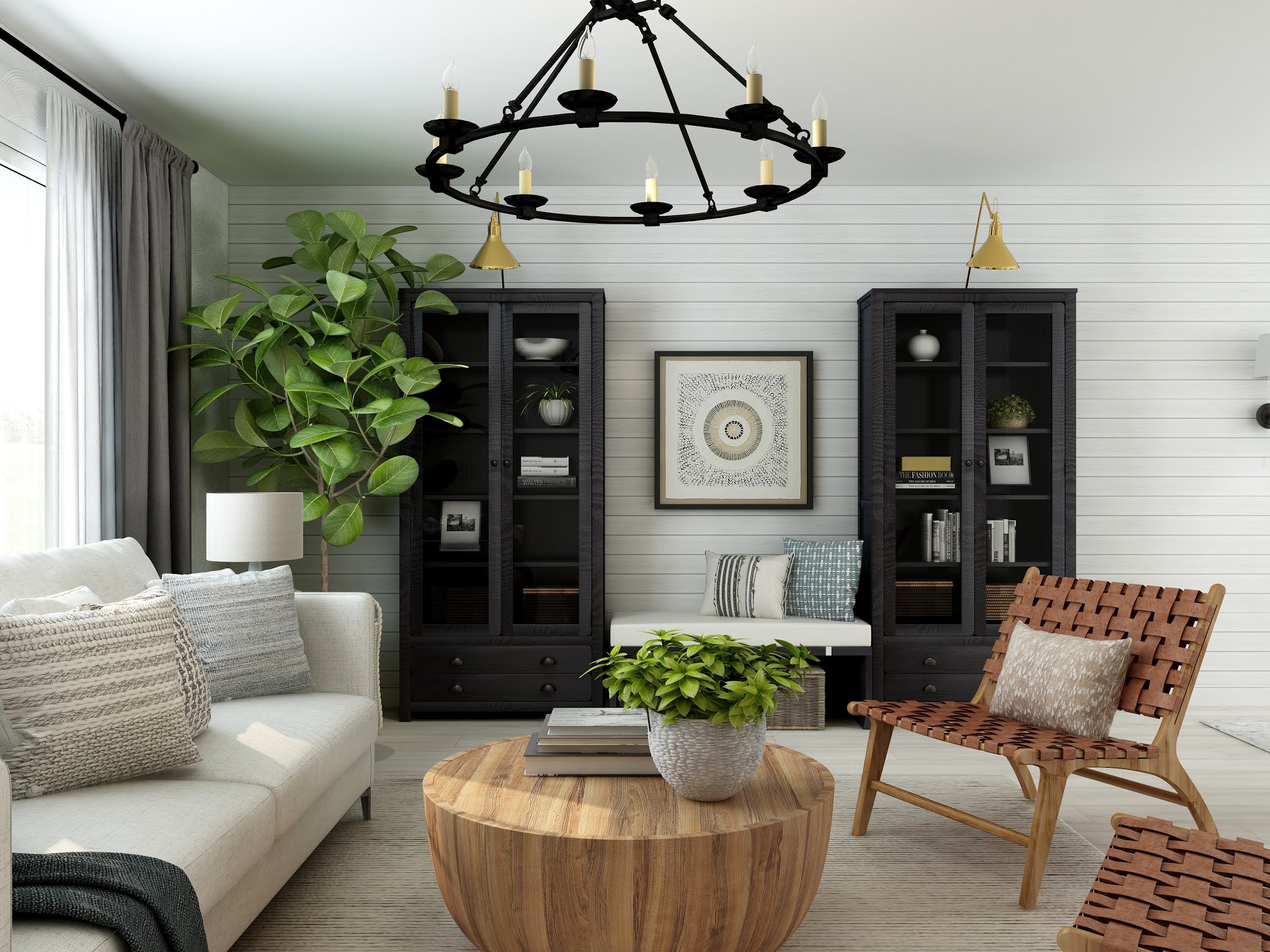 MODERN FARMHOUSE DESIGN PRINCIPLES
At its core, modern farmhouse design is all about working to blend the best of old and new. It's the place where chippy and vintage meets chic and sophisticated.
When you're trying to achieve a modern farmhouse look, the balance and harmony between old and new is quite delicate, too.
Go too far toward the rustic and rusty, and you'll end up with a design that's more primitive and country. You can even unintentionally create a cluttered and chaotic feeling in your spaces.
But fail to incorporate enough vintage charm, and your design will feel more minimalist and sanitary. These rooms might feel more cold than cozy without enough visual interest and farmhouse character.
I have three tips for striking the perfect balance:
Use a neutral color palette with natural elements
Choose and highlight practical pieces with intention
Mix and match vintage and new
Here's how these three components play out in real life design.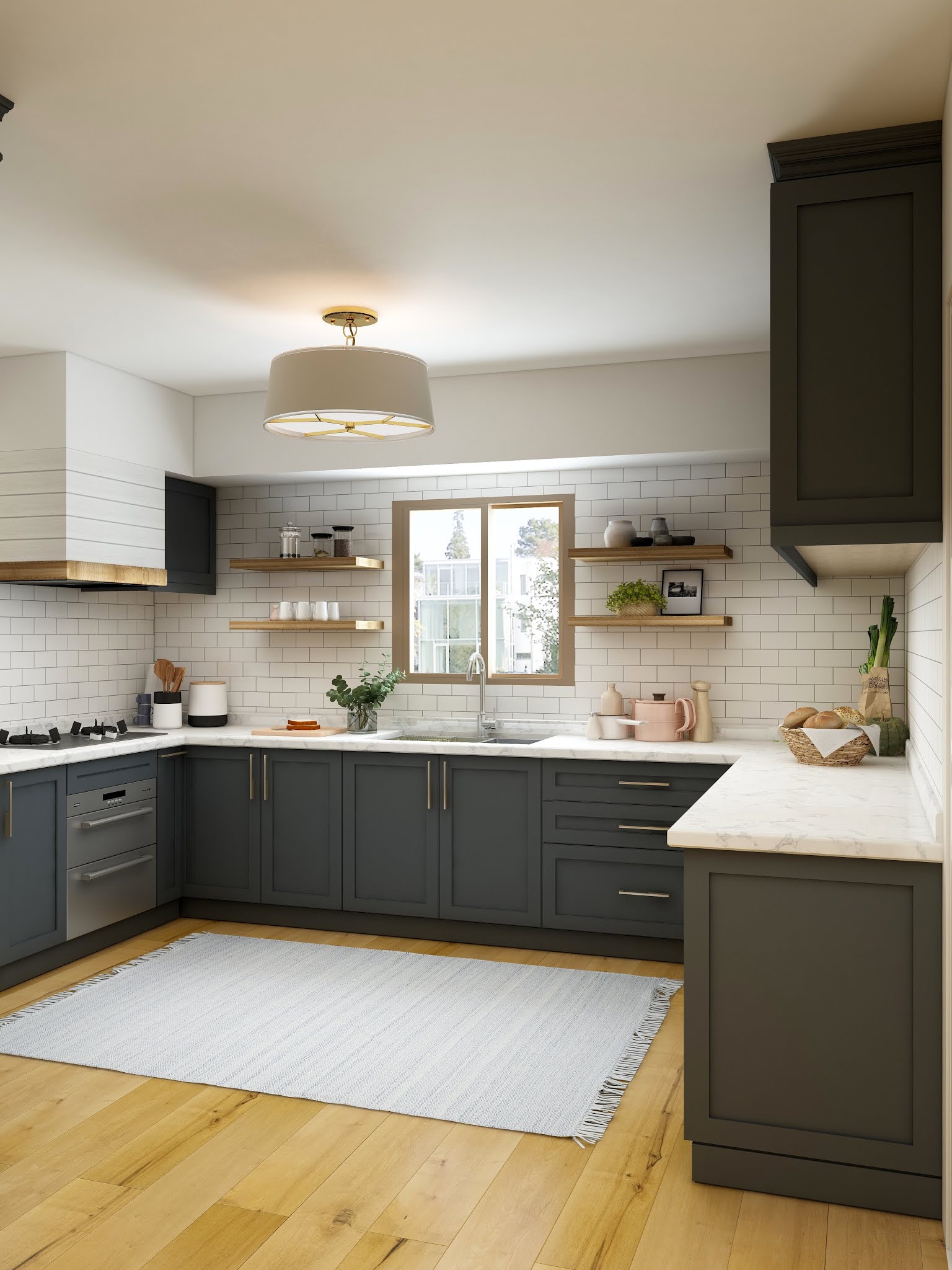 1. Neutral & Natural
Modern farmhouse is all about keeping things calm and cozy. Whereas traditional farmhouse or country cottage  design might incorporate playful colors, modern farmhouse keeps the color palette entirely neutral: shades of white, black, and brown.
Perhaps the only color you'll find in a modern farmhouse is green, and that will mostly be derived from the natural, floral accents.
The textures and materials should also be natural. Think: distressed wood, cotton and linen, simple botanical.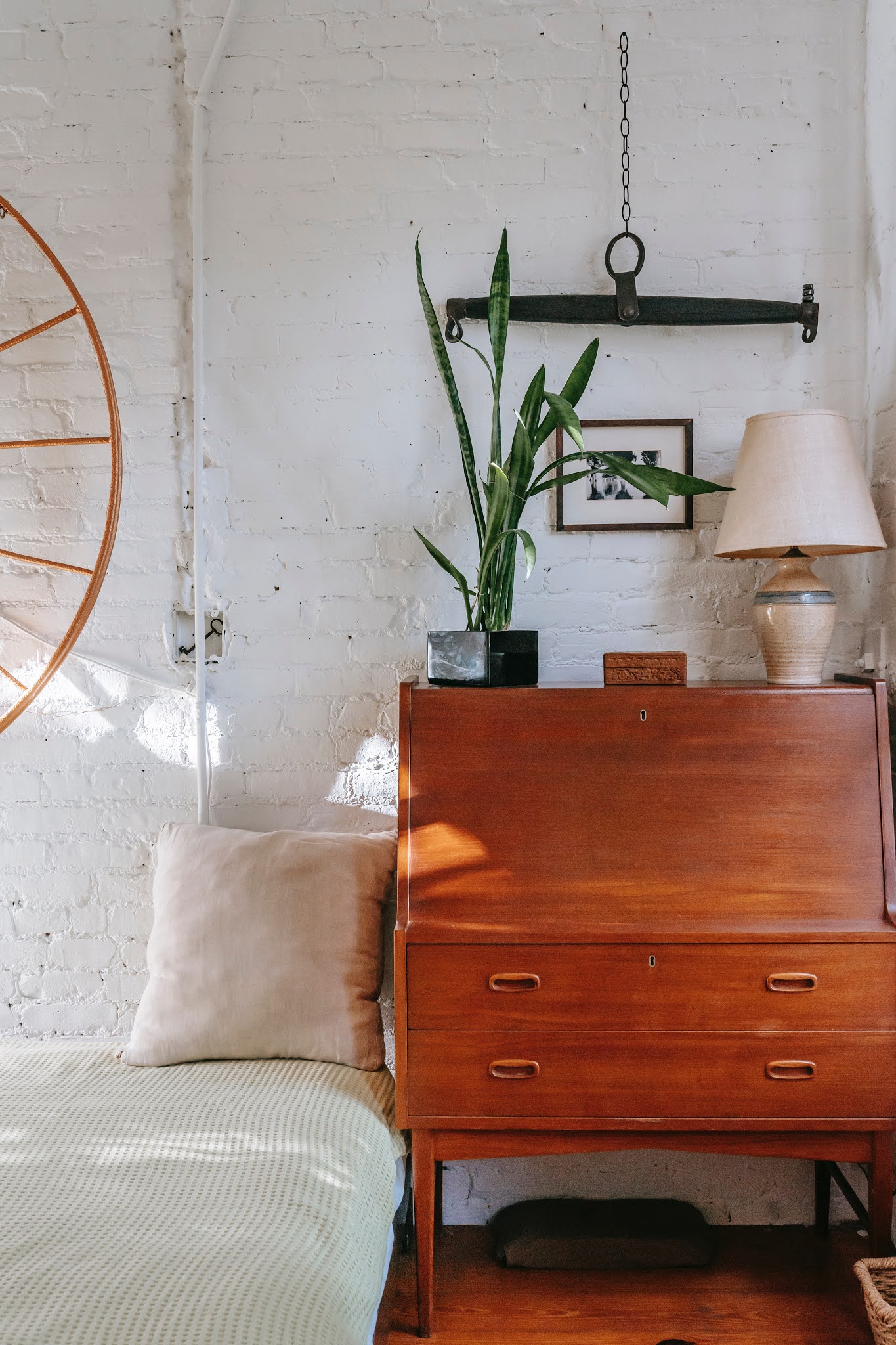 2. Practicality Prevails
If you think about what the farmhouse movement is all about, it stems from a desire to get back to the simple basics. Our great-grandparents didn't spend copious amounts of money to decorate every shelf and corner of their homes. Pretty much every piece that was purchased (or made) had a useful purpose.
If you're filling your spaces with fancy items that will rarely be used, you're leaning away from the modern farmhouse goals. You might, for example, be going for more of a Victorian vibe if your china cabinet displays a large collection of vintage glassware.
In the modern farmhouse, strive to reduce clutter and highlight practical pieces of vintage decor with great intention. You might choose a small number of specific rustic or industrial pieces to help underscore this aesthetic, as well.
3. Blend Vintage With New
A vintage chair with elegant curves paired with a more plain and simple black desk is a perfect marriage in the modern farmhouse. Cozy linen couches with a vintage side table or antique console would also make a modern farmhouse statement.
Try to mix and match your pieces in a way that makes the space feel welcoming and cozy, while still incorporating the charm of vintage farmhouse designs.
All of these modern farmhouse goals can be accomplished regardless of the size of your budget. If you're willing to be thrifty and patient, you can find some terrific deals to design the rooms in your home.

What follows are several modern farmhouse looks that you can replicate in your own home at price that won't break the bank! Following each look, you'll be able to shop the design with sources to some great modern farmhouse decor items.
Be sure to pin this post so you can come back to it for design inspiration after all your packages arrive and you're ready to start styling your budget-friendly finds!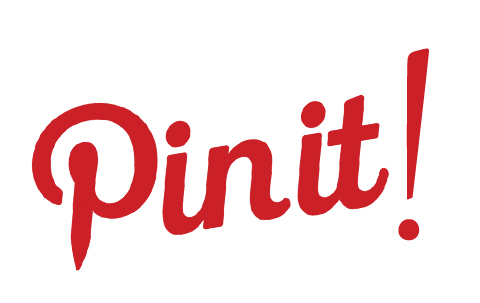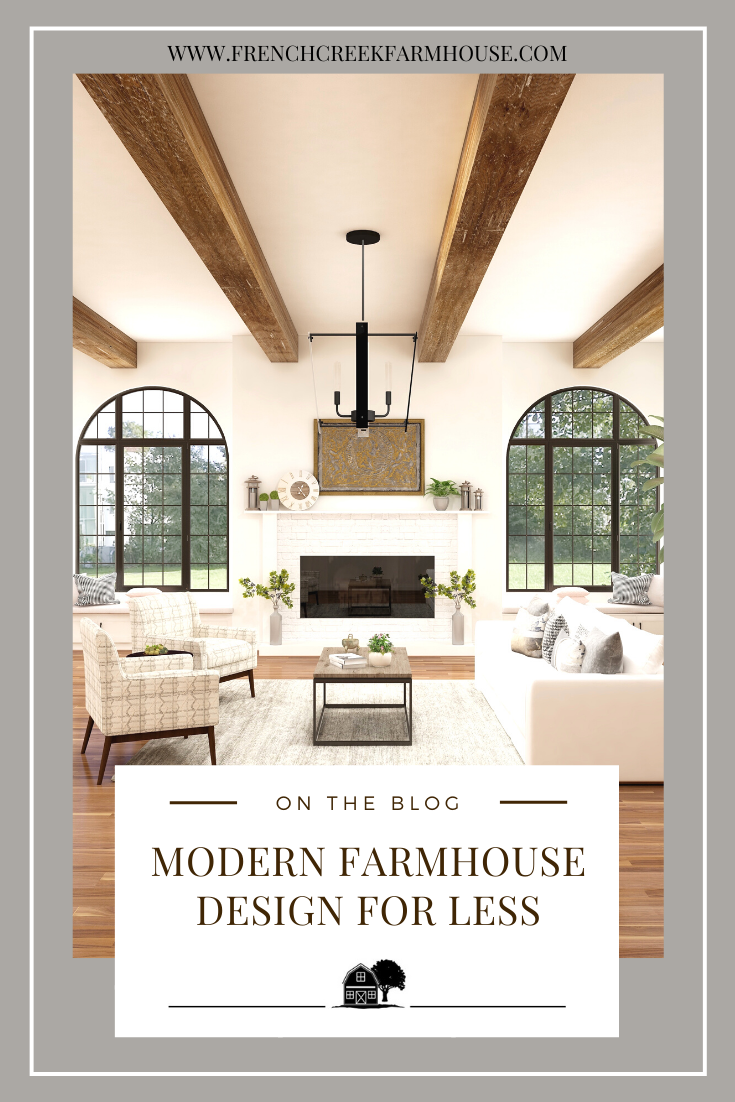 Disclosure: This is not a sponsored post, and I have received no compensation for sharing anything that follows. Some links within this blog may be affiliate links, and I might earn a commission if you make a purchase through that link. This usually amounts to cents, not dollars, and helps to support the projects featured on this blog. I only recommend products from companies that I have found to be trustworthy. Read my full disclosure here.

MODERN FARMHOUSE LIVING ROOMS ON A BUDGET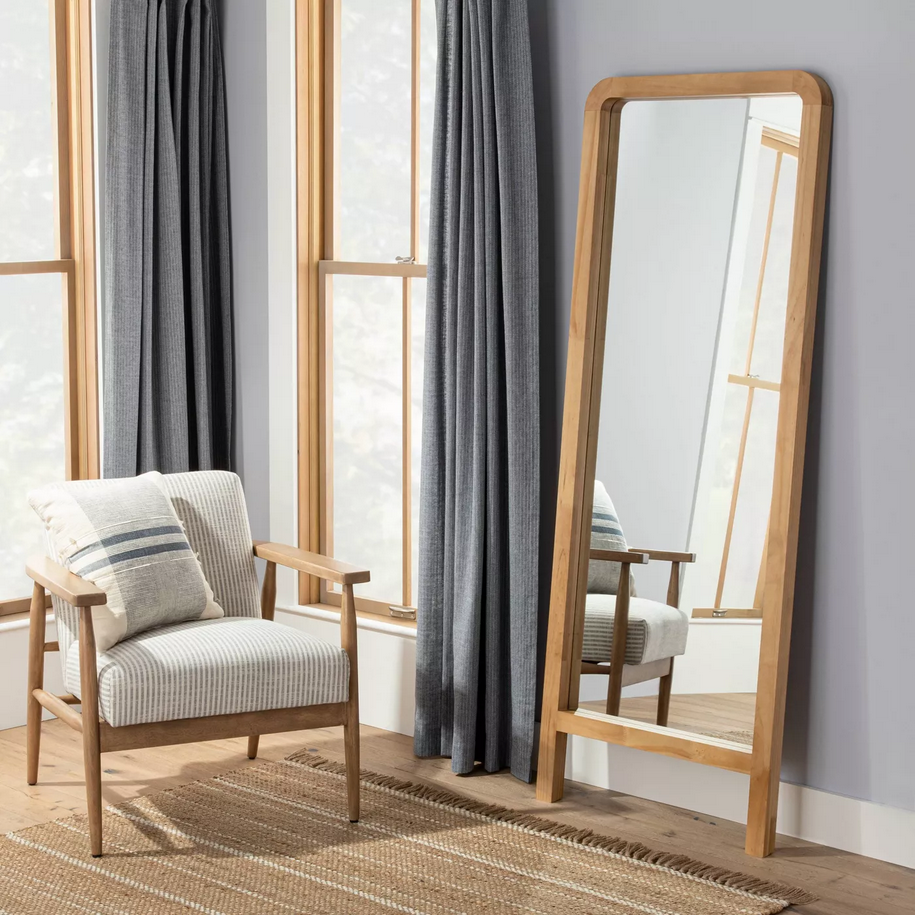 This modern farmhouse living space is incorporating touches of mid-century modern design while keeping with the neutral and natural elements of the modern farmhouse. Notice the jute rug bringing in the natural textures, as well as the wood frame of the mirror and chair?
The simple linen fabrics in a neutral color palette further underscore the modern farmhouse vibe of this space. And, everything in this room is very practical. Perhaps the only touches you might add for greater personalization and coziness would be some vintage black and white family photos in a gallery wall of simple black or natural wood frames.
SHOP THIS LOOK

ONE LIVING ROOM, TWO WAYS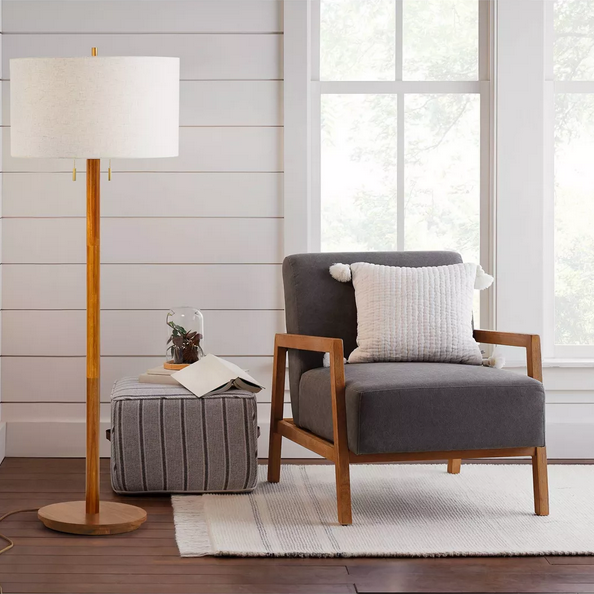 This next design can be created using the same basic elements in two different ways. I chose these two spaces to show how changing just a few small things can totally alter the feel of the space in a major way.
In both photos, the chair, lamp, pillow, and jute rug are the anchor pieces of the design. But you can see how a shiplap wall, or window treatments, can make a big difference in the feel of the room. This is how your own personality can really change a room, even if the basic components of the design (like the furniture) stay the same.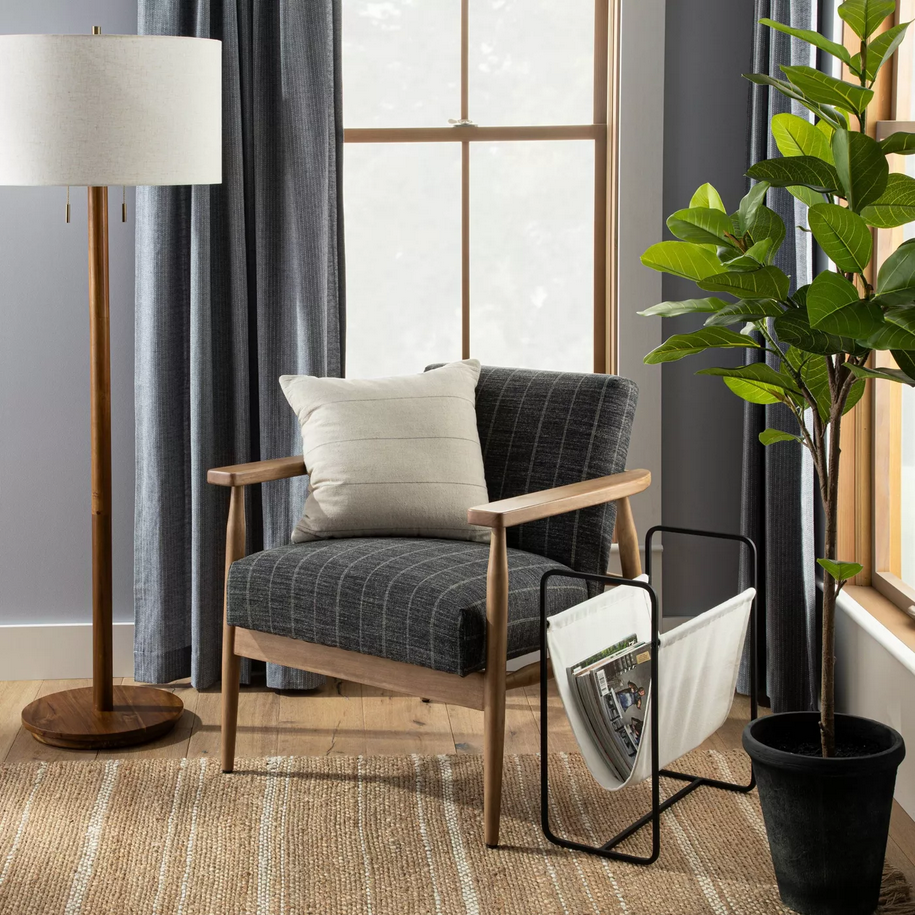 FRUGAL MODERN FARMHOUSE ENTRYWAY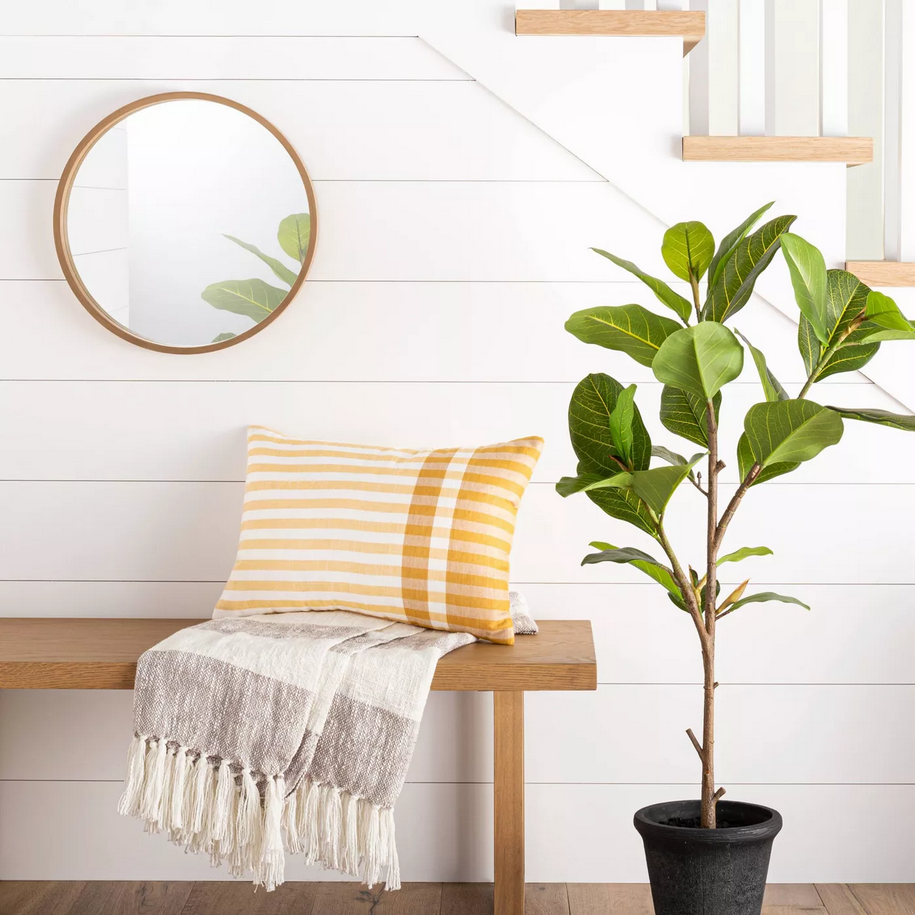 The modern farmhouse entryway doesn't need much–remember, practicality is the key to modern farmhouse design! A bench and a mirror will do the trick, but adding some coziness with a throw blanket, and the botanical touch of a plant, will make all the difference.
I'm showing you a few different options for the bench in this design because you could take this idea in more than one direction. For example, you might have a fabulous vintage mirror that you could use with a more modern bench, or you might want to opt for a bench that has more of a farmhouse feel if you're going to choose a modern mirror.
As always, the choices you make are going to reflect your personal style, so I'm including multiple options that you could consider.
SHOP THIS LOOK

MODERN FARMHOUSE BEDROOMS ON A BUDGET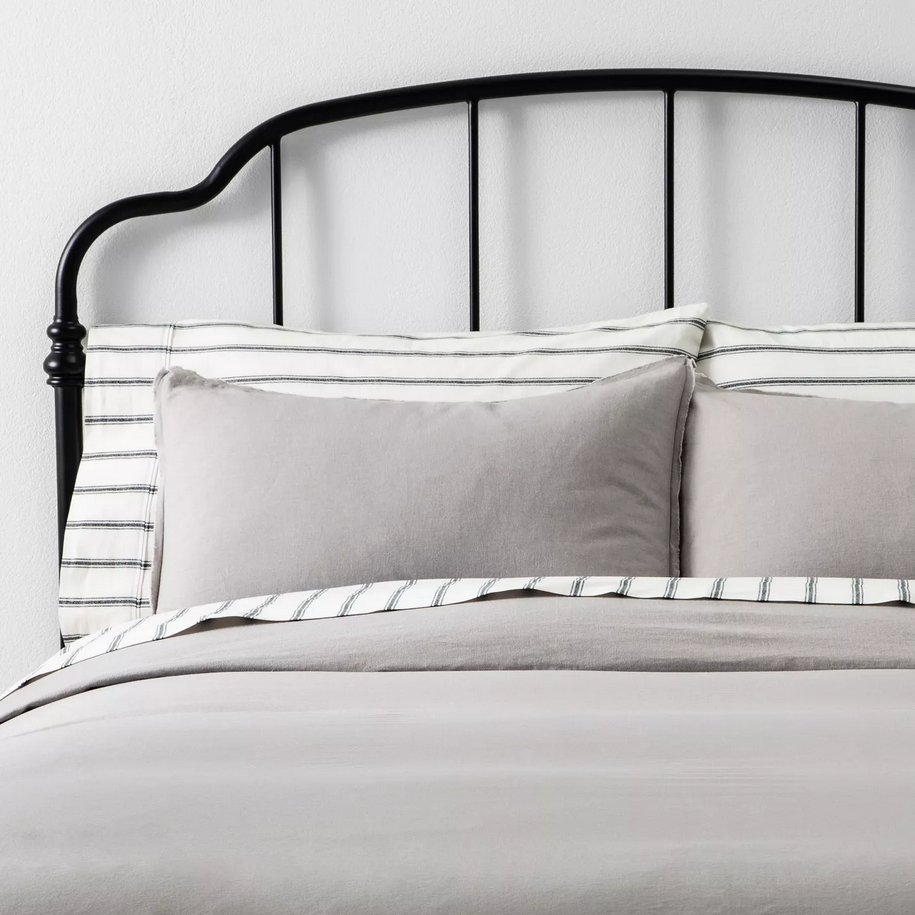 The modern farmhouse bedroom sticks with the same design principles as the rest of the home: cozy, neutral, and practical.
The cozy factor, by and large, comes from the bedding. Stick with a neutral comforter or duvet, and if you want some pattern in your design, use accent pillows and complementary sheets to achieve it. The bedding should never overwhelm or be too busy.
Then, most modern farmhouse bedrooms will bring in the vintage vibe with the use of a metal bedframe. If you're lucky enough to have an authentically vintage frame, I'm jealous! But I've included the link to my favorite as well.
Here are a few more inspiring views to showcase this style before we get into the sources: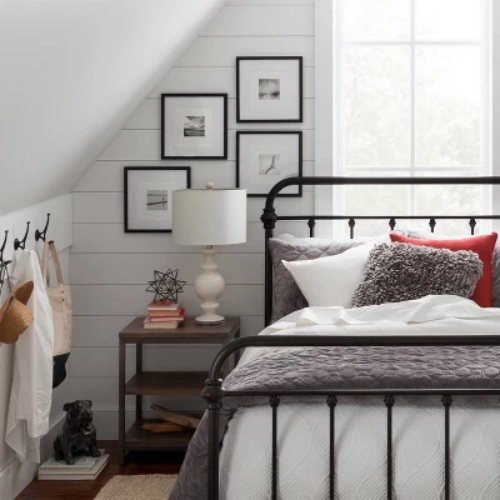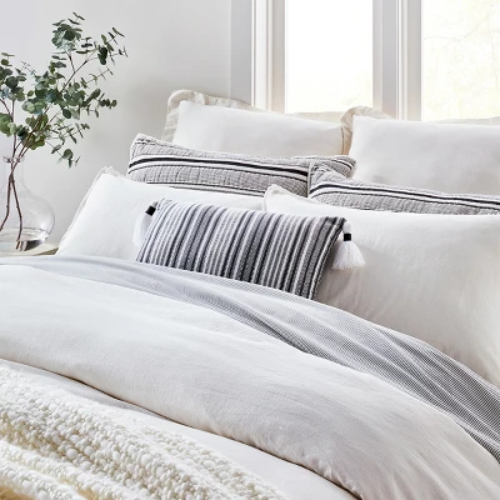 SHOP THESE LOOKS

MODERN FARMHOUSE BATHROOMS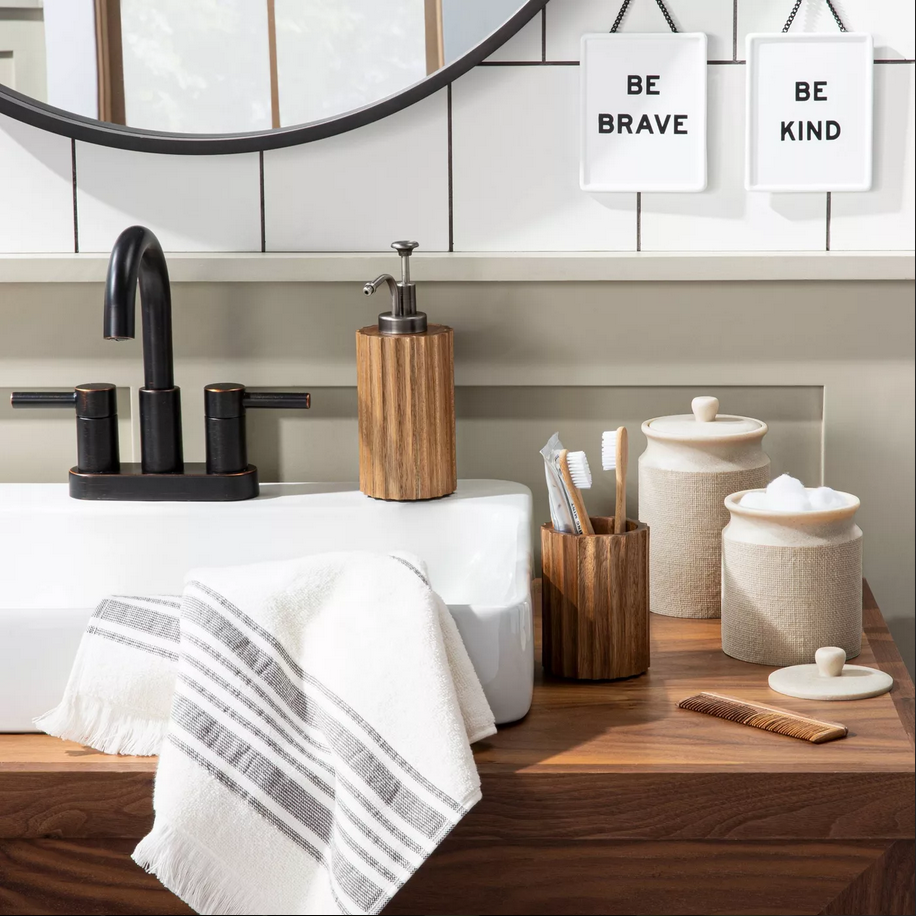 The vintage aesthetic in a modern farmhouse bathroom is most easily accomplished by using subway tile and vintage-inspired fixtures, like sinks, clawfoot tubs, faucets, and handles. To make the look modern, keep things simple and clean–no clutter in the bathroom!
Neutral colored storage containers will hide supplies, and be sure to keep your linens in the same neutral color palette as the rest of the home for a cohesive look. A new vanity will help with the design by bringing in modern lines and materials.
Here are a couple more views to inspire you: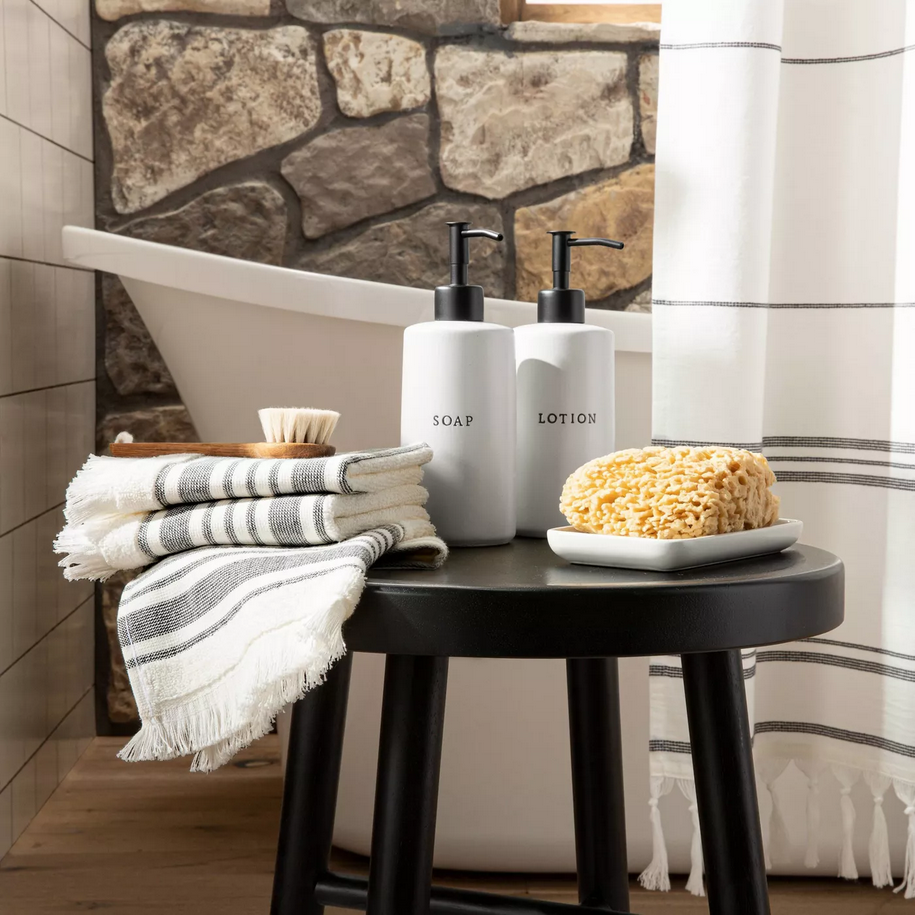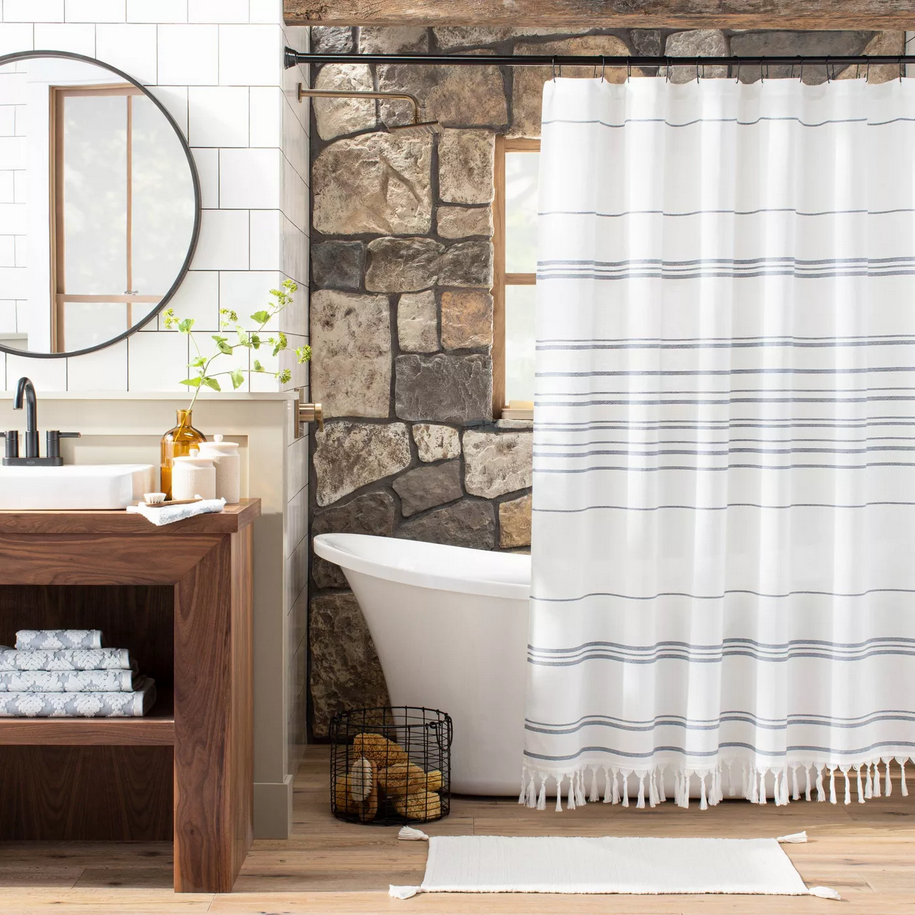 SHOP THESE LOOKS

MAKING YOUR MODERN FARMHOUSE A HOME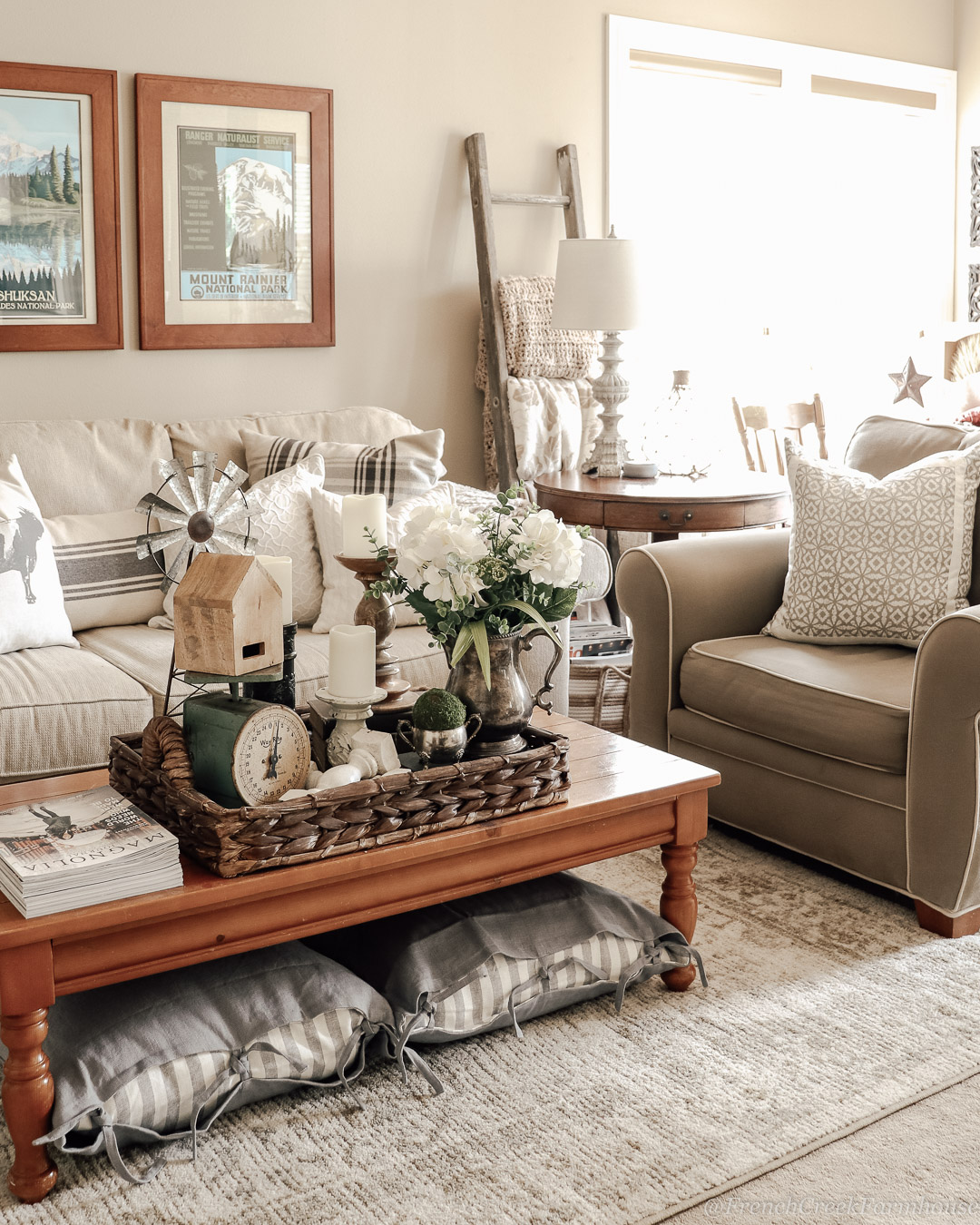 I hope these ideas have given you some inspiration for how you might like to decorate some of the spaces in your own home with the modern farmhouse look–no matter the size of your budget. And really, the key to it all is that it's your own home.
In the design world, we talk a lot about the rules of decorating and styling. But I really prefer to think of these as guidelines. Rules are rigid and inflexible–the opposite of what you want in a comfortable home.
Building the feeling of home into your designs is about telling your own story and surrounding yourself with what brings you comfort and joy. Hopefully you've gained some great ideas, but never be afraid of breaking a few rules to let your personality shine through!
And if you want to keep filling your well of inspiration, be sure to follow me on Instagram. In addition to sharing bits of our own home and life every day, I love to share what inspires me in the world of interior design and decor.
Looking for room-specific inspiration? You might want to check out my Pinterest boards too! I organize all of my favorite ideas by room and season so that you can easily find the inspo you need.