Elevate Your Thanksgiving Mantel Decor: Cozy Elegance Meets Vintage Charm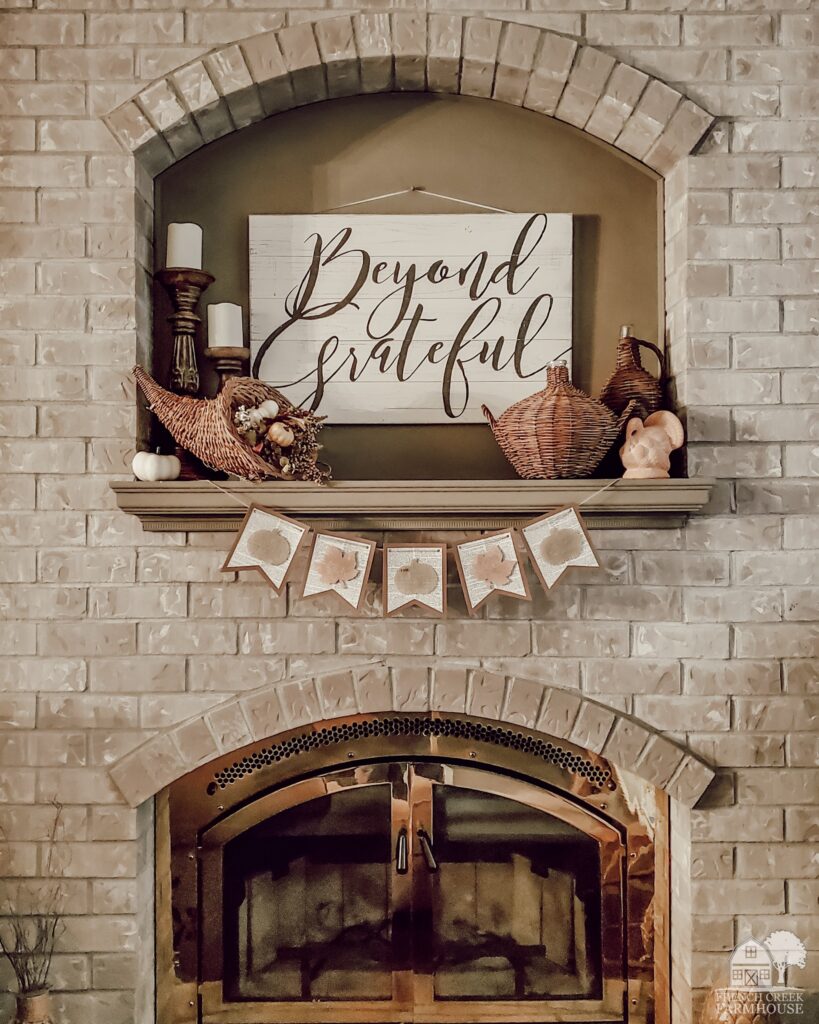 This is the season of abundance and togetherness while we gather to celebrate the many ways we are grateful for another year. As friends and loved ones begin to congregate around the fireplace for cozy evenings, the mantel becomes a backdrop for stories of gratitude and cherished memories. This year, it was my goal to create a Thanksgiving mantel that whispers of nostalgia, exudes rustic elegance, and wraps our home in the soft embrace of vintage charm.
I'm married to a man who loves Thanksgiving. He talks about it all year long and begins counting down sometime in late-January. I'm not even kidding. Partly, I know it's the feast he enjoys and the traditions we've created, beginning with fresh-from-the-oven cinnamon rolls in the morning while watching the parade on TV.
But more than that, it's the sense of cozy togetherness that we've cultivated around this particular holiday.
I don't think that should be limited to just one day in November, though. I like having those warm Thanksgiving vibes in our home all month long.
Our fireplace mantel is the perfect place to begin setting the stage for the holiday that's only a matter of days away. (Fourteen days to be exact, by Rob's countdown…)

Disclosure: This is not a sponsored post, and I have received no compensation for sharing anything that follows. Some links within this blog may be affiliate links, and I might earn a commission if you make a purchase through that link. This usually amounts to cents, not dollars, and helps to support the projects featured on this blog. I only recommend products from companies that I have found to be trustworthy. Read my full disclosure here.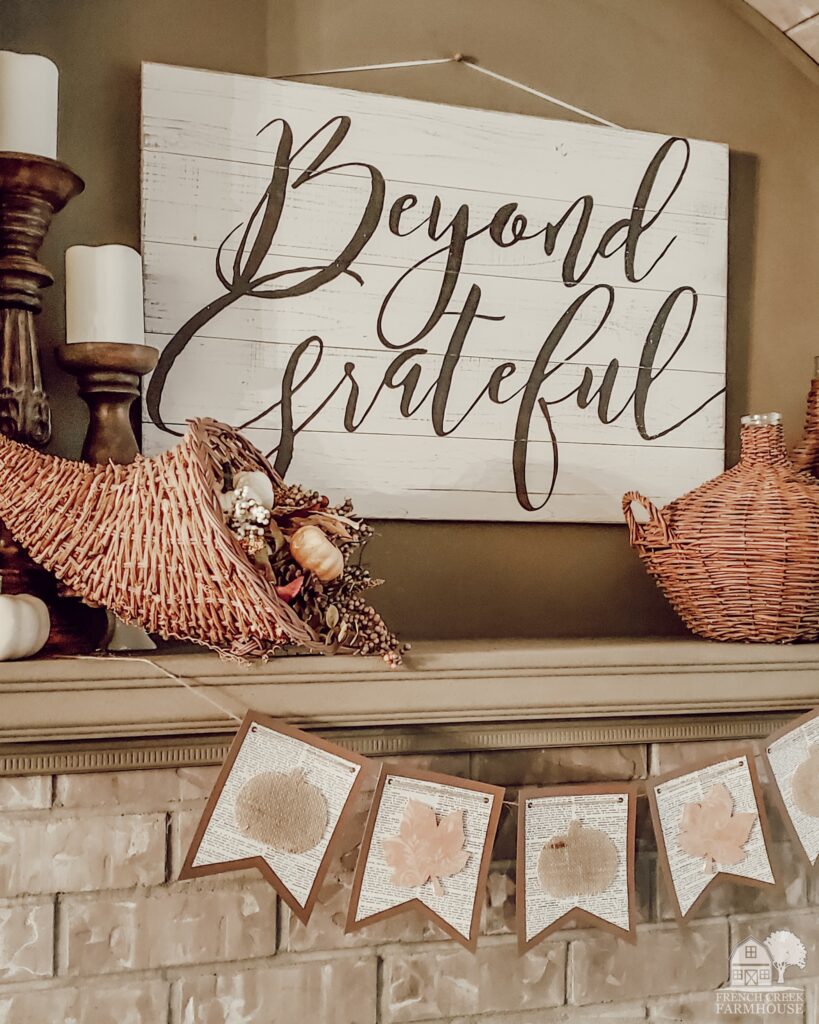 Elegant Thanksgiving Mantel Decor: Elevate Your Space with a Neutral Color Palette
The bright autumn colors have never really been appealing to me. I prefer to keep our decor fairly neutral because the more traditional, cutesy decor choices are too loud and obtrusive for my taste.
Instead, I want to incorporate the elements of Thanksgiving, but in a more sophisticated way.
In fact, that's how I approach our fall decor, in general. Even if you're decorating for fall on a budget, you can find ways to incorporate the feelings of autumn without resorting to the orange, red, and yellow decorations in the big box stores.
1. Start with Neutrals
Keeping a neutral color palette for our Thanksgiving mantel means that I try to use shades of brown, ivory, and only a few hints of color through items with a natural patina that matches autumn's leaves.
The bricks of our fireplace are already whitewashed, so that helps to set the stage.
Next, the painted wood sign is the focal point for our mantel. The white paint is distressed just enough to allow a bit of the wood to show through, and the words are painted in brown.
I used ivory colored LED pillar candles, which I love because I don't have to worry about keeping the wicks trimmed or potential hazards with other decor items. They're also cozy reminders of fall with their warm glow, but they remain neutral and add a touch of elegance.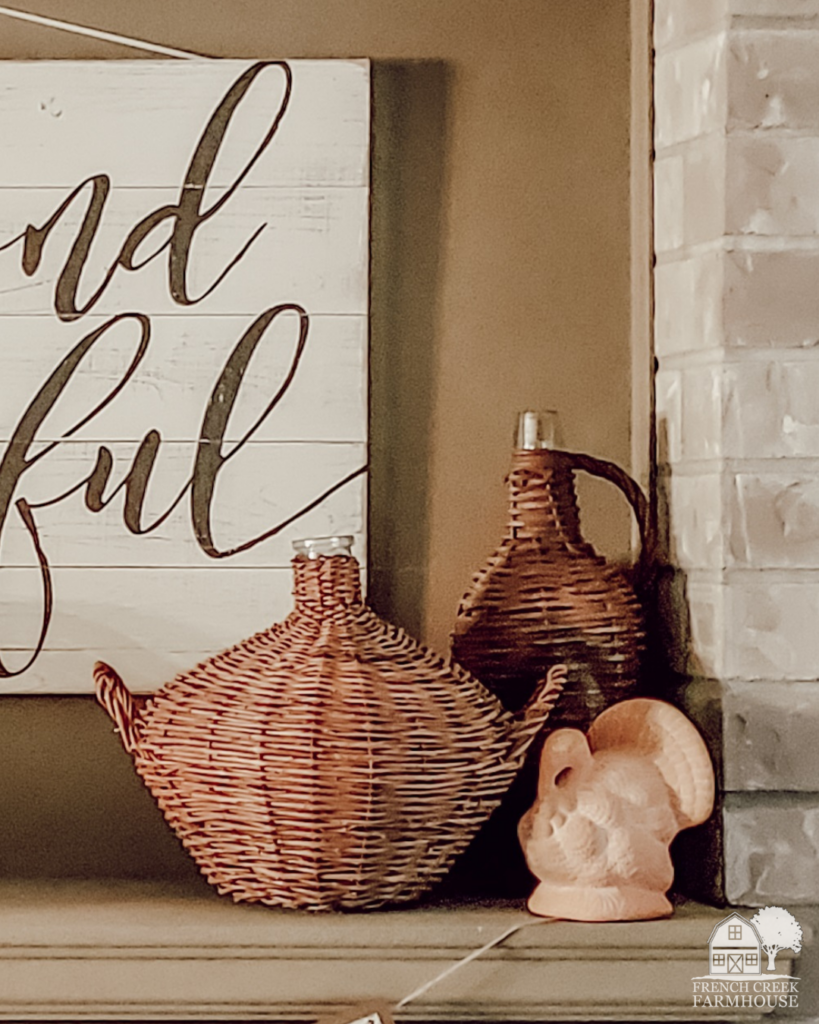 2. Add Subtle Pops of Natural color
The vintage terracotta turkey on our Thanksgiving mantel is a prime example of how to add subtle autumn color without going over the top. Terracotta has a natural orange tone, but it's not overwhelming.
Other options to add autumn color to a Thanksgiving mantel in an understated and harmonious way include:
Copper
Brass
Rusted metal
Gourds
Berries
Dry leaves (use caution around open flames)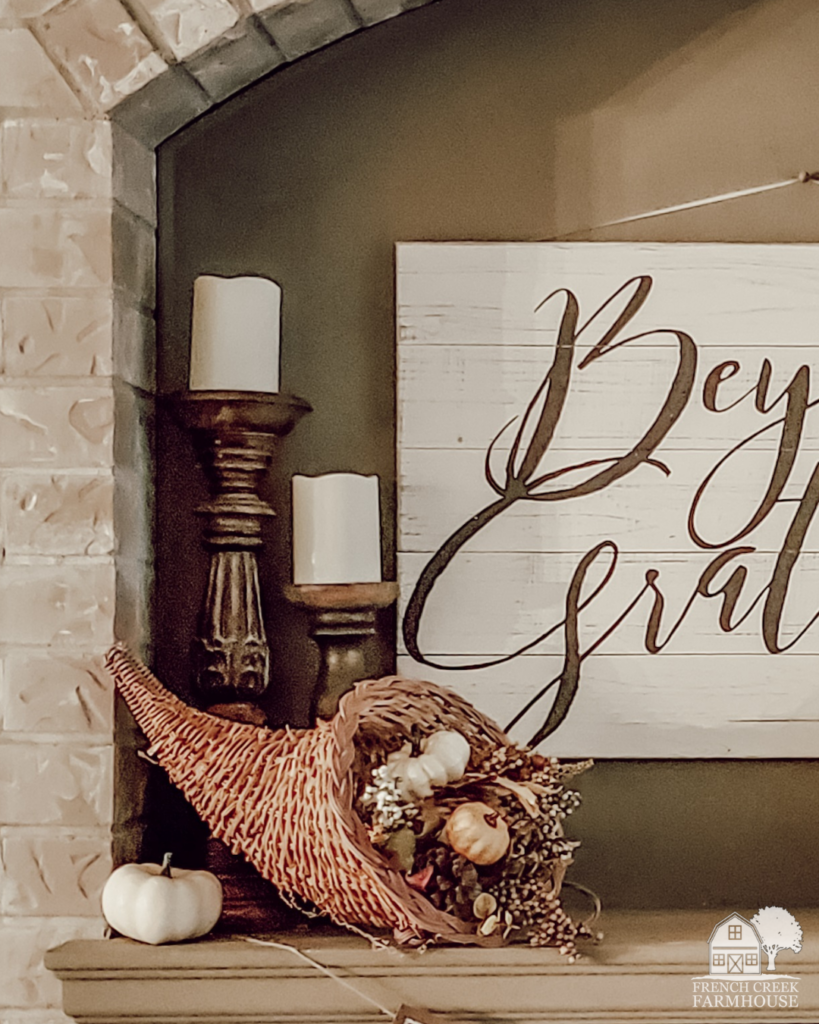 The Art of Textured Elegance: Using Rustic & Natural Elements in Thanksgiving Mantel Decor
An easy way to add a cozy aesthetic to your Thanksgiving decor is by incorporating rustic and natural elements. On our mantel, the vintage woven cornucopia and wicker wrapped demijohns complemented each other nicely.
The dark, rustic wood of the candlesticks also add dimension and provide some height. I like the heaviness of the candlesticks, as well, because they offer a grounding element–a bit of substance and weight that can be missing in some neutral decor choices that might feel more light and airy. That's just not what we're going for in fall.
Next, the white mini pumpkins reinforce the neutral color palette while being good reminders of the season we're celebrating. Your decor doesn't have to scream to be noticeable. These small pumpkins are a perfect way to honor the time of year in an elegant way.
More rustic and natural elements that are ideal for autumn:
Dried botanicals (wheat and other grasses are especially lovely)
Baskets and woven materials
Jute and burlap
Anything wood (including logs and bark)
Feathers (pheasant feathers are perfect for fall!)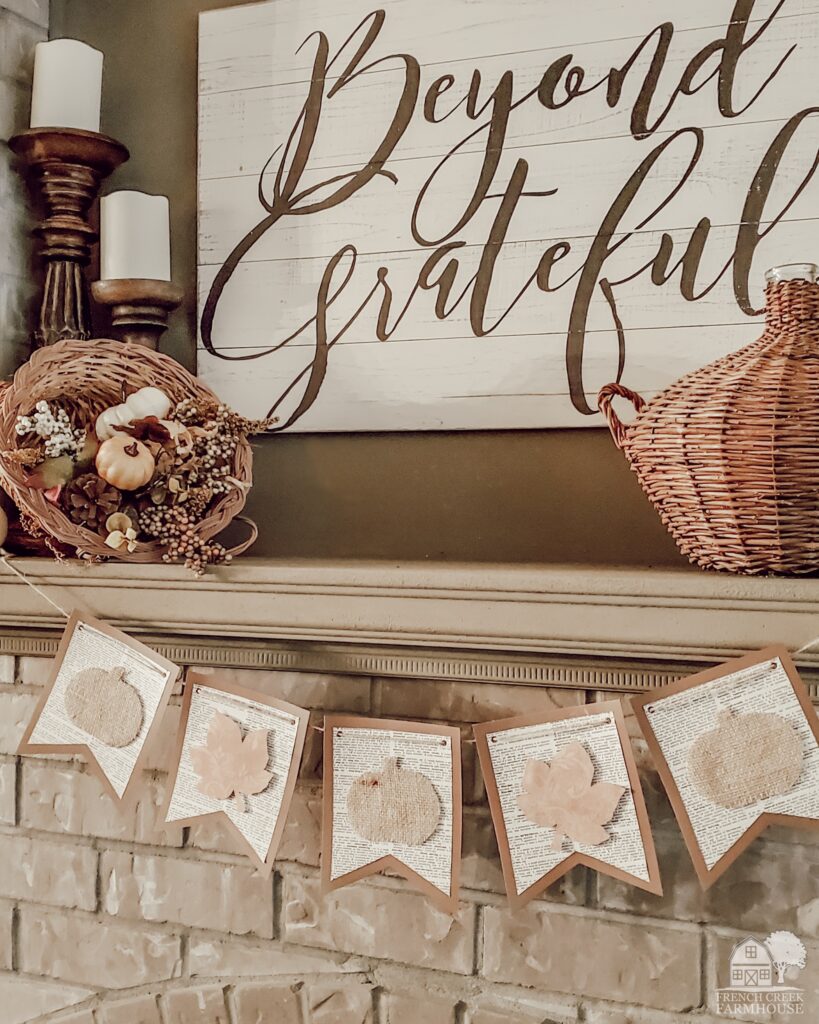 Vintage Charm Meets Thanksgiving Sophistication: Decorating Your Mantel
Telling a story that spans generations, incorporating vintage decor into your Thanksgiving mantel not only infuses charm, but also raises the level of sophistication for your design. Collecting vintage and antique pieces that hold special meaning takes some time, but it is well worth the effort.
When you find the perfect items to tell your story, your home's decor holds far more meaning for you and your loved ones. Treasured family heirlooms are especially significant because they're physical representations of our cherished memories.
My great-grandparents' mantel clock is one heirloom that means a lot to me. I've always loved old clocks, and I enjoy collecting vintage Westclox, but having this piece of my family's history is special. It kept the time for decades and marked so many important moments spanning decades.
To bring those heritage feelings into your own decor, start by shopping your own home. Find pieces that hold special significance in your life. If you don't own any of those items, see if a relative might be willing to part with stored pieces in the attic or basement. They might be honored that you want to display a family treasure that's currently only collecting dust!
If that's not an option, you can also scour local antique shops, flea markets, and thrift stores for items that resonate with you.
Start by looking for timeless items that can work all year long. Vintage candlesticks, for example, are perfect for adding ambiance.
Old books, with their worn covers and yellowed pages, not only contribute to the vintage aesthetic but also serve as conversation starters. Stacking them artfully can help to add height and a touch of intellectual charm to your mantel.
Rustic vintage pottery is also prefect for a Thanksgiving mantel. You can use these pieces to hold flower arrangements–fresh or dried. Or, fill them with pinecones for a reminder of autumn's beauty.
Vintage fall decor can work seamlessly into your style as the seasons change, so start your collection at any time, and continue to let it grow over the years.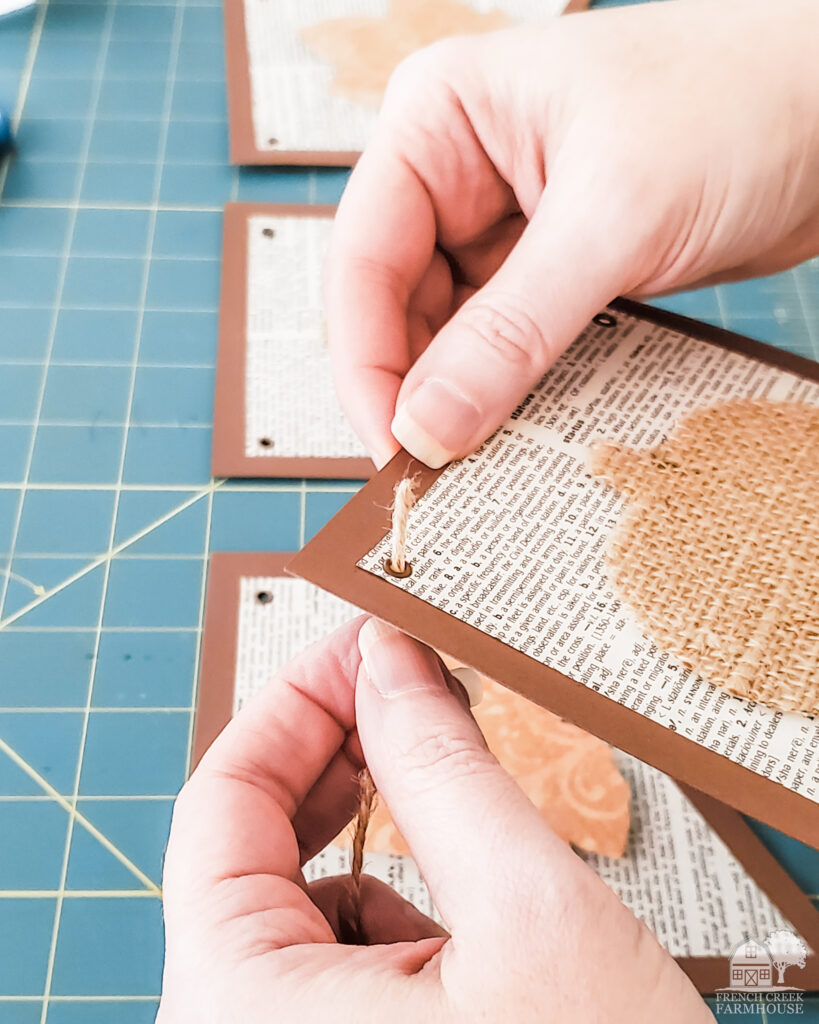 Crafting Thanksgiving Magic: DIY Your Mantel Decor
It's no secret that I love a good craft project. The chance to engage my creativity is a form of relaxation for me. It fulfills me and restores my energy when other parts of life feel busy.
Maybe that's why I find myself especially drawn to crafting around the holidays.
For our Thanksgiving mantel, I crafted a DIY autumn bunting banner in neutral tones. What I especially love is that I worked to incorporate various textures, from the vintage book pages, to the burlap leaves, to the jute twine. I wanted the bunting to exude autumn vibes, and I love how it turned out!
You could make this bunting longer or shorter, depending on the size of your mantel, and I included both pumpkin and leaf shapes to customize the look to your taste.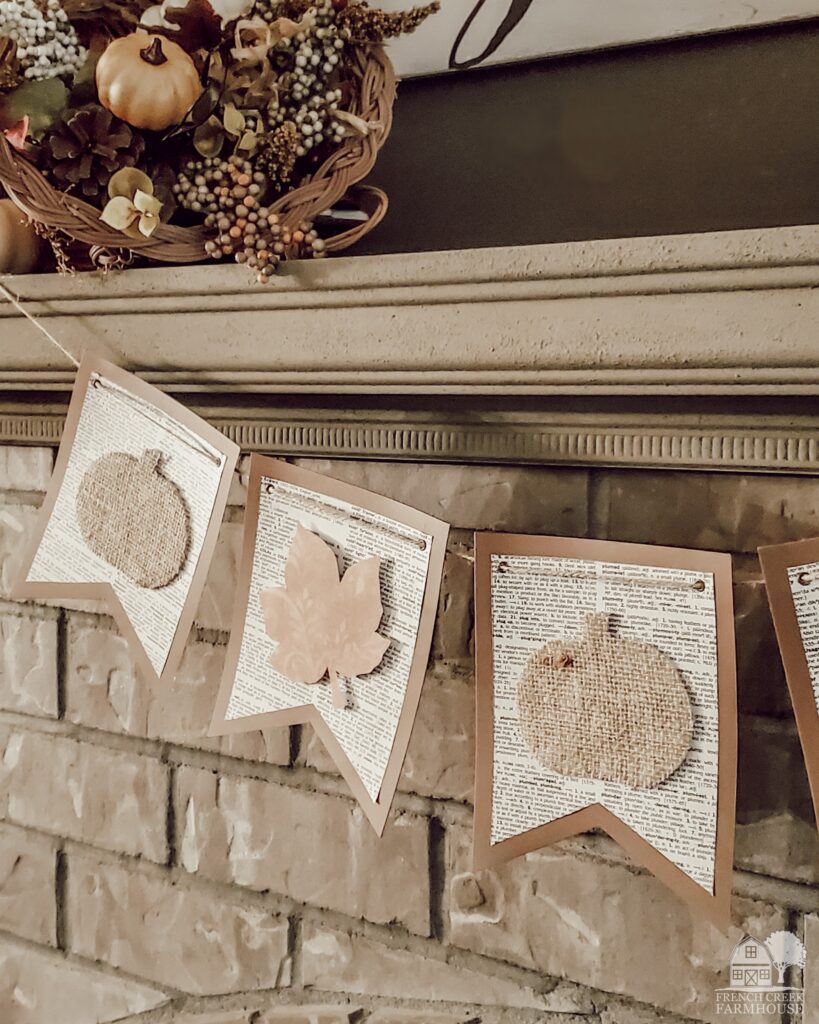 Discovering Unique Mantel Decor: Where to Shop for Your Thanksgiving Display
Sometimes, it's not that we lack ideas for decorating, but we just can't find the most perfect pieces of decor to add! The last thing you want is for your Thanksgiving Mantel to look exactly like everyone else's. Yet, discovering unique items can be a big challenge in decorating.
This season, I've written a couple of posts to help you in this area including the topic of how to decorate for fall on a budget. In case you haven't seen the news yesterday, times are tough and budgets are tight right now! If you're a lover of all things vintage, like me, then my recent blog post on vintage fall decor is loaded with even more charming ideas.
But let's talk specifically about shopping for Thanksgiving decor. This holiday is it's own niche corner of autumn and deserves some highlights!
A great first option to find unique Thanksgiving decor items to start scouring thrift shops in late summer and early fall. You'll always find the biggest selection of items by starting early. But even if you come late to the hunt, you can score great finds by simply looking at things a little differently.
Don't head straight for the Thanksgiving decor display at the front of the store. Instead, look for rustic vintage items that others have overlooked. Woven baskets, copper accent pieces, and vintage linens are terrific items to collect for fall.
If you'd rather check out a collection of curated ideas, I put together this list of Thanksgiving decor favorites to inspire your search!
Thanksgiving Decorating Q&A's
The best colors for Thanksgiving decor should reflect the rich and warm tones we associate with the fall season:
Earthy Tones (Browns, Tans, and Beiges)
Deep Reds and Burgundies
Golden Yellows and Mustards
Burnt Orange and Terracotta
Olive Green and Sage
Warm Metallics (Gold, Copper, and Bronze)
Creams and Whites
When combining these colors, aim for a harmonious palette that captures the essence of the season. The key is to create a warm and inviting atmosphere that celebrates the spirit of Thanksgiving and the beauty of autumn.
Ultimately, the choice of when to start decorating for Thanksgiving is a personal one. Three things you'll need to consider include 1) your own preferences, 2) the type of decorations you plan to use, and 3) how long you want to enjoy the festive atmosphere.
Early November: This allows for a seamless transition from the time of fall harvest into the beginning of the holiday season.
Around the Second Week of November: This timing strikes a balance, allowing for enough time to enjoy the decor and the Thanksgiving atmosphere, without it feeling too early.
Thanksgiving Week: For a more minimalist approach, or if you are planning to use a lot of fresh floral decor, you might wait until the week of the holiday to decorate. This ensures that the decorations are at their peak during the actual holiday celebration.
What feels cozy to some may be different to others, but generally Thanksgiving is a time to focus on gratitude for the abundance of blessings in our lives, the gathering of loved ones, and warmth. If your design choices keep these three aspects as a priority, you are sure to create a cozy ambiance!
For specific ideas of how to bring this to life, I've written some other blog posts that might help: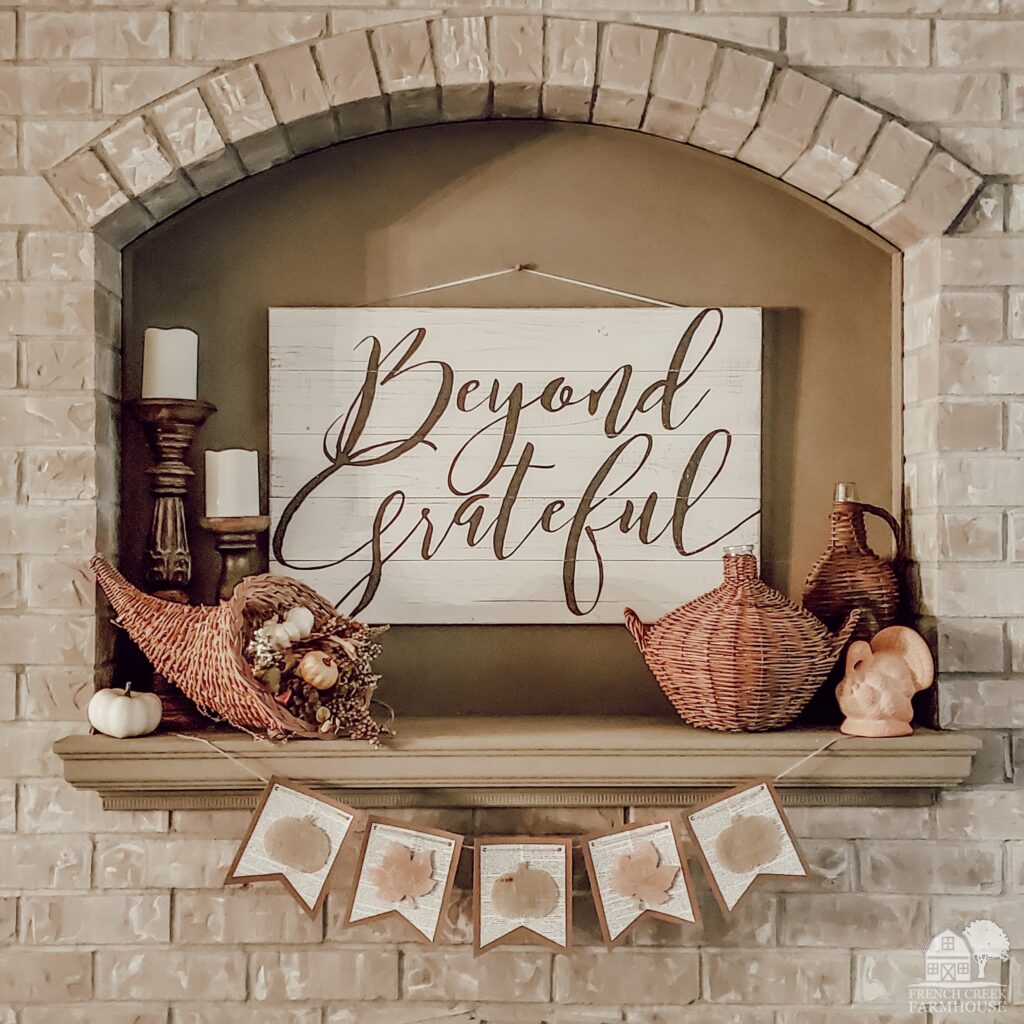 Celebrating With Gratitude
This is such an exciting time of the year as we gather up all of the memories we've made over the past ten months, evaluate the lessons learned, appreciate the hard work, and reflect upon how much we have to celebrate.
Thanksgiving really brings that into focus as we prioritize gratitude and cultivate joy–even in the face of adversity. The year may have been filled with triumphs. Or it may have been a part of our journey that existed to teach us difficult life lessons. But in both cases, there's always a reason to be grateful. Even in the most trying times, there is beauty in all of the seasons of life.
Decorating your Thanksgiving mantel may not seem like a big thing, but it symbolizes much more. It's about honoring the year and holding space for gratitude.
For me, that's important because cultivating joy in life is a daily practice. It doesn't just happen when everything is going as planned. Besides, life rarely works that way.
It's about making room in your heart for joy, even when there are obstacles in the way.
In the end, decorating our Thanksgiving mantel is just a small physical reminder to keep our hearts and minds set upon all that really matters as we strive for a life well-lived.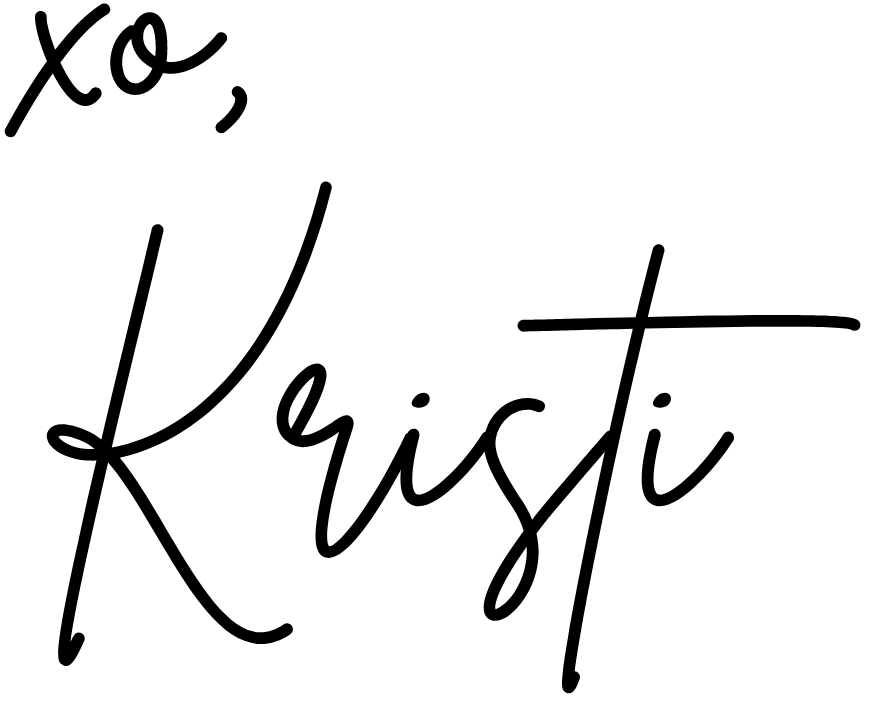 Do you love hunting for vintage treasures as much as I do?
Get my free vintage & junk hunting journal
Let's be email pen pals! Sign up to join our community, and get your free printable PDF Vintage Hunting Journal. This is so good!